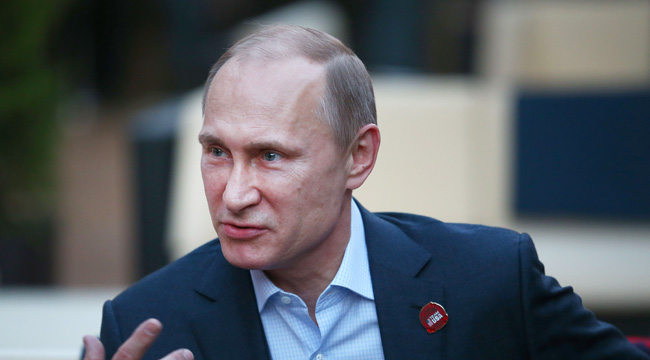 In May, the first details of Oliver Stone's documentary series about Vladimir Putin were made public: the two watched Stanley Kubrick's Dr. Strangelove together. However, on the heels of Putin's combative and testy interview with Megyn Kelly, Showtime's releasing more information about The Putin Interviews via sneak previews with various media outlets.
In one of the many interviews Stone conducted with Putin over two years, the Russian president appears to try out some new standup material and gets just a little sexist. While the two walked the halls of the Kremlin, Stone asked Putin whether he ever had bad days, and this was the answer:
"I am not a woman, so I don't have bad days. I am not trying to insult anyone. That's just the nature of things. There are certain natural cycles," Putin told the director, according to Bloomberg News, which has seen an advance version of the documentary.
Don't worry though, Putin also brought some grade-a homophobia to the proceedings when asked about how LGBTQ people are treated in his country.
Putin also used the interview to deny there was any persecution of gay people in Russia, despite a law being passed against the "propaganda of homosexuality among minors" and recent reports of a "gay purge" in the Russian republic of Chechnya. When asked whether he would be comfortable showering next to a gay man, he said no.

"I prefer not to go to the shower with him. Why provoke him? But you know, I'm a judo master," said Putin, laughing.
Well, it's no wonder that people think Putin and Trump would get along famously even without the "possible collusion with Russia" scandal adding to the atmosphere.
The Putin Interviews will air on Showtime over four consecutive nights starting on June 12.
(via The Guardian)