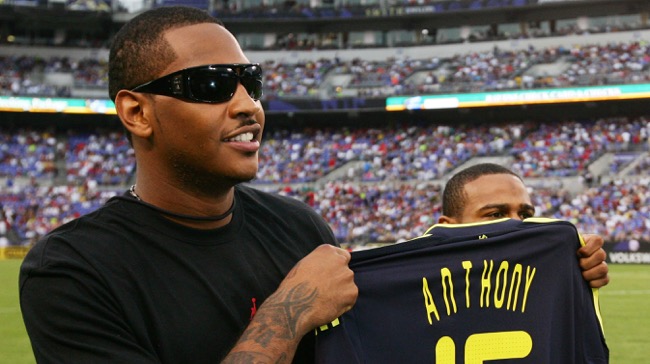 Carmelo Anthony has officially reached mogul status. First came the news that he'll be overseeing a new line of Teenage Mutant Ninja Turtles products, and now he's announced that he will be the sole owner of a pro soccer team in the North American Soccer League in Puerto Rico. The team will be called Puerto Rico FC.
Melo, whose late father was born in Puerto Rico, has been involved in humanitarian projects (such as building basketball courts and charity drives) on the island for years, according to ESPN's Ian Begley. Puerto Rico has had an NASL team before, called the Islanders, but that folded in 2012 after two years.
As far as we can tell, Anthony is the only active American professional athlete with even majority ownership of a sports franchise (LeBron James has a minority stake in the Fenway Sports Group, which owns Liverpool FC among other properties, and the Williams sisters of tennis have minority stakes in the Miami Dolphins), let alone sole ownership.
Make no mistake, this is a big risk. The NASL is the second division of American pro soccer (below the MLS, of course), and Melo is starting a team from scratch. He told Begley he'll be overseeing the hires of a GM, president, head coach and lead scout, and those initial hires could make or break the team in its infancy. Anthony stressed to Begley that his primary focus will be on basketball (as he has to — God knows what sports talk radio will do to him over this if he starts next season poorly), so he will have to be a hands-off owner until he retires — if the team even survives that long.
Regardless, this a cool thing. Here's hoping Puerto Rico FC does well, and that they have cool, Melo-related promotions.
(Via ESPN)