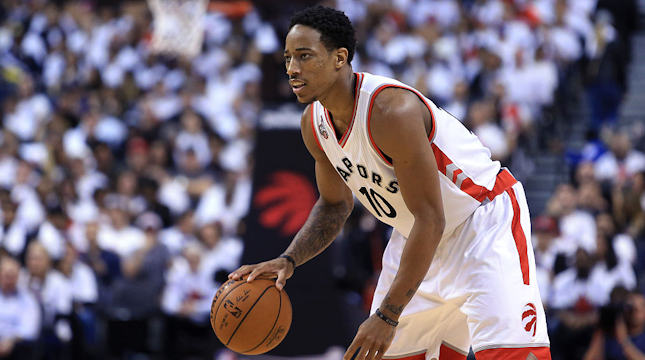 The Toronto Raptors were just eliminated from the playoffs after making it all the way to the Eastern Conference Finals for the first time in franchise history.
After the Raptors' Game 6 loss, talk swiftly moved back toward free agency. Rumors have been swirling all season long about the possibility that DeRozan might want to go back home to Los Angeles and sign with the Lakers. The Compton native and USC graduate is loyal to the SoCal region. But ever since he was drafted ninth by the Raptors back in 2009, he's become loyal to a whole other region in the North.
The Raptors were trapped in mediocrity when he first joined the franchise, then after the departure of Chris Bosh, the team fell towards the bottom of the Eastern Conference. He has been with the franchise long enough to see the culture shift, helping the Raptors finally knock on the door of the NBA's elite. It's no longer possible to ignore that DeRozan and Lowry have emerged as one of the best backcourts in the league.
Toronto has a good thing going, basically, and it appears DeRozan knows it.
The idea of him signing with the Lakers is somewhat squashed with the statement that DeRozan is "all about winning." It's not likely he will want to go back home to rebuild, but don't be surprised when the Lakers try to woo him and he listens – just like most free agents do.