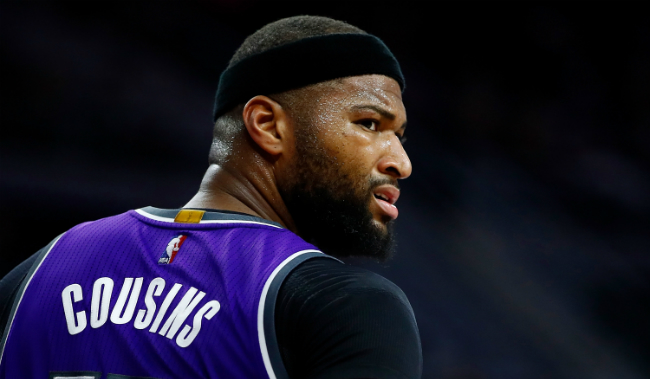 Oakland is just a 90-minute drive from Sacramento, so geographically the Kings and the Warriors might be the easiest NBA rivalry to sell. When the Kings and Dubs squared off on Saturday night in Sac-Town, there was a little bit of extra animosity, which resulted in a slew of technical fouls, an ejection for Warriors Head Coach Steve Kerr, and a highly competitive game.
In the end, the Kings came out with the shocking victory after Steph Curry missed a bunny late. Naturally the Kings were pumped up, and their leader DeMarcus Cousins called it their "most complete game of the season."
But he didn't stop there. He had some choice gestures for a Warriors fan after the game.
Boogie missed a triple double by an assist, and was clearly tired late in overtime but helped push the Kings to a season-defining win late. And when confronted by a random Warriors fan who slipped his way into the bowels of the Golden 1 Center late, Boogie flipped him the double-bird, telling him rather succinctly "F*ck Golden State."
It's a hilarious reaction, and 100 percent unfiltered DeMarcus Cousins. If the Kings sneak into the eighth seed out West, four to seven games of this rivalry would make for entertaining television even though there's no chance in the world Sacramento upsets the star-studded Warriors. Still, if we get two weeks of Boogie flipping off Warrior fans in Sacramento, it'll be must-see television.