Jamario Moon is 35 years old and hasn't played in the league since the 2011-12 season, when he appeared in eight games for the Charlotte then-Bobcats and recorded just 18 total points. But the NBA veteran isn't quite finished yet.
LeBron James' former running mate in Cleveland is looking for another opportunity to prove he can still provide valuable minutes to an NBA team. Whether Moon will receive the chance to do so remains to be seen, but the 2008 Slam Dunk Contest runner-up is currently training in Atlanta waiting for the call.
Dime caught up with Moon to talk about where he's been these past few years, his tweets about rejoining the Cavaliers, what's left in his tank, and more.
Dime: At 35 years old, without having played in the NBA since 2012, why is now the right time for an NBA comeback?
Jamario Moon: I wouldn't necessarily say it's the right time or not the right time. I was actually thinking about a comeback before, but I didn't want to give up overseas. I've been playing overseas (in Greece and Venezuela) the last few years, and I just feel like I have a lot of years left in the tank. My body is feeling good, I still run and jump and do everything the same way I did when I was a rookie in the league.
So if my body is letting me doing all of this, and I was good enough to be in the league before, then why am I overseas? Why am I not still in the league? Why not give it a shot and help some of these teams out?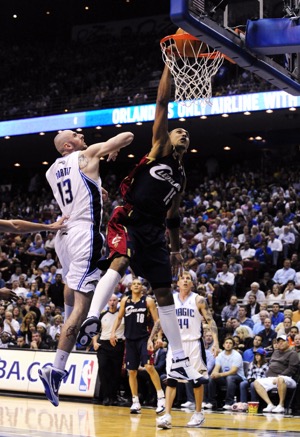 You were known for your defense and athleticism in the league. Are these still two attributes you can bring to the table?
Oh, of course. That was my niche. Being able to stick in the league was because of my defense. I can still finish on the break. And my shot is even better now. They played me at the three overseas, but I was really playing a stretch-four, and I would pick-and-pop. When I was in the league, I was able to shoot the ball, but I just never really got the opportunity to take a lot of shots because I was always on a team with great players.
You know, I played with LeBron (James), Dwyane Wade, Chris Bosh and Blake Griffin. So I just had to do my role, do my job – play defense, get rebounds, whatever the team needed. Like I said, my defense is still there. A lot of defense is just how much you want it, and I love to lock people up, make it tough for everybody.
I can still shoot the ball, but if teams need someone to stretch the floor, need an athletic wing or need a defending wing, then I'm their guy.
How is the overseas style of play different from the NBA style of play?
There's not too much of a difference. The biggest thing for me playing overseas was being away from the U.S. The game itself is pretty much the same. They have a few different rules, like you can take the ball off the rim. But the game was pretty much the same. I was playing my game the same way.
What was it like to not only play overseas, but live in two foreign countries?
It was an experience. There's no place like home. I tried to make the best of it. I'm a people person so I can get along with everyone. Everyone knows what a smile on your face means; everyone speaks happy. I made the most of it even though I couldn't speak the languages. I just smiled and treated people like you would want to be treated.