Jamario Moon is 35 years old and hasn't played in the league since the 2011-12 season, when he appeared in eight games for the Charlotte then-Bobcats and recorded just 18 total points. But the NBA veteran isn't quite finished yet.
LeBron James' former running mate in Cleveland is looking for another opportunity to prove he can still provide valuable minutes to an NBA team. Whether Moon will receive the chance to do so remains to be seen, but the 2008 Slam Dunk Contest runner-up is currently training in Atlanta waiting for the call.
Dime caught up with Moon to talk about where he's been these past few years, his tweets about rejoining the Cavaliers, what's left in his tank, and more.
Dime: At 35 years old, without having played in the NBA since 2012, why is now the right time for an NBA comeback?
Jamario Moon: I wouldn't necessarily say it's the right time or not the right time. I was actually thinking about a comeback before, but I didn't want to give up overseas. I've been playing overseas (in Greece and Venezuela) the last few years, and I just feel like I have a lot of years left in the tank. My body is feeling good, I still run and jump and do everything the same way I did when I was a rookie in the league.
So if my body is letting me doing all of this, and I was good enough to be in the league before, then why am I overseas? Why am I not still in the league? Why not give it a shot and help some of these teams out?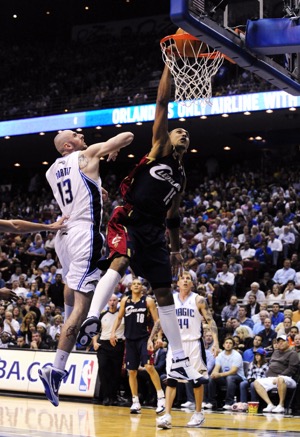 You were known for your defense and athleticism in the league. Are these still two attributes you can bring to the table?
Oh, of course. That was my niche. Being able to stick in the league was because of my defense. I can still finish on the break. And my shot is even better now. They played me at the three overseas, but I was really playing a stretch-four, and I would pick-and-pop. When I was in the league, I was able to shoot the ball, but I just never really got the opportunity to take a lot of shots because I was always on a team with great players.
You know, I played with LeBron (James), Dwyane Wade, Chris Bosh and Blake Griffin. So I just had to do my role, do my job – play defense, get rebounds, whatever the team needed. Like I said, my defense is still there. A lot of defense is just how much you want it, and I love to lock people up, make it tough for everybody.
I can still shoot the ball, but if teams need someone to stretch the floor, need an athletic wing or need a defending wing, then I'm their guy.
How is the overseas style of play different from the NBA style of play?
There's not too much of a difference. The biggest thing for me playing overseas was being away from the U.S. The game itself is pretty much the same. They have a few different rules, like you can take the ball off the rim. But the game was pretty much the same. I was playing my game the same way.
What was it like to not only play overseas, but live in two foreign countries?
It was an experience. There's no place like home. I tried to make the best of it. I'm a people person so I can get along with everyone. Everyone knows what a smile on your face means; everyone speaks happy. I made the most of it even though I couldn't speak the languages. I just smiled and treated people like you would want to be treated.
Are you currently training? What are you working on specifically?
I always train. I trained before I got into the league and just because I wasn't in the NBA doesn't mean I wasn't training. I've actually trained harder since leaving the NBA. When I was in the league, I was around 205, 210 pounds, and now I'm at around 228 pounds. I hit the weights even harder now because I when get in front of these people, I want them to know I'm serious. I have to bang with whoever it is, whomever they want me to guard.
I'm training down in Atlanta. The people that I'm training with, we are actually in this million-dollar tournament (The Basketball Tournament). Damien Wilkins, Kevin Murphy, a lot of former NBA guys… Actually, I don't know if I should say "former" because there's a lot of times when you say "former" and that means you've retired (laughs). These guys haven't retired – we just haven't been in the league the last couple of years. I'll say professional guys.
Last night, you tweeted at Cavaliers owner Dan Gilbert, stating that you are ready to join the team. Can you take us through that thought process?
In these playoffs, I sent a few tweets and some of my followers, and old Cavs fans replied saying, "Hey, Jamario, we miss you here" and "Would you come back for the veterans minimum?" Last night, more people hit me on Twitter asking if I could come back.
So, I decided to do something fun and tweet that I'm ready to come back. I had a lot of positive tweets and a lot of negative tweets. Some people liked it, some people didn't. But I definitely had more positive responses. I love Cleveland. We had a lot of fun there. We were a bunch of brothers. When I saw that Mo Williams signed back with them, I was like, oh man. So, I sent the tweet; what will it hurt? And I'm still getting responses now!
Have you been in touch with any NBA teams at this point?
Daniel Hazan, Hazan Sports Management: We just signed Jamario last week, and we wanted to generate a buzz around social media to show the seriousness of his comeback. This is something Jamario and I are taking very seriously. We've just started reaching out to teams, so over the course of the next few days we'll start getting some responses, seeing what kind of interest some teams have and we'll go from there.
JM: Hopefully we get responses as fast as we get responses on that tweet (laughs). I just hope a lot of these teams don't look and say, "Oh, he's 35." Never judge a book by its cover, I believe that. I remember in that old Jay Z song, when he says, "30 is the new 20." So I'm 35, but I feel like I'm 25. Nobody ever gave me anything, and I don't want to be given a contract, but bring me in and take a look. That's all I'm saying.
If the NBA doesn't work out, what's Plan B?
If the NBA didn't work out, I'd probably go back overseas. That would probably be the best choice. But I still wouldn't give up on the NBA. I would want an NBA-out in my contract just in case a team calls and needs me. I had my time in the D-League. I'll let the youngins have the D-League.
What's the weirdest type of food you ate overseas?
I'm pretty much stuck with what I like. I actually went to China, man, and we were at this hotel and they had a lot of different meats, and I was like, "What are these?" And the chef came out and explained them to us and he said one meat was called "Local." So I go, "Okay, it's called local, but what is it?" and he actually told me that it was dog! And they called the dog, "Local" because it was a local dish or something. I was like, "What?!" So I ate almonds the whole time. The whole time I was in China, I was eating almonds.
If we do get to see a Jamario Moon comeback, do you promise us a Slam Dunk Contest appearance? Some still think you were robbed of the crown in 2008.
I don't know… you know what, I won't say no, I won't say yes. If it were up to me, I'd do it. I still got. When I get to the gym later I might post a video on my Instagram of me throwing one down.