TORONTO — "You gonna leave me alone today?" Joel Embiid asked, looking past reporters at Jimmy Butler as the Philadelphia locker room mercifully emptied out. The Sixers got their "ass kicked" on Tuesday night, Butler had just said as much to the assembled media, and was following them out of the visiter's room until his teammate called him out. Embiid would soon answer questions from reporters after a disappointing 13-point, 8-turnover effort in a 125-89 demolishing in Game 5 of the Eastern Conference Semifinals against the Raptors. He didn't want to do it alone, though, and so Butler immediately reverses course.
"I'll go with you," Butler says. "F*ck it."
And so when when Toronto's Pascal Siakam finishes answering a question in French and absconds from the podium next to the media work room, Embiid takes his place and Jimmy Butler follows him on stage. He's not announced to reporters — someone even has to put a second chair for him on stage — but he sits with Embiid throughout his nine-minute interview with the press.
Joining Embiid for press conferences has become a bit of a tradition for the duo this postseason. Butler joined Embiid after Game 4 in Brooklyn, a game in which he was ejected for shoving Jared Dudley after he got into it with Embiid. The jovial big man forced Butler off the stage when he made a joke about blowing a 3-1 lead like the Warriors once did in the NBA Finals.
This time, now down 3-2 after an embarrassing road loss on Tuesday, the circumstances are different. The media session lasts nearly a third as long as the time Embiid spent on the court on Tuesday, and all of it felt exhausting. Embiid has dealt with an upper respiratory illness that hampered him in Game 4, either the same illness he's battled for nearly a week now or a new one that's further sapped away his energy. He warmed up on Tuesday night with a bandage on the crux of his his left arm, almost certainly from the IV required to even consider playing.
The results were subpar to say the least, but Embiid spoke to the media anyway and explained he was "trying to do the right thing" in fighting through his fatigue and sickness. Embiid spoke about his turnovers and not getting to rebounds, not the bacteria or antibodies waging war inside him while sapping his All-Star talent and swagger. After all, Embiid had already promised Drake that the Sixers would be back in Toronto for Game 7 on Sunday, a topic he would address later in the presser, and spoke at length about how he's "gotta smile on the court."
Embiid also talked about more tangible things like setting better screens and defending with more ferocity, but the part about smiling struck me in how decidedly repetitive it was. It sounded like something he could have heard from the guy sitting next to him, nodding in a Howard Bisons baseball cap and jean jacket. Minutes earlier, as reporters waited for the Sixers to speak, Butler emerged from the shower playing country music on a bluetooth speaker and sat down next to a frustrated Greg Monroe.
"Keep smiling," said Butler, who led the Sixers in Tuesday's loss with 22 points and 7 assists that felt downright Pyrrhic in nature. "It's not the end of the world, sh*t."
At first it seemed like Monroe wasn't having it.
"Maybe for you," Monroe says. The implication is clear: The veteran center has played for three teams this year, including the Raptors squad that has his Sixers on the brink. Who knows what the future holds for the soon-to-be 29-year-old who would love to compete for a title sooner rather than later. But Butler's tone is not of indifference or uncaring, and he slowly starts to shift the mood in the room away from shrugs and sighs directed nowhere in particular to one that's a bit lighter.
When interviews finally started, he and Monroe start to talk about shoes. Monroe raved about Lance Stephenson's Air Jordan 13s, and Butler talked about how players used to "hoop in retros" and get a lot of unique colorways that way. It's a far more interesting conversation than anything reporters are capturing, given the utter lack of answers available as to why Philly was so flat in a pivotal Game 5.
Now you could frame this conversation between Butler and his teammates any way you like. Another reporter may paint him dismissive of the Sixers' plight — more concerned about kicks than championships or acting with righteous indignation in front of the press. Given the narratives that swirled around Butler in Minnesota and lingered at times after his trade to Philadelphia, it's easy to fall into that trap. But consider Butler talking about Phoenix Suns PEs from the 90s as a way to get Monroe out of his mental rut, and a means to put Ben Simmons — who also struggled on Tuesday and was about to speak to the media next — at ease a bit as well when he jumped into the conversation.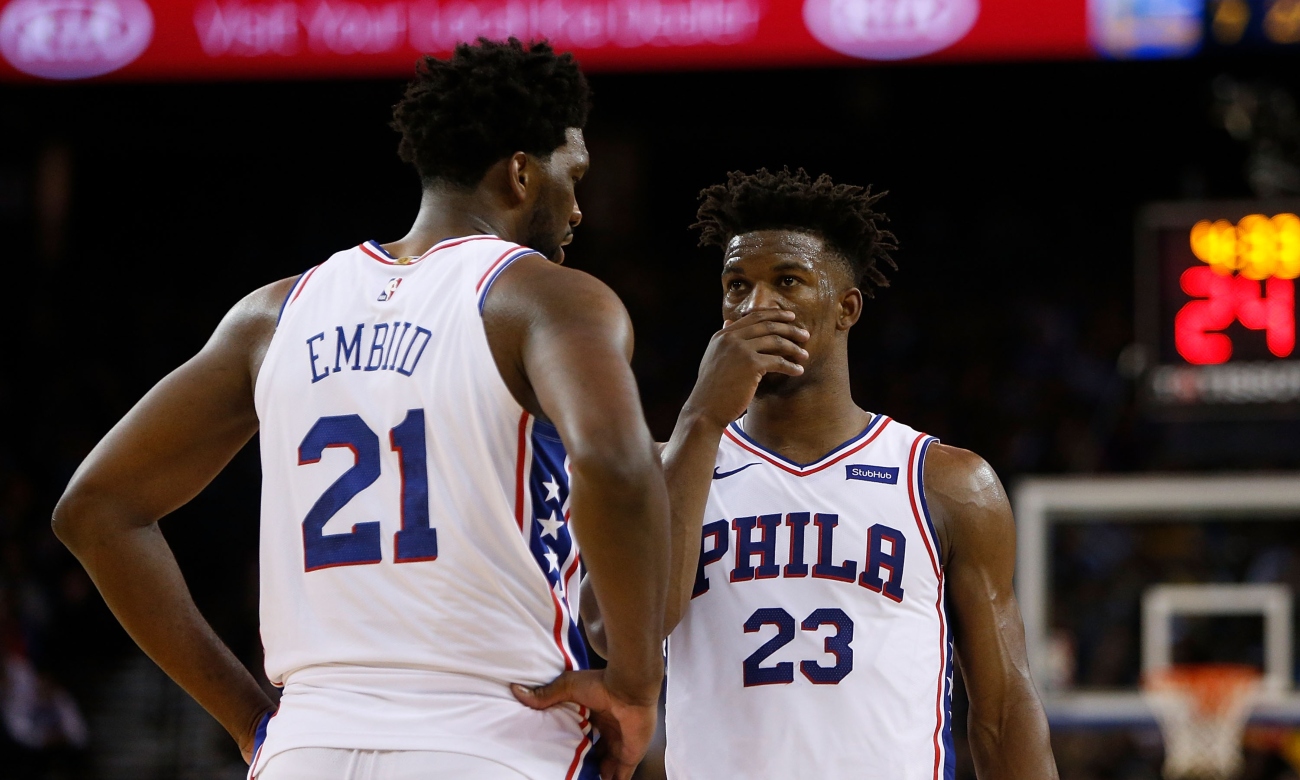 When it was time for Jimmy to speak to reporters, he didn't hold back about how bad the Sixers played. But it was a team that got its "ass kicked," Butler said. It was a team that needed to burn the game tape and just "move on." And when Embiid's play was questioned in, Butler didn't hesitate to set the record straight.
"We're going to ride or die with big fella," Butler said after the game. "We'll be fine. We're just going to keep doing what we doing, encouraging him, battling through all injury, through all sickness. We're here with him."
When Embiid wanted some moral support, there Butler was at the podium with him, subjecting himself to another round of interviews. His presence has clearly impacted Embiid this year, and he spoke about what it means to have Butler around on Tuesday.
"You start thinking about guys like Jimmy, always pushing me and saying that type of stuff," Embiid said. "You've got coach texting me, you've got my teammates checking up on me. It doesn't matter what type of condition I'm in, it just shows me what type of support I got."
It feels like far more than just a boost for Embiid, too. A reporter did ask Butler another question while on stage with Embiid, about his words to Monroe about the doomsday that might be coming. And his response was all about team unity.

"You just gotta go and do what you're supposed to do on the home floor. That's it," Butler said. "Keep competing, keep playing hard, stick together, have each other's backs and know that not one player on our team is gonna be able to do it by themselves. We win together, lose together, we gonna play together again."
Those last five words seem important given what's looming this summer. Butler has a year left on his deal and has reportedly said he wants to stick around Philadelphia past that. But a lot of people say a lot of things, and until pen is on paper and contracts are signed it's hard to feel safe in the NBA these days. A lot can happen with the rest of the Sixers' roster, too, and another disappointing end for a young team might give those in charge reason to tinker.
But this postseason, and the way Butler has publicly bonded with Embiid and played on the floor, makes it clear that Butler belongs in Philadelphia. He's in an environment where his chaotic drive and passion can be used for good, and his teammates seem to understand how he operates and why it works. Butler might not be enough to overcome the cold-blooded precision of Kawhi Leonard and the skyrocketing potential of Pascal Siakam this week, especially considering Embiid's health.
Still, Butler's come a long way from the nightmare start of this season, challenging an entire roster of Timberwolves to beat him on the practice floor and publicly brooding about his lot in NBA life. It's clear in this league that nothing is done well alone, Butler said it himself on Tuesday night. But you have to find a team that works and players who click with the way you tick. More and more it looks like Butler has found the group in Philadelphia, and the lessons this team takes out of a series that might be doomed by Embiid's immune system only become more valuable in the postseasons to come.