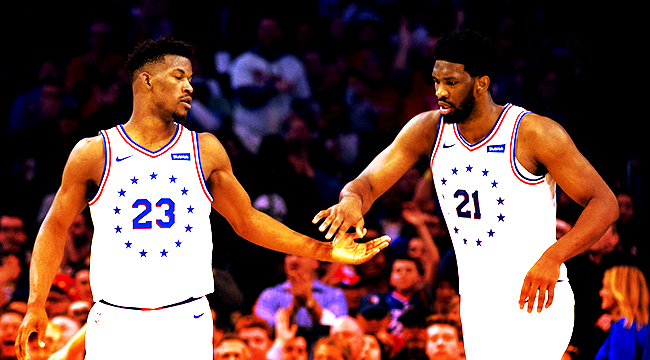 "Go ahead Jo, give me a compliment."
As the Sixers postseason has unfolded, it's been impossible to ignore the rise of the Jimmy Butler and Joel Embiid podium game. Philly's most dynamic young talent may be an imperfect fit next to the intense, sometimes-prickly vet they acquired in exchange for Process heroes Robert Covington and Dario Saric back in November, but there's no doubting that Butler and Embiid have built up a wonderful sense of comedic timing with one another.
Podium games are a statement in the postseason, a chance for players to craft any narrative they wish. Sometimes that manifests itself in the way of grudges or continued battles between players and media members (see: Russell Westbrook's "next question" or LeBron's quips to ESPN's Mark Schwarz). It also leads to some amateur sleuthing, especially when it comes to free agency.
For Embiid and Butler, it's been a chance to show the pair really can – and do – coexist, even if that dreaded "chemistry" word keeps getting brought up. Not that anyone needed convincing after Game 3, in which the two dominated the Raptors early and often on both ends, frequently with one making a big play leading directly to the other for an emphatic finish or three-pointer.
"I think chemistry is a bad word," Butler said in a black Jordan x PSG jacket after Philadelphia's 116-95 win. "Like, everybody wants to say that because we played together, however many games we didn't play together, however many games. It's simple enough to know that whenever you have some good basketball players out there, the game happens. You make the right plays, you do what you're supposed to do with the basketball, and that's all it is. The game is really, really simple. I think at times we, as players, decide to make it hard. But if you're open, shoot it. If you're not, pass."

Embiid, decked out in an Under Armour "The Process" sweatshirt, was in lock step with his teammate, echoing his thoughts by calling chemistry "overrated."
What the two do have is respect, which is only growing the longer the Sixers are in the postseason. Philly needs "Playoff Jimmy" and a healthy Embiid individually, but Jimmy and Joel need those things to bring out the best in each other.
"It is a recognition that they need each other," Sixers coach Brett Brown said during pregame. "There's a recognition that they're going to get paired together a lot in crunch time situations, there's an appreciation that I see — watching the two evolve — for each other's talent. And I think there is a steady growth emerging that is two excellent, strong personalities recognizing that everybody needs a little bit of help, and the belief that they can help each other and need each other is genuine."
It's easy to see the chemistry Brown mentions, but as with other things in this Sixers team, it's developing as the playoffs go on. It could be fleeting if Butler (and fellow unrestricted free agent Tobias Harris) opt to sign elsewhere, or it could be a sign of things to come. Even if all of this is a team working things out on borrowed time, it's still exhilarating in the same way as MacGyver trying to cut the red wire in the nick of time. It could all blow up and leave The Process smoldering, but damn if it isn't exciting.

All told, Embiid and Butler combined for 29 points in the first half on 9-for-16 shooting. Butler added seven rebounds and five assists, while Embiid had seven rebounds of his own.
Kawhi Leonard went scorched earth yet again, keeping the Raptors in it during a ferocious third quarter that saw him go 6-for-6 for 14 points. He finished with 33 points after exploding for 35 in the Game 2 loss, reminding everyone yet again that while the Sixers have their own questions to answer this offseason, Leonard will be a formidable answer for the lucky suitor who ends up signing him, Toronto or otherwise.
The duo was simply too much for the Raptors on the road in the fourth quarter, and a reminder of how fearsome Embiid is when he's anything close to healthy, especially alongside a player as good as Butler. Embiid finished with 33 points and 10 rebounds, and Butler was a rebound and assist away from his first career postseason triple-double (he had 22-9-9).
Take this fourth quarter sequence that essentially buried the Raptors: Embiid drilled a three off a pass from Butler to push the lead back to 12 (94-82), and after diving for a loose ball and being tripped by Pascal Siakam on the next possession (which led to a Flagrant 1 for Spicy P), Embiid received MVP chants as he sunk both free throws. The Sixers kept the ball following the flagrant, which led to Butler making a layup to get the lead to 16. Embiid then blocked Siakam on the next play, and half a minute later, Butler stripped Lowry and slammed it home with nine minutes to play.
Butler and Embiid were only on the floor together for 1922 of Philadelphia's 6163 possessions (stats via Cleaning The Glass) during the regular season (or 31 percent). But that 31 percent showed what they were capable of — namely wreaking havoc on opposing teams.

In the postseason, that number has crept up significantly even though Embiid missed Game 3 in Brooklyn and has been limited at times due to ailments. And Game 3 was the culmination of what's possible when the two share the floor.

The crunch time that Brown spoke of was a showcase for what Butler and Embiid can do together. As if the flurry to essentially put the game out of reach earlier in the fourth wasn't enough, Butler delivered a pass to Embiid for an and-one with just over six minutes remaining, and Butler got himself a dunk seconds later. Embiid, not to be outdone, had a windmill dunk to push the lead to 110-84. You'll never believe this, but that sequence started with a Butler deflection.
Use whichever metaphor is suitable. A kiln firing clay, steel sharpening steel, pressure and diamonds and all that, but this is what's playing out between Embiid and Butler as the Sixers continue to make this up as they go along, and the Sixers have a 2-1 series lead in the conference semi-finals to show for it. Chemistry (or whatever word choice is more appropriate) is always easier to develop when a team is having fun, and nobody seems to be having more fun in Philadelphia right now than Jimmy and Joel.
"I think for everybody that knows me," Embiid said, "you know, I need it. You know, I want to have fun. My game just changes. You know, I'm always told that if I don't smile during the game, I'm either having a bad game or I'm not into it. You know, when I know that to get my game going, I got to have fun on the court. At the same time, I've got to make plays. That part of the theatrics, it has to happen for me and the game is more fun that way. We all have fun as a team. You know, you can see it lifts my teammates and we all do a good job."

Better yet, that sense of playfulness, and the lift that it brings, has led to them having each other's backs as well.
There was no better evidence of that than in the press conference following the Game 4 fireworks against the Nets. The pair shared the podium together, just as they did on Thursday, offering up their unscripted back-and-forth.
"He don't do nothin' stupid when he up here," Butler said, referring to why he decided to join Embiid despite getting ejected in the third quarter. "We all know he's a trollin' son of a gun, so I'm just here to protect my big fella. If somebody run up on him, I'ma push them again."
"And I'm gonna pay the fine," Embiid added.
Each time Embiid is at the line in the upper deck of the Wells Fargo Center, almost as a Greek Chorus, there are "Trust-The-Pro-Cess" chants. Part of that Process may mean trusting that the relationship between Embiid and Butler will continue to grow through as many minutes as they have left together this postseason. And the Process will have to trust that Butler will be along for the ride for more seasons to come.