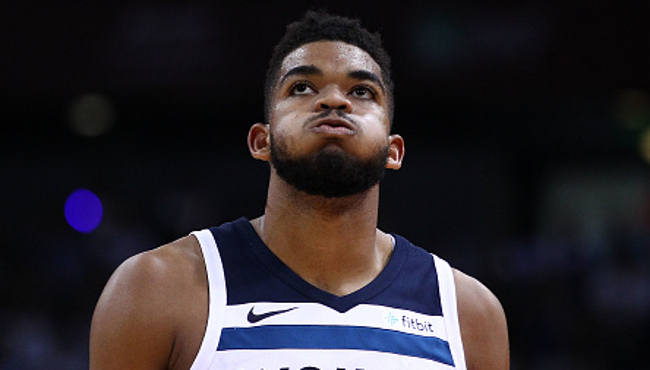 A lot of good things happened for the Minnesota Timberwolves this season. Coach and team president Tom Thibodeau took an already-talented young core and added an All-Star in Jimmy Butler and surrounded them with veteran leadership from Jeff Teague and Taj Gibson. The net result was the franchise's most successful season since the heyday of the Kevin Garnett era.
Not only did they finish with a winning record for the first time since the '05 season, they ended a 14-year postseason drought with a dramatic overtime win over the Nuggets in the final game of the regular season to earn the final playoff spot in the West.
But a brutal showing by Karl-Anthony Towns in his inaugural postseason appearance sucked the air right out of the balloon, and on Friday, rumors surfaced that there is allegedly some sort of disconnect between the team and its franchise star, according to ESPN's Zach Lowe and Brian Windhorst.
"Has anybody noticed what's going on with Karl Towns and that organization?" Windhorst asked on Friday.

"Darren Wolfson alluded to a lot of it on a podcast a couple of weeks ago," Lowe said. "I just have a gut feeling that something crazy is going to happen there this summer. It's not in a good place right now, internally."
It bears noting that there is little official evidence being presented here, but regardless, Lowe and Windhorst are two of the league's most connected insiders, so their speculation on a matter like this is clearly based in reality.
The feeling is that Towns, as well as Andrew Wiggins, aren't entirely happy ceding alpha status to Butler. Couple this with the fact that Towns faced tremendous criticism for his lackluster performances in round one against the Warriors, during which his own coach suggested publicly that he needed to be more aggressive.
It's far too early to speculate about his long-term prospects with the team, but we've seen plenty of times before how sowing the early seeds of discord can affect a star's relationship with his organization in myriad ways over time that can eventually make their future together untenable.