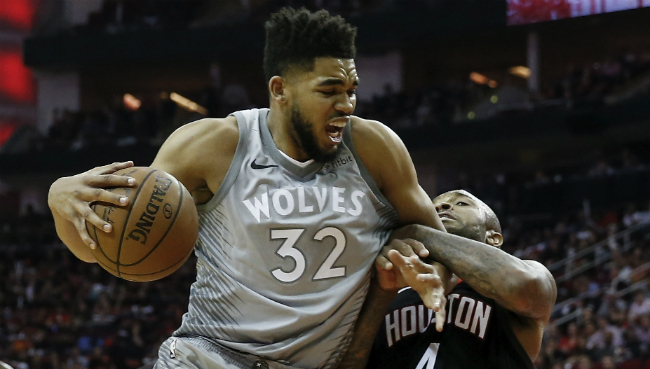 The Minnesota Timberwolves played in a postseason game for the first time since 2004 on Sunday night. The team competed valiantly, but ultimately, it couldn't upend the top-seeded Houston Rockets, falling 104-101 to get into an 0-1 hole in the series. Despite the loss, there are reasons for optimism, like the fact that the team was so close to a road win against the best team in the league despite the fact that Karl-Anthony Towns struggled.
Towns played 40 minutes on Sunday night, going for a meager eight points on nine field goal attempts. While his 12 rebounds were a positive sign, Towns averaged a little more than 21 points per game during the regular season, so it wasn't the dream postseason debut for Minnesota's young star.
Tom Thibodeau addressed Towns' performance after the game and challenged his young star to impose himself offensively as the series goes on, saying that "he's got to be more active."

"You run the floor," Thibodeau said of how Towns can be more active, according to Tim MacMahon of ESPN. "Kick the ball out, repost, keep moving around, search it out, get to the offensive board. You've got to sprint around. You learn when teams are double-teaming you, that's what you have to do. You have to make the right play. You also have to get to positions in which it's difficult for them to double-team you. Transition's a big part of that. You've got to run the floor."
Thibodeau has come under fire for his rotations in Game 1, as Derrick Rose and Jamal Crawford played 24 and 26 minutes, respectively. Rose was also the Timberwolves player with the highest usage — it was higher than if you added up the usage percentage of Towns and Jimmy Butler.
Still, despite the fact that he's getting guarded by an outstanding defensive big man in Clint Capela, Towns could stand to impose himself a bit more. His nine field goal attempts are absolutely something he can improve on, and perhaps this is only a case of him having the jitters in his first career postseason game. And if it's not, and this is what the rest of the series looks like for Town and the Timberwolves? Well, maybe Charles Barkley was onto something.
(Via ESPN)