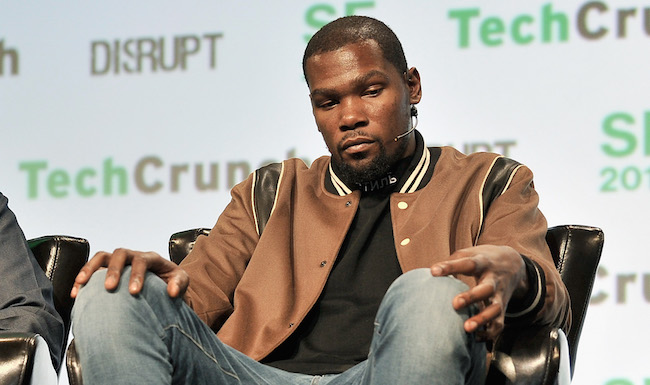 Kevin Durant has found himself in headlines throughout the summer, often due to his return to being a very active social media presence. For the most part, Durant's summer on Twitter has been met with laughs and praise as he's gone back to clowning trolls and making jokes like he did long ago.
It's been fun seeing a superstar athlete having a real personality on Twitter and not a monotonous brand oriented presence like so many. However, as we've seen with Joel Embiid — the NBA's reigning and defending social media king — that kind of activity can sometimes land them in some trouble.
Durant learned this the hard way on Sunday night when he tweeted and deleted (although not quickly enough to avoid screenshots) a strange third-person string of tweets about how he disliked the Thunder as an organization and playing for coach Billy Donovan. The tweets sparked controversy over whether Durant used alternate Twitter accounts to defend himself in his mentions.
On Tuesday, speaking at TechCrunch in San Francisco, Durant apologized for the tweets and noted they were "childish" and "idiotic." However, it was still baffling how the tweets could have happened, considering they were in the third person and seemed to indicate that there was far more animosity towards the Thunder and Donovan than he's let on since his departure.

After the panel he spoke at, Durant elaborated on what happened to USA Today's Sam Amick, saying he was playing around and took things too far. Durant said he hasn't slept or eaten since the incident because he's so mad at himself for the tweets at people he says he loves.
"I played a little too much, and that (expletive) really hurt me," Durant, who first addressed the situation on a TechCrunch panel about athletes and branding, told USA TODAY Sports afterward. "To know that I affected Billy Donovan and the Thunder – like I love those people and I don't never (want to hurt them).

"That was just me being a total (expletive) idiot. I own up to it. I want to move on from it. It probably hit me probably harder than what everybody (thought). Everybody else was telling me to relax, to snap out of it, but I was really, really upset with myself more than anything. It's not the fact that people were talking about me, because I deserve that, but I'm just more upset with myself that I let myself go that far, you know what I was saying? It was a joke to me at first. I was doing it all summer, and it went too deep. I went too hard… I haven't slept in two days, two nights. I haven't ate. It's crazy, because I feel so (expletive) pissed at myself and I'm mad that I brought someone into it."
It's the right thing for Durant to say and it's quite possible it's the truth. Until those tweets, Durant has insisted he had no hard feelings towards OKC and he loved being there. However, it's hard to ignore the content of those tweets and see where it would be a complete joke. Durant also insisted to Amick that he doesn't have a burner account, as he's been accused of having, which makes the third person nature of the tweets far more confusing.
Does Durant just sometimes talk about himself in the third person like The Rock? Or, is he lying about it being an issue of poor decision making and not a mistaken mistweet from the wrong account? At this point, it's hard to know what to believe. Amick said Durant seemed genuinely remorseful about his actions, and of that I don't doubt it. It's not a good look for Durant to say that about the Thunder or Donovan and I'm sure he legitimately regrets it and didn't want to hurt anyone. However, despite this elaboration on the entire incident, there are still questions to be had.