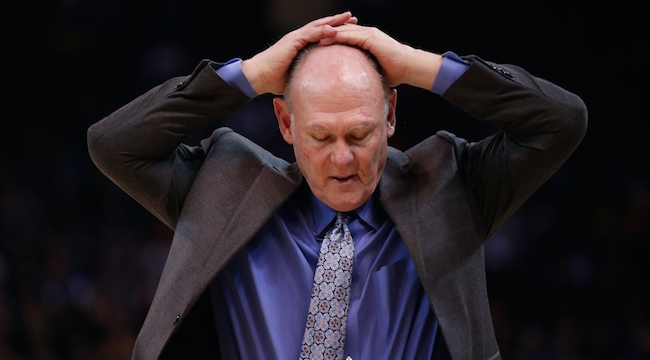 Despite longstanding friction with the franchise cornerstone, a dismal start to the season, and reports of widespread locker room dysfunction, Sacramento Kings coach George Karl has avoided the axe through the midway point of the 2015-16. If these latest rumors are accurate, however, it seems he likely won't last any longer than that.
According to Adrian Wojnarowski of Yahoo Sports, the Kings are "strongly weighing" the dismissal of Karl in the wake of his team's embarrassing 128-119 loss to the lowly Brooklyn Nets on Friday night.
Sacramento Kings owner Vivek Ranadive and general manager Vlade Divac were so livid about a blowout defeat to the Brooklyn Nets on Friday night – the franchise's sixth loss in seven games – they were strongly weighing the firing of coach George Karl, league sources told The Vertical.
After the game, DeMarcus Cousins – with whom the veteran coach clashed upon his hiring last February and throughout the summer – indirectly placed responsibility for Sacramento's porous defensive effort at feet of the coaching staff. Here's the two-time All-Star courtesy of the Associated Press' Brian Mahoney:
"I'm not going to keep blaming these guys in the locker room," Cousins said. "Energy and effort, that's a huge part of the game, but I'm not going to keep blaming it on them. We've got a bigger issue and we need to figure it out as a team."
It certainly bears mentioning, too, that Rajon Rondo blamed the players for such sweeping errors and missteps, going so far as to say that "it has nothing to do with the coaches."
The Kings have lost six of their past seven games immediately following a season-long five-game winning streak. At 21-29, tenth-place Sacramento is three and-a-half games back of the Utah Jazz for eighth in the Western Conference.
We'll keep you updated as news on this developing story becomes available.
(Via Yahoo Sports)