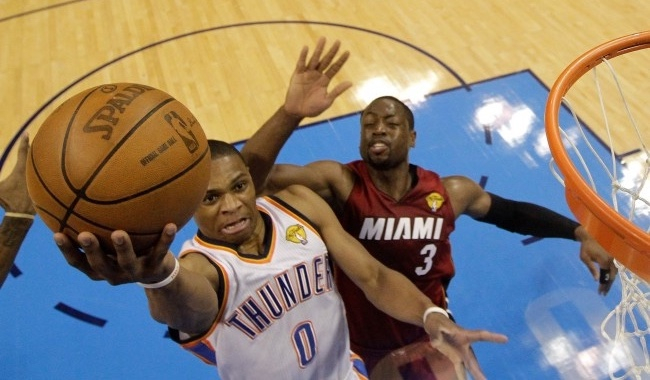 In 2008, the Miami Heat had a chance to draft Russell Westbrook with the second pick. Instead, they selected Michael Beasley, who has not come close to living up to that draft spot. Westbrook has a chance to average a triple-double for a full season, so with the Heat at 10-21 this season, some have started to wonder where the team would be now if it had chosen Westbrook instead of Beasley.
If one person has regret, it's Heat president Pat Riley, who was part of that decision in 2008 to pass on Westbrook. From the Miami Herald.
"We missed on that pick in Michael Beasley," Riley said before correcting himself to soften the blow on Beasley, who was selected after Derrick Rose and before O.J. Mayo and Westbrook with the next two picks. "I mean, we didn't really miss on it. But the best player was Russell Westbrook."
While it's sad for Heat fans, drafting Beasley set off a chain of events that led to LeBron James and Chris Bosh teaming with Dwyane Wade winning two championships in Miami. That's not lost on coach Erik Spoelstra, who chose to use the Gwyneth Paltrow movie Sliding Doors instead of the Ashton Kutcher classic The Butterfly Effect to explain his position.
"You can't play that game because then who knows if we would have gotten the Big 3," Spoelstra said when tossed the hypothetical question Monday of where the Heat might be today had it drafted Westbrook. "Sliding doors, one thing could affect the next."
He's right. It's hard to say you'd trade two titles and four Finals appearances for this season of Westbrook. Paltrow and Kutcher would probably agree.