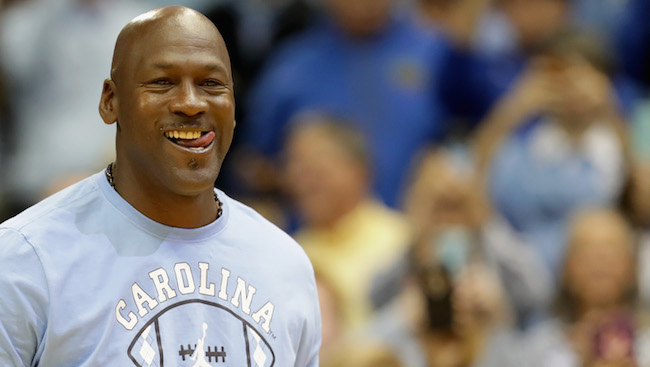 He didn't score a single point or even take a shot, but Michael Jordan may have single-handedly won the North Carolina Tar Heels the NCAA championship this year. It was his oddly worded phrase "The ceiling is the roof." Granted, the players had to actually go on the court and do things like make shots, grab crucial late game rebounds, play defense and generally play basketball, but Jordan's affect on the team is undeniable.
The ceiling is the roof became the UNC rallying cry, and they used it on their redemption tour in the tournament all the way to the trophy.
Mike didn't make the trip to Glendale for the championship game against Gonzaga, but thanks to ceilings and roofs everywhere he was there in spirit and after the win he texted head coach Roy Williams the most perfect congratulatory text possible.
"I'm so happy for you and the team," Roy said, revealing Mike's text in the video below. "You raised the ceiling to the roof tonight. Congrats, didn't want to bring you bad luck tonight, but I'm so happy for you. Love you, my man."
As Roy revealed before, Jordan didn't make the trip because he didn't want to be bad luck for the team after attending the title game last year, only to watch his beloved Tar Heels go down to a Jordan-esque buzzer beater. It was an amazing time, as even Mike got the Crying Jordan treatment, but like usual, the G.O.A.T. got his revenge.