After months of speculation from die-hards and weeks of buzz from more casual fans, the 2017 NBA Draft is (finally) here. While there should not be any surprise with the first player selected, there is still plenty in the way of pivot points and things can fly off the rails in a hurry beginning with the No. 2 overall pick.
It is generally impossible to accurately project mock drafts without full intelligence from around the league but conventional wisdom can also be exceedingly useful. In the end, the majority of the picks found below probably won't come to pass, if only because this mock does not include trades (that almost certainly will occur) or the inevitable fall of one or more prospects seen as lottery locks. That won't stop us from enjoying the process, though, and the final mock draft of the 2017 NBA Draft season is upon us.
Let's get weird.

1. Philadelphia 76ers (from Boston) – Markelle Fultz (PG, Washington)
Philly hit a home run in adding this pick for the price of "only" one additional asset. Furthermore, the Sixers protected that extra asset in a very advantageous way and, more importantly, set themselves up to grab the best player in this class. Fultz, at least in my view, occupies a tier of his own and he is a flawless fit alongside Joel Embiid and Ben Simmons. Just call the pick in now.
2. Los Angeles Lakers – Lonzo Ball (PG/SG, UCLA)
The Lakers get the guy they have been tied to for months and, now, the path is freely paved. The presence of D'Angelo Russell would not have necessarily deterred Los Angeles from taking Ball but, with Russell on the move, there is no potential defensive hiccup to throw a wrench in Magic Johnson's plans. The Lonzo Ball show begins in earnest.
3. Boston Celtics (from Philadelphia) – Jayson Tatum (SF, Duke)

Well, I would not be a fan of this pick. Tatum is not my favorite prospect in this draft but, with every passing hour, more and more information is available that the Celtics enjoy his work. On some level, it makes sense in that Josh Jackson, the primary competition here, has questions with his jump shot and Tatum is a much more seamless fit alongside Jaylen Brown in the future. On the high end, Tatum could be a big-time scorer at the forward spot that provides Boston with another primary option. If things go wrong, he'll be a one-dimensional offensive player that needs to ball to function and the Celtics will look silly. This is a big swing.
4. Phoenix Suns – Josh Jackson (SF, Kansas)
Jackson is a great fit alongside Devin Booker on the wing. For one thing, Jackson can cover up for Booker's defensive issues with length, athleticism and competitive fire. In addition, Booker's pure jumper should help to take the heat off Jackson in developing his own long-distance shot and Jackson is arguably the best player available to boot.
5. Sacramento Kings – De'Aaron Fox (PG, Kentucky)

If Jackson goes to Boston at No. 3, there seems to be a growing sentiment that Fox could land in Phoenix and I wouldn't doubt it. In this scenario, he gracefully falls into Sacramento's lap and it is a perfect fit. I'm a big fan of Fox and, if the jumper is even reasonable, he's worthy of this level of investment as the engine for the Kings.

6. Orlando Magic – Dennis Smith (PG, NC State)
The Magic should at least consider Jonathan Isaac here, if only because the prospect of Isaac and Aaron Gordon defensively would be terrifying. In the end, though, Orlando grabbing their point guard (and offensive engine) of the future makes sense. Smith's upside is as high as anyone (including Fultz) in this class and it is the type of big swing that this organization probably needs to complete in order to turn the tide from mediocrity.
7. Minnesota Timberwolves – Jonathan Isaac (PF, Florida State)
If Isaac is available, the Wolves should take him. If they don't, things have gone horribly wrong. Isaac is a top-five prospect in this class in my view and he checks all of the boxes that Minnesota should be looking for as a power forward in the Karl-Anthony Towns era. Plus, sending Isaac to the Wolves should help to maximize his defensive potential (which is immense) and give him time to develop offensively.
8. New York Knicks – Frank Ntilikina (PG/SG, France)

For better or worse, all signs point to Phil Jackson and company continuing to deploy the Triangle and Ntilikina makes sense in that regard. My personal belief is that he ends up playing off the ball almost exclusively in his best-case scenario but Ntilikina does have point guard skills and he would be a fascinating player to pair with Kristaps Porzingis long-term. The defensive length alone would be fun.
9. Dallas Mavericks – Lauri Markkanen (PF/C, Arizona)
Dallas needs a point guard for the future but both Smith and Ntilikina are gone here. If one falls, the Mavs will likely pounce. In this scenario, Markkanen gets the learn from Dirk Nowitzki and is paired with perhaps an ideal frontcourt partner in Nerlens Noel. If Noel's defensive burst and length can't cover up for Markkanen, it is going to be hard for him to function anywhere.
10. Sacramento Kings – Malik Monk (SG, Kentucky)
It would make all the sense in the world for the Kings to trade down in this scenario. Monk is the highest-rated prospect available but, with Buddy Hield already on board, it isn't a seamless fit by any means. I'm a big proponent of taking the best player, especially at the end of a tier, and Sacramento can just take Monk and figure it out later. It also doesn't help their cause that the No. 11 prospect (Zach Collins) is a bad fit as well.

11. Charlotte Hornets – Donovan Mitchell (SG, Louisville)
Luke Kennard would make a ton of sense here, as the Hornets need spacing help in a big way and he is reportedly zooming up draft boards in advance of Thursday. With Mitchell, though, the Hornets take a player with more upside given his defensive tools. His 6'10 wingspan is jaw-dropping and, if Mitchell's jumper plays at the NBA level, he could be a big-time player in a hurry.
12. Detroit Pistons – Luke Kennard (SG, Duke)

Kennard is the best shooter in this class (yes, ahead of Monk and Markkanen) and the Pistons could use that influx of spacing. This may seem high but I've seen Kennard as a top-15 prospect for a long time and Stan Van Gundy is reportedly seeking a player that he can deploy immediately. Kennard has flaws defensively but he can also serve as a secondary play-maker and Detroit won't be able to find a better influence on their offense for next season.
13. Denver Nuggets – Zach Collins (C, Gonzaga)
OG Anunoby has been a long-time favorite to the Nuggets in this space but whispers are mounting that he could fall based on injury concerns with his knee. If Anunoby isn't the guy, Denver could look to address its backup center position with Collins and, in turn, allow Mason Plumlee to walk in restricted free agency. Collins does a lot of things that incumbent starter Nikola Jokic can't do and it is at least conceivable to play the two together given Collins' skill level and potential as a floor-spacer.
14. Miami Heat – Justin Jackson (SG/SF, North Carolina)

Jackson isn't a high-upside player but he is thoroughly competent and can provide shooting. The return of Justise Winslow should be interesting for Miami and, while they have a full backcourt, the forward spots could be wide open if free agency goes in a certain direction. Jackson is a reasonable investment here and, if his shooting from last year in Chapel Hill is real, it's a potential value.
15. Portland Trail Blazers – Harry Giles (C, Duke)
The Blazers seem to be a perfect spot for Giles. Portland has three first round picks so they can afford to take a big swing and Giles is exactly that. If his knees don't hold up, it could be a pure bust but, if everything works perfectly, Giles could remind the NBA world that he was, at one point, the consensus No. 1 player in this class.
16. Chicago Bulls – John Collins (PF/C, Wake Forest)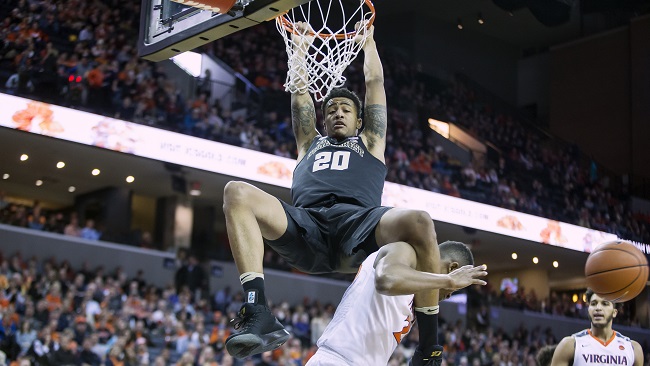 Collins isn't quite old enough (insert laughter here) to fit Chicago's brand of draft investment. With that said, he was an insanely productive college player and that fits quite well. There are real concerns (at least for me) about how Collins will function as a defensive player in the NBA but he can score and rebound at a high level. A team will take him in the top 20 and it might be Chicago.
17. Milwaukee Bucks – Jawun Evans (PG, Oklahoma State)

The Bucks don't have a starting point guard on the roster, even with their large investment in Matthew Dellavedova. Evans may feel like a reach in some ways but I have him ranked this high and the work that he did in Stillwater to engineer a top-flight offense was impressive. A high-upside big man like Jarrett Allen makes sense but the Bucks have a new GM and we can't assume they will only take athletic freaks anymore.
18. Indiana Pacers – T.J. Leaf (PF, UCLA)

This is a very popular pick and it makes sense. Personally, I'm not terribly high on Leaf as a prospect and would probably pass here. Still, the presence of Myles Turner's length and athleticism at center would help to make up for Leaf's shortcomings defensively and that speaks to fit. The Pacers could also shoot for upside given the uncertainty of Paul George, though, and that wouldn't be line with taking a one-position player.
19. Atlanta Hawks – OG Anunoby (PF/SF, Indiana)
New GM Travis Schlenk has a near-blank canvas to work with, as more than half of Atlanta's roster is uncertain for next season. Anunoby, quite easily, presents the highest upside of any player remaining and the Hawks have a track record of developing players with shooting questions. No player in this class presents the defensive tools that Anunoby has and, if the Hawks plan to pivot away from Paul Millsap, this is a team that could be okay with a patient approach to his injury rehab.
20. Portland Trail Blazers – Terrance Ferguson (SG/SF, Australia)

I'm higher on Ferguson than most and the Blazers don't have too many pure holes to fill. On the high side, Ferguson might be a 3-and-D player with upside and athleticism. On the low side, he flames out in a hurry based on concerns that his shooting simply won't be good enough. Much like Portland's first pick, though, the upside is worth it given the slot.

21. Oklahoma City Thunder – Derrick White (SG/PG, Colorado)
White is a fantastic story and, more importantly for this exercise, he is a competent NBA rotation player in the making. Some see White as a point guard but, in this scenario, he can function at either guard spot for OKC and space the floor with an effective jump shot. The senior just knows how to play basketball.
22. Brooklyn Nets – Jarrett Allen (C, Texas)
Brook Lopez is out of the way and, frankly, the Nets were probably already in the market for a young, high-upside big man. Allen isn't overly likely to fall to No. 22 overall but, if he does, look for Brooklyn to pounce. The former Texas standout is a top-15 talent in this class.
23. Toronto Raptors – D.J. Wilson (PF, Michigan)
The Raptors have a developing need at power forward, especially if they don't retain Patrick Patterson or P.J. Tucker in free agency. Even beyond that, though, Wilson brings a touch of athleticism and upside to the table. The former Michigan big man is raw but he possesses the ability to space the floor as a shooter and protect the rim. That is a tantalizing combination.
24. Utah Jazz – Justin Patton (C, Creighton)

Utah's center of the future is secure in Rudy Gobert but the Jazz are seemingly in the market for frontcourt depth. In Patton, Quin Snyder would have an intriguing offensive-minded big man to mold and there is absolutely no rush to get him on the floor. If all goes according to plan, Patton could prove to be a top-15 player in this class.
25. Orlando Magic – Semi Ojeleye (SF/PF, SMU)
I'm all in on Semi Ojeleye. He can play either forward spot, space the floor and defend with an NBA-ready body. There are other players with higher upside but the Magic took a big swing with Dennis Smith earlier in this mock and Ojeleye brings safety and fit to the table.

26. Portland Trail Blazers – Isaiah Hartenstein (PF/C, Germany)
No one believes that Portland will use all three first round picks but we're not projecting trades in this space. If, by some miracle, the Blazers make all three, at least one will probably be a draft-and-stash. This pick comes down to the best available player that can be kept abroad for another year.
27. Los Angeles Lakers (From Brooklyn) – Josh Hart (SG, Villanova)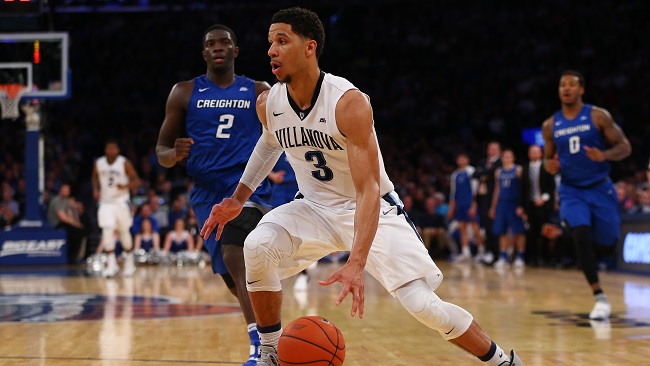 Lonzo Ball takes the ball as the point guard of the future in Los Angeles and Paul George might be coming. Josh Hart could be a nice fit with Ball defensively as a tenacious player with quickness and, offensively, he doesn't need the ball to be effective and can fill in gaps. Someone will get a bargain with Hart and it might be the Lakers.
28. Los Angeles Lakers – Jordan Bell (PF/C, Oregon)
Having Brook Lopez in the middle doesn't exactly ease the defensive burden in Los Angeles and Bell is the best defensive player in this class. He may not have the upside of Isaac or Anunoby but Bell is polished and, if anything, his offensive ability is underrated at this point. This isn't a high upside move but Bell should be an effective role player almost immediately.
29. San Antonio Spurs – Ike Anigbogu (C, UCLA)
It looks like Pau Gasol will be around long-term in San Antonio but, aside from LaMarcus Aldridge, the Spurs don't have a ton of talent on the interior. Anigbogu is very raw but, at his peak, he could be a dominant defensive force around the rim and San Antonio can perhaps coax some offense out of his tools.
30. Utah Jazz – Frank Jackson (SG/PG, Duke)

I'm not in love with the fit but Jackson brings a ton of ceiling to the table. George Hill could, at least in theory, walk in free agency and Utah already addressed the frontcourt with Justin Patton in this scenario. For me, Jackson is more of a shooting guard but he is wildly gifted athletically and a pairing of Jackson and Dante Exum could have long-term legs if things flow perfectly.