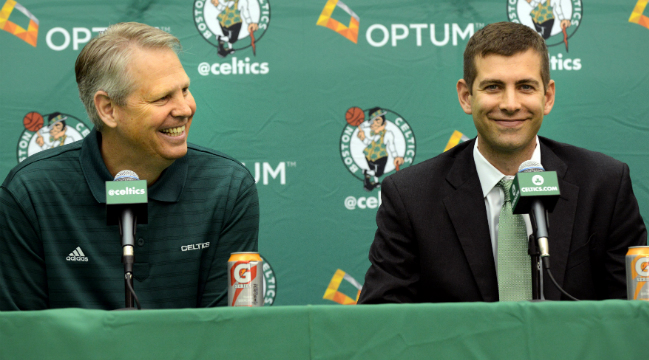 We got our first major shakeup of the 2017 NBA Draft on Saturday night when the Boston Celtics and Philadelphia 76ers agreed to terms on a trade. The deal will reportedly be finalized on Monday. Boston is slated send the No. 1 pick to Philly, which will clear the path for the Sixers to select Washington guard Markelle Fultz.
As for Boston, it took a little bit of time for word to come out about what they would get in the deal.
There were rumors earlier in the day, but shortly after the trade was reported as done, The Vertical's Adrian Wojnarowski announced that Philly would send a trio of picks to Beantown, that was later updated to reflect that only one of the two future picks would transfer.

This is a really fascinating deal for both sides. For Philadelphia, they get to move up to No. 1 in the Draft and only part with one pick that is originally theirs. The Lakers pick will have protections that could keep it in Philadelphia and instead send the Kings pick from 2019 to Boston. Basically, the Sixers were able to get Fultz and make sure they still have picks going forward, which was probably their best-case scenario.
As for Boston, their war chest of assets is hilarious. Just in terms of first round picks, this is what the team currently has in its possession in the immediate future.
If you're reading that, odds are your first reaction is that the Celtics are going to start wheeling and dealing. Based on reports, that's probably the right reaction to have.
By making this deal, Boston is now in a position where they can potentially acquire two superstars this offseason. It also means that they can make it very, very hard for an opposing front office to say no if they make a phone call — with eight first round picks in the next three years, the team can put together insane packages for almost anyone who may be available via a trade.
Things can change over the next few days — it can come out that the Sixers gave up way more than originally reported, or in a worst-case scenario that the deal fell through. But as of now, this seems like a deal that accomplishes something big for both teams during the lead up to the draft.

UPDATE: According to Adam Himmelsbach of The Boston Globe, this trade may be a bit more one-sided towards Philadelphia than originally reported. Himmelsbach reports that Philadelphia will only send one future pick to Boston.
This is still a nice haul, and the Celtics would still have a whole lot of picks to use in a deal moving forward. But the trade becomes more favorable towards the Sixers if they only needed to move one pick, especially because it's a protected selection and because it would mean Philadelphia has at least one of the Lakers or Kings picks next season. According to Wojnarowski, the Lakers pick will convey if it lands between Nos. 2 and 5, but if it's No. 1 or 6 or after the 2019 Kings pick will go to Boston and Philly keeps L.A.'s pick.