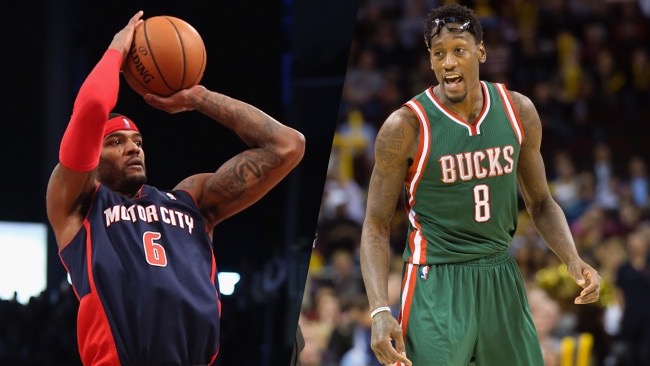 Maybe you don't know this, and we wouldn't if we didn't also spend time around other sports, but the Mets have been shelling out some hefty checks to retired players over the years. They'll be paying Bobby Bonilla over $1.2 million until 2035 and Bret Saberhagen stands to make $250K every year until 2031. Even Daryl Strawberry has a similar deal the IRS is actually auctioning because Daryl has a lot of debts. Except, this type of arrangement isn't limited to the Mets (well, the length of the deals certainly is), and it's not even limited to baseball. NBA teams defer money and arrange buyouts all the time to cut their losses and move on from players no longer on their team. Someone signed this summer might find themselves in a similar boat if things don't work out down the line.
With that in mind, reddit's always intriguing r/NBA forum recently saw a "Dead Money" list shared by user WhenMachinesCry. The list breaks down what amounts players will make in the 2016-17 season, from teams they won't be representing any longer on an NBA hardwood.
We did take out one deal on the Dead Money list. The $6,270,000 said to be owed Jodie Meeks by the Pistons. Detroit traded Meeks to the Magic for a second-rounder. It was a salary dump and the Magic had the room to acquire it. Now he's behind Evan Fournier on the depth chart and he's actually owed 6,540,000 next season, if The Vertical and Basketball-Insiders are to be believed.
Some questioned on the reddit thread why the Hawks would owe Jeff Teague $800,000 if he was traded to the Pacers in a three-team deal earlier this summer. Well, Teague has a trade kicker that says the Hawks owe him $800,000 if he's traded before July. He was traded June 22, so that takes effect and the Hawks owe him despite who he'll play for next season.
Some other highlights of the below list?
The $5.5 million the Nets still owe Deron Williams after buying him out of Brooklyn, so he could sign in his hometown of Dallas. Remember, that was a when Williams' former teammate, Joe Johnson, infamously said, "It's not that bad here."
Somewhat ironically, the Nets actually bought out Joe as well earlier this past season, in the final year of a deal that owed him $25 million this past season. He later signed with the Heat. What's crazy about that deal is Joe was an expiring contract, but because the idea of paying even a fraction of $25 million to Joe Johnson was so appalling they couldn't even dump him on another team, he was bought out. Joe Cool, indeed.
Anderson Varejao is also owed a pretty penny from the Blazers this coming season. That's because after he was traded from Cleveland to Portland, they immediately waived him and will pay him $1.984005 million every year through 2020-21, via the CBA's "stretch provision."
Then there's Josh Smith, the former Hawk who many once considered the best player never to make an All-Star team has had a rough few seasons in what should have been the tail-end of his prime. In the summer of 2013, Smoove signed a four-year, $54 million deal with Detroit. By the next summer, the general manager who had signed him, Joe Dumars, had resigned, and Stan Van Gundy took over as coach and general manager. That last part is important.
After being burned in Orlando by Dwight Howard, who asked ownership for Stan to be traded, the more rotund Van Gundy brother made sure he had the reins in the front office, too, this time, and it was eventually the downfall of Smith. Two months into the 2014-15 season, with two and a half years still left on Smoove's deal, Van Gundy had enough. After clashing, Van Gundy waived the pouty hybrid forward and the remainder of his contract was lengthened under the stretch provision so Smith will be making $5.4 million from the Pistons each year through the 2019-20 season.
That's just how much Van Gundy didn't want him in his locker room or on his bench, not to mention on the court.
There's also $1,865,546 owed to Larry Sanders by the Bucks. Sanders hasn't been on an NBA court since December of 2014. In the summer of 2013, the Bucks agreed to give the rim-protecting, rebound-gobbling center a four-year, $44 million extension. But Sanders' life off the court eventually led to him leaving the game altogether, but not before sticking up for cannabis and agreeing to a buyout paying him $15.2 million spread out through the 2020-21 season, again using the CBA's stretch provision.
Pistons owner, Tom Gores, and Bucks owners, Wesley Edens and Marc Lasry, are going to remember Smoove and Sanders long after they've let the team because it'll be hard to forget each time they fund a new paycheck.
There might be other mistakes on this list like that with Jodie Meeks, so feel free to point them out in the comments with a link to an established site backing up your claim.
ATLANTA HAWKS:
-Jeff Teague $800,000

BROOKLYN NETS:
-Deron Williams $5,500,000
-Jarrett Jack $500,000
-Andrea Bargnani $323,599

DALLAS MAVERICKS
-Maurice N'dour $437,318
-Gal Mekel $315,759

DENVER NUGGETS
-Nick Johnson $980,431

DETROIT PISTONS
-Josh Smith $5,400,000
-Aaron Gray $452,049

GOLDEN STATE WARRIORS
-Jason Thompson $945,126

LA CLIPPERS
-Carlos Delfino $650,000
-Jordan Farmar $510,922
-Miroslav Raduljica $252,042

MEMPHIS GRIZZLIES
-Jamaal Franklin $163,296

MILWAUKEE BUCKS
-Larry Sanders $1,865,546

MINNESOTA TIMBERWOLVES
-Kevin Martin $1,380,305

PORTLAND TRAIL BLAZERS
-Anderson Varejao $1,984,005

SACRAMENTO KINGS
-Wayne Ellington $882,630
-Caron Butler $517,220

WASHINGTON WIZARDS
-Martell Webster $833,334
Which payout next season is the worst?
Contracts numbers were obtained from Basketball-Insiders and The Vertical.
(reddit)