When we last checked in with Stanley Johnson, he had just finished a car wash of talking to teams and getting measured at the Draft Combine. Johnson worked out for about 14 NBA teams, flying from city to city in the whirlwind leading up to Thursday's big night.
---
---
The former Wildcats forward is almost assuredly a lottery pick, and he could conceivably go anywhere between No. 5 and No. 10, depending on who you talk to. Former Arizona teammate Rondae Hollis-Jefferson thinks Johnson's aggressiveness and physical gifts should serve him well in the NBA, and it's not surprising teams view the wing as a potential defensive stopper who can guard multiple positions at the next level. With his upside on the offensive end, the team that lands him could be getting a potential star, although fit will be critical, as always.
Dime had the chance to catch up with Johnson a couple times over the past few weeks as he went through team workouts and got set for the Draft. Here are some of his observations about the process.
On Attending The Draft Lottery:
"I got there late because my flight got delayed like seven or eight hours. But we we went out around the city a little bit, went shopping, did the Draft Lottery show and all that other stuff. It was fun. "
On Arizona's Pro Day:
"It was just a bunch of guys in the gym playing together again, really. We just showed what we can do. It was the regular workout we do on a daily basis, but it was just in front of a lot more people. I thought it was well run."
On Meeting Quin Snider:
"I think he had good energy, and his knowledge of the game and what he knew about me in such a short time was awesome."
On Working Out For Scouts And GMs:
"When you're playing, you don't notice anyone else in the gym. The court becomes small. It's really easy. NBA guys are just watching from afar. The guys with the clipboards already know who I am and what I can do. One workout isn't going to change their mind. There's really no pressure honestly."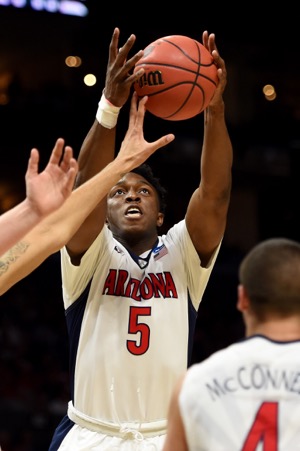 On The Draft Process:
"I'm just excited to play. I'm excited for Summer League. I'm excited to play in the games. The team that picks you is the team that picks you. You can work out well, be in shape and everything, but I can't control who takes me. I'm just ready to be picked by a team and get ready to go. I really didn't have an expectation about the process. For me it's not that different. I've worked out like this before, and I'm doing the same things I'd do over the summer anyway. Aside from having P3 here, strength and conditioning wise, it's the same. I'm just playing basketball."
On His Diet:
"It's been pretty strict. Smoothies. Lots of water, no bread. I just try to stay away from fried food mostly and stick to fruit. I really miss soda, and juice, and eating chips."
On Working Out At P3:
"It's a one-of-a-kind place. They pride themselves on doing stuff in the gym that translates to the court. They have a test they use ahead of time so they know what we need before we start working out, so we can see our strengths and weaknesses. They have the knowledge of strength and conditioning for what to do and what not to do. How hard should I go? Where should I go? How should I be working out? My trainer is more like a teammate. He's making me better. It's a nice little place, and they're the best strength and conditioning place in the world."
On The Importance Of Rest:
"Sleeping is definitely the best sometimes. Especially after a long week of travel or workouts, you just want to get one long rest in so you can be alive and alert."
On How He Approaches Team Workouts:
"I play basketball for a living now. If I can't go on the court for 45 minutes, make some shots and dunk the ball a couple times, I shouldn't be where I am today. The workouts aren't that strenuous. It just shows what you can and can't do. Teams aren't working you out to kill you. I thought they were fairly easy."
On This Week In New York:
"This trip is going to be more special than any one of them because I'm around people I actually care about and love. Pretty much my whole family is here, some of my friends and all the people who care about me. It's a moment I want to share with them."
On His Trip Back To Tucson:
"On the way back from Denver, I got to make a quick stop in Phoenix, and then I went out to Tucson. Being able to go back to school and see old teammates was really special. I was happy I got to go back. I really don't have all that much time to do that, so that was great."
On Working Out With Pat Connaughton:
"He's just as athletic as advertised. For a guy that's his height, he can really dunk the ball. He's got that 44-inch vertical."
On Mock Drafts:
"These mock drafts don't make anything better. It's terrible. They make ripples. They make, like, waves for no reason. They get it right once or twice, and then they have the credibility to write what they want before the process. Now that I've talked to the teams and the players, you kind of realize how much they don't know about what's going on. They're just guessing and trying to make storylines. Everybody has to make money some way. I respect the hustle, for sure. But going through this part of it now, I realize what it really is. My dad would call it 'calling a spade a spade.' But soon that's going to be all over with."
On What Front Offices Tell You:
"Everything's top secret, but going through the teams, by the people they select to work out, you can kind of tell where they're going with their pick. The relationship our agent has with the teams, she knows what type of process the teams like to go through, how they pull in people, how selective they are, how far along in the process they are. The teams are pretty transparent with their picks. They're not going to tell you who they're going to pick because nobody knows who they're going to pick until it's their pick. Even the Timberwolves – they could trade their pick as well. You never really know. Information is power. Obviously you want as much information as possible, but you like to worry about what you can control. When you start worrying about what you can't control, you go crazy."
On Keeping His Mind Right:
"I'm 19 years old, so I just try to chill as much as I possibly can. I go home, see my family and play with my nieces as much as I can. We play video games, do coloring books, stuff like that. I just relax. There's a thing people call 'Cali Cool.' I don't even like to use that term about myself, but in some things, you have to. I'll stay 'Cali Cool' in the draft room with my friends and my family."
On What Being Drafted Means To Him:
"For me it's not a culmination of everything I've worked for. It's more of a benchmark or a next step for me. I want to be really good. I want to be a Hall of Famer. This is one of those moments I kind of feel like I'm graduating high school or college. I can take a step back and relax that night and think about all the things I've done well. For everything I've done to this point to finally become a professional basketball player, to do something only .001 percent of the world can do, it is very special. Someone like me, a lot of people told me I could never do this. You're not fast enough. You don't jump high enough. You don't shoot well enough. You're not cool enough. Everybody kind of has to watch and see how blessed I am to be where I am today."