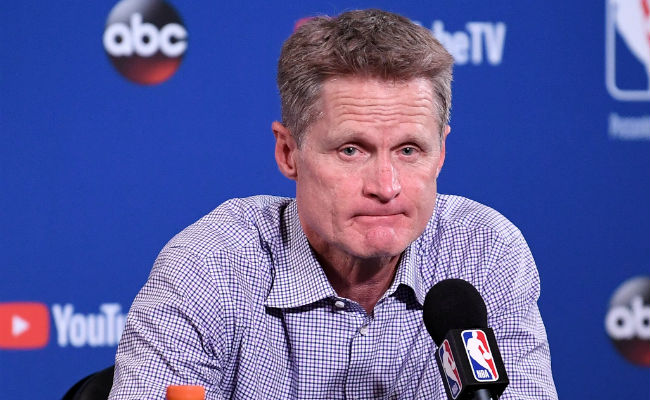 It's the NBA Finals, and everyone is trying their best. LeBron James is doing everything he can to bring another title to Cleveland before he has a big decision to make this summer. And the Golden State Warriors are trying to establish a true modern dynasty.
The reporters covering all this are working hard, too. Let's not forget that. But LeBron James was upset about the constant barrage of questions he received about J.R. Smith on Thursday night after the Cavaliers guard seemed to forget the score late in regulation.
James told a reporter to "be better tomorrow" after the exchange, about as strong as an admonishment as James has allowed himself to have of the press. And while the Cavaliers didn't fare much better in Game 2, Warriors head coach Steve Kerr made sure he told reporters the thought they did a better job after the game.
https://twitter.com/gifdsports/status/1003472329580666886
Kerr was obviously in a good mood with his team up 2-0 in the series, and he rarely turns down an opportunity to have some fun with the press, so this seems like some good-hearted ribbing and not any kind of actual effort to slight LeBron.
Still, LeBron James probably won't appreciate the joke right now given how the series has gone to this point. Everyone in Oakland is having fun with J.R. Smith, except the Cleveland Cavaliers, it seems as the series shifts to Cleveland with the Warriors firmly in control.