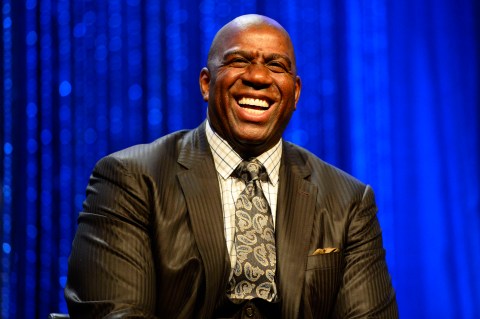 Magic Johnson (Bob Donnan-USA TODAY Sports)
The 2015 NBA All-Star Game is on the near horizon. Who knows which of this year's stars will make 2015 their year. Over the past 64 previous seasons, fans have experienced a multitude of impressive all-star performances, with individuals who owned the game between the NBA's best. We decided to boil them down into our own top 5. There may have been been more impressive statistical games, but these five were the best in-the-moment player performances in All-Star Game history.
As we said, there were some incredible performances who were unfortunately left off our list, but here were the toughest ones to exclude, in no particular order:
HONORABLE MENTIONS: Isiah Thomas 1986, George Gervin 1980, LeBron James 2011, Oscar Robertson 1961, Wilt Chamberlain 1962, Kevin Garnett 2003, Dwyane Wade 2010, Rick Barry 1967
*** ***
5. TOM CHAMBERS 1987
Before the 163-155 Eastern Conference win last year, the 1987 All-Star Game was the highest scoring in history. One player was replaced for the winning West squad, too. Ralph Sampson was a late scratch, and Tom Chambers took his place, playing in his first (of four) All-Star nods in front of his hometown crowd at the old Seattle Kingdom (we once saw Ken Griffey, Jr. knock one out of the Kingdom back in the 90s).
Chambers did not disappoint in a 154-149 Western Conference victory in overtime. Chambers took a game-high 25 shots, making 13 of them (52 percent) on his way to 34 points in just 29 minutes. He also won the most surprising All-Star Game MVP in NBA history. Even if Damian Lillard won the MVP this year, it still wouldn't be as surprising as Chambers' scoring bonanza for the West.
4. ALLEN IVERSON 2001
We included AI's thrilling comeback for the East in the 2001 All-Star Game in our top 10 moments in All-Star Game history coming up later this week, and he's getting a spot on this list, too.
That's because AI was a epoch-defining player who will always represent the early aught volume scorer; the same player number-crunching bloggers detest, but those who watched the game closely at the time, absolutely adore. He was only 9-of-21 from the field on the day, but he scored 15 of those 25 in the last nine minutes as the East came back from a 21-point fourth-quarter deficit for a thrilling 111-110 win.
3. KOBE BRYANT 2011
The 2011 NBA All-Star Game saw Kobe Bryant win his fourth All-Star MVP award (he also won in 2002, 2007 and 2009). Only former St. Louis Hawks star, Bob Pettit, has won as many ASG MVPs. Kobe's performance in 2011 warranted the nod, too. He scored 37 points on a game-high 26 attempts from the field, but he made 14 of them (53.8 percent) to go with 14 rebounds — including an NBA-record 10 offensive boards — three steals and three dimes.
Kevin Durant scored 34 points in addition to Mamba's output and they overcame 29-apiece from Amar'e Stoudemire and LeBron James for a 148-143 Western Conference win.
Kobe even found time to avoid the LeBron chasedown block on a transition dunk and slap him on the fanny, like 'good try homie, but this is my night.'
2. MAGIC JOHNSON 1992
This was good enough to be the No. 1 NBA All-Star Game moment. That's because of the context, with Magic playing in the mid-season game despite retiring before the season began after being diagnosed with HIV.
But Magic played really well, too, or else his ensuing MVP would have felt like a cheap designation. He was 9-of-12 from the field for his team-high 25 points. He added nine dimes, five rebounds and two steals. He also had seven turnovers, but it's the All-Star Game, and he hadn't played the previous three months, so a little rust was to be expected.
The final four minutes of the game were certainly Magic's best with his friends and peers powerless to stop his perfect 3-for-3 from three, even though it was one of the weakest part of Magic's game.
1. MICHAEL JORDAN 1988
MJ's '88 All-Star Game performance wins out over Magic's nostalgic win four years later because it was the moment everyone realized Jordan was the best individual player in the NBA. The GOAT would go on to win the regular season MVP award and the Defensive Player of the Year Award along with his MVP of the All-Star Game that year. He was near his apex physically and mentally, so it's no wonder he claimed the Slam Dunk crown and the annual All-Star Game Most Valuable Player Award.
His 40 points are still the second most ever (Wilt in '62 stil has the record with 42), and he tied Wilt's 17 field goals in the game. Jordan added eight rebounds and five dimes against just two turnovers for the greatest All-Star Game performance ever.
MJ was ballin' on both ends, like this block from behind on Karl Malone that he took for a double-pump jam the other way:
The league leader in steals that season, MJ had four thefts and four blocks on the night, too.
There's a reason MJ will be such a large part of our top 10 NBA All-Star Game moments, and his dominating 1988 performance was the crowning achievement in an All-Star Game career that saw three MVP nods in 14 appearances.
Who did we overlook?
Follow Dime on Twitter at @DimeMag.
Become a fan of Dime Magazine on Facebook HERE.