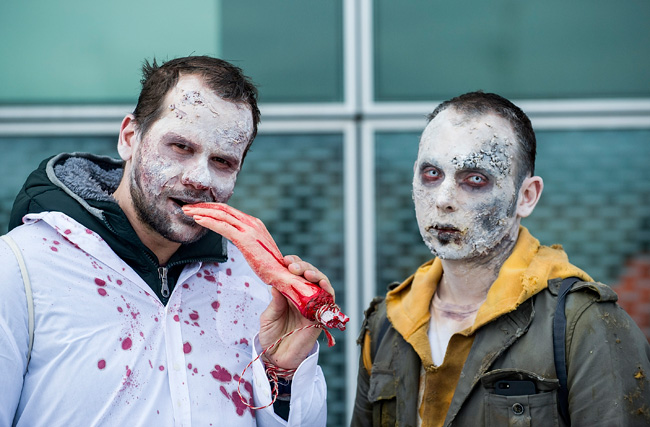 "Zombie Walks" have to be the laziest form of cosplay behind SantaCon, and Comic-Con attendees will have to get a little more creative this year, because the Zombie Walk has been cancelled. And all because a zombie walker was seriously injured in a hit-and-run incident last year. I pray to God everyone stays safe at the orgies.
Matthew Pocci Jr., 48, is set for trial Oct. 13 on a charge of felony reckless driving causing bodily injury.

Pocci was driving with his girlfriend, her sister, and the sister's 9-year-old son during last year's Zombie Walk near the Convention Center when the incident occurred.

Pocci, who is deaf, said he accelerated at an intersection when zombie marchers began pounding on his car and his passengers became frightened. A 64-year-old woman who was taking pictures of the marchers was hit and injured by his car.

Pocci has filed a claim against the city, asserting the San Diego Police Department did not adequately supervise the march to prevent accidents. The injured woman has filed a similar claim. (Via LA Times)
The zombies, it should be noted, strenuously dispute this "pounding on car" business.
On a personal note, many of you know how much the walk has meant to me over the last nine years. It has been emotionally devastating to see the walk dragged through the mud in order to boost ratings and click counts for media outlets. As multiple witnesses have alleged and videos show, no "zombies" were near/touching the car during the incident, so I'm confident justice will be served. (Via ZombieWalkFacebookPage)
Here's a pretty good video of the incident:
True, it doesn't look like any of the people hitting the car are dressed as zombies, and the driver does seem to be driving like a pushy A-hole. But if you're just going to march down a city street with active intersections, you kind of have to stop at crossings, don't you? You're just going to mob down the street and make all the cars wait for the entire parade? If you're dressed as a zombie in the middle of the day you probably have enough free time to let a car pass. Yeesh, entitled marchers vs. pushy SoCal drivers, I can't choose sides. Maybe throw them all in jail? London Dungeon, say. All the corpses there are clean.