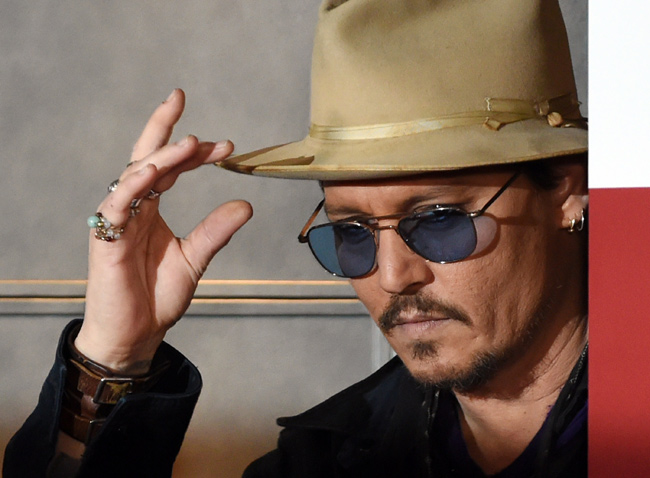 Comments of the Week is back, and I'm giving away FilmDrunk shirts (BUY YOURS HERE) to each week's winner. We don't have an upvoting function yet, so in the meantime, you'll have to bookmark this post and paste your favorite comments in the comments section, from which I'll choose each week's winner. Got it? Good.
Before we get into this week's winners/honorable mentions, I should probably recognize commenter AB for pointing out what I glossed right over, Johnny Depp's incredible shredded denim shirt (that I imagine nonetheless cost $6,000). That's good looking out.
Now then. I've been starting with the winner these past few weeks rather than waiting to reveal it at the end. Do you guys prefer it this way, or the old way? Feel free to share.
Anyway, this week's winner was Buttockus Finch, in the post about Cate Blanchett discussing the most erotic body part in a profile about her new Patricia Highsmith novel:
Buttockus Finch, Esq.: "What part of the body is the most erotic?" Cate wondered aloud before taking a prolonged sip of her Earl Grey. "The most erotic . . . I'd have to say the cooter. It's as if the bung was elevated to the peerage."
Lovely. And now for the honorable mentions. In an argument over the lack of dialogue in the comments of my Mad Max: Fury Road review:
Alcoholics Gratuitous: I throw balls far. You want good words? Date a languager.
Well put. Meanwhile, there was a Steven Seagal post this week, which is always a boon for the comments section.
MickTravis4Life:
"I take a machine gun and a plate carrier, and get out there."

No idea what that means, but I'm picturing this man running around a TexMex border town with a gun and catering equipment.

Stallonewolf: His plate carrier is an intern standing by with heaping platters of chicken parm during long standoffs.

Chareth Cutestory:

[in Pacquiao's corner, Round 7]

"You got him right where you want him, Danny. Also, I believe I was promised a hoagie."

Chareth Cutestory:

[Round 8]

"Danny! They've locked the mini fridge in my room, Danny!"
And you guys wonder why I let Chareth write posts sometimes. From Kevin Spacey will play a cat:
ChinoMoreno: WHAT'S IN THE LITTERBOX?!?!?
From Johnny Depp's dogs must leave Australia:
Talking Can of Vegetables: Do his dogs wear fedoras, too? Are they called fido-ras?
Fido-ras. Yep. So that's all for this week. Thanks for keeping me sane for one more week.