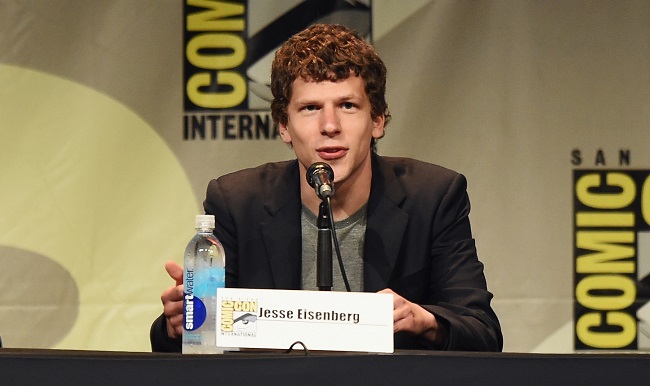 Batman v Superman: Dawn of Justice's version of Lex Luthor just did his best impression of a real-life comic book villain. Or, at least, that might be his publicist's possible defense for his comments regarding his attendance at the 2015 San Diego Comic-Con over the weekend.
While at the Monday premiere of The End of the Tour, in which Eisenberg co-stars with Jason Segel, the actor told reporters that he didn't really have a good time at the massive geek convention:
"It is like being screamed at by thousands of people. I don't know what the experience is throughout history, probably some kind of genocide. I can't think of anything that's equivalent," he said.
Um, what? I mean, comic book and fantasy conventions have become veritable Meccas for an increasingly sizable populace of fans and aficionados. This is especially the case at SDCC, which has grown larger with each passing year. So yeah, there's a lot of people screaming at celebrity attendees. But a "kind of genocide?"
Just in case you were worried Eisenberg simply put his foot in his mouth the one time, he spoke his mind yet again — in the same interview. Discussing his role in The End of the Tour, the actor told the professional journalist whose questions he was answering what he thought about reporters:
"Yes I have never been on the other side, on your side of journalism. I have normally been the victim so I worked with the guy who I play — I play a real person — David Lipsky," he said. "I interviewed him. He taught me how to interview and what his process is like, and now I understand the pariahs that you guys are."
Hey Eisenberg, I heard they were looking for a suitable male lead for the How to Lose Friends & Alienate People sequel.