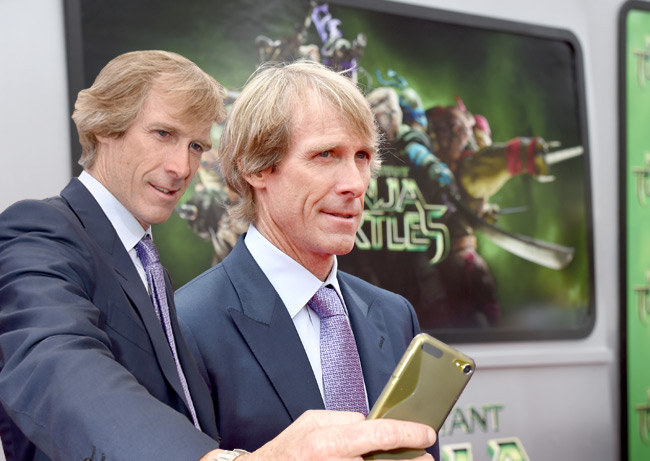 Rolling Stone has a long profile on Michael Bay to promote his Benghazi movie 13 Hours, and holy sh*t, you guys. If you like reading about Michael Bay doing and saying Michael Bay things (and I do), this profile's for you. Let's get the Transformers 5 news out of the way quickly then move on to the (figurative and literal) money quotes.
Bay confirmed what Mark Wahlberg revealed: "I'm doing Transformers… 5, is it?"
Even Michael Bay isn't keeping track of how many of these there are.
He's planning Transformers… 5, is it? for the summer of 2017, and he showed interviewer Josh Eells a rendering of a new dump-truck Transformer that has a cloak. He also said this is his last Transformers movie (but he's said that before). Perhaps the last film grossing more than $1.1 billion (most of it from overseas) convinced him to make another one.
When the interviewer mentions that Bay's 11 films have grossed more than $5 billion (the fourth-highest return for any director), Bay pointed out that's international gross, and he's the second-highest in domestic return. We like to imagine he was lovingly stroking an albino liger when he said that.
That wasn't the only money talk. He told the interviewer he's selling most of his cars — he owns a Bentley, a Range Rover, an Escalade, a Ferrari, a Lamborghini, and two Camaros — because he uses Uber. The interviewer, Josh "giant cajones" Eells, asked him what his net worth is. Usually people would be taken aback or hem and haw about a money question. Not Michael Bay. Not only will he tell you his net worth (half a billion f*cking dollars), but he'll point out that he's going to be a philanthropist (eventually).
I ask him how much he's worth. "I'd say about half," he says. "Half a 'B.'" He admits that's a lot. "But you save up your money and you give it away. That's what I'm going to do. I'll probably do a very large wildlife-protection fund — something with Africa and big game." I ask how much he'll give. "All of it," he says. "Not yet. One day."
Again, we like to imagine he was lovingly stroking an albino liger when he said that.
(Via Rolling Stone)