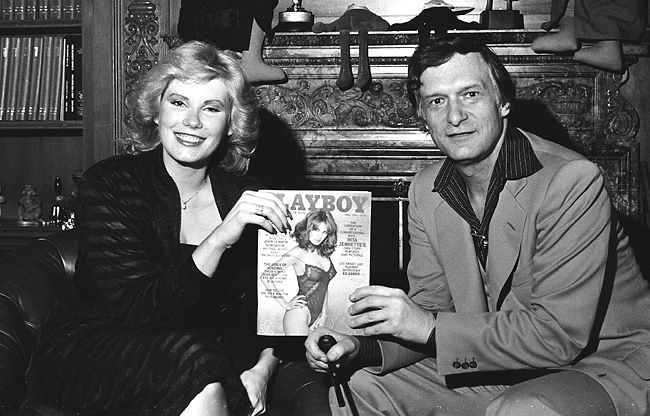 I have a confession to make: I'm a Playboy subscriber. And I have been for years. Sure, I could tell probably the same nostalgic stories as every other heterosexual male over 30, of stealing pa's magazines and stashing them in my tree house and blah blah blah. Truth is, I wasn't buying Playboy well into my twenties and thirties out of nostalgia. I liked it because it still, sorta, treated its readers like multifaceted adults.
Every issue had a long form interview (the Playboy interview), a short form interview (20 questions), a piece of short fiction, and usually at least one piece of long-form journalism. How many mainstream magazines still publish fiction anymore? Playboy was a throwback in the best way, publishing stuff I actually wanted to read, in a format that was better than on my phone (yes, it was great for toilet reading). I don't know who turned "I read it for the articles" into the ultimate cliché of disingenuousness, but dammit, it's true!
Which is to say, it's not the nudity itself I'll miss so much. It's the idea of someone out there acknowledging the possibility of enjoying both naked women and smart reading. However you want to paint it, this decision to drop nudes weirdly stigmatizes nudity in a magazine that professed to celebrate it, at a time when even the decision makers acknowledge that nudity and sex are everywhere.
How do you square such a contradiction, that you couldn't survive selling something everyone so clearly wants?
The conventional wisdom seems to be that technology has given us far more effective things than Playboy to masturbate to. Certainly it has, but there's something so obviously flawed (and childish) with that line of thinking: it assumes that the only use for a naked women is as something to masturbate to.
And lest you think I'm putting words in anyone's mouths, here's how Playboy's decision was explained in the New York Times:
"That battle has been fought and won," said Scott Flanders, the company's chief executive. "You're now one click away from every sex act imaginable for free. And so it's just passé at this juncture."

For a generation of American men, reading Playboy was a cultural rite, an illicit thrill consumed by flashlight. Now every teenage boy has an Internet-connected phone instead. Pornographic magazines, even those as storied as Playboy, have lost their shock value, their commercial value and their cultural relevance.
Yeesh, is Playboy really a "pornographic magazine?" Is the naked female body really inherently pornographic? 10 years ago, Playboy would've bristled at a comparison of what they do to depictions of "sex acts." Was "shock value" really the only draw?
Now, I can understand that Playboy, for all its stated goals of progressiveness, inclusion, and equality, has always been an easy target for accusations of exploitation and objectification (how you find the line between empowering nudity and exploitative nudity, I'm still not quite sure, but that's a subject for another time). I truly don't believe that titillation is inherently degrading – we can respect each other, but we're never going to stop wanting to f*ck each other. Still, even I have to admit that watching Hef walk around in his bathrobe in a house full of women who kiiinda look like porn mannequins on a reality show sent a weird message. It's hard to celebrate the body while showcasing a fairly narrow spectrum of bodies.
Which is to say — if the goal in dropping nude pictorials was to change that, I could understand. But it's not. Playboy isn't dropping pictorials, only nudity. The female form is still being sold as an object of titillation, only… covered. And isn't that way worse?
As part of a redesign that will be unveiled next March, the print edition of Playboy will still feature women in provocative poses. But they will no longer be fully nude.
[…] The magazine will adopt a cleaner, more modern style, said Mr. Jones, who as chief content officer also oversees its website. There will still be a Playmate of the Month, but the pictures will be "PG-13" and less produced — more like the racier sections of Instagram.
Oof, "cleaner." Which is, again, a tacit judgment that sex organs are inherently "dirty."
This is a long caveat to say that there could be a lot of defensible reasons for Playboy to drop nudity. None of them are the actual reason Playboy is dropping nudity. Playboy is dropping nudity because, like almost everything that attempts to make money on the web (a must for any publication these days), they rely heavily on a handful of platforms that are more puritanical than newsstands ever were.
The latest redesign, 62 years later, is more pragmatic. The magazine had already made some content safe for work, [Playboy chief executive] Flanders said, in order to be allowed on social media platforms like Facebook, Instagram and Twitter, vital sources of web traffic.

In August of last year, its website dispensed with nudity. As a result, Playboy executives said, the average age of its reader dropped from 47 to just over 30, and its web traffic jumped to about 16 million from about four million unique users per month.
How strange is it that, almost in the same breath as admitting that "you're now one click away from every sex act imaginable," the same folks can admit that they can't survive unless they conform to media platforms that fastidiously police (female) nipples?
What kind of bizarre, half-censored world have our internet gatekeepers wrought? Can a grown adult truly not be trusted to read a periodical that includes nipples and vulva? So many times I've had to type "f*ck" instead of the actual word in my articles, and it makes my eyelid twitch a little every time, so deeply it disagrees with my basic constitution. We now live in a weird world of compartmentalized desire.
I want someone to be angry at, but I'm not sure there's a human at the wheel anymore. In the current media environment, there isn't much tolerance for nuance, for variance. We're constantly herded into more clearly defined boxes. The simplest explanation is, readers need to be divisible into a collection of demographics in order to be targeted for advertising. The renaissance man has given way to the ___ nerd (the Game of Thrones nerd, the fashion nerd, the sex nerd). That Playboy seemed to move so breezily between topics was exactly what I liked about it. It didn't feel like an anachronism because it had tits, it felt like an anachronism because it overtly attempted to serve varied interests.
Now they're a victim of a larger push towards compartmentalization. Listening to Playboy's execs try to put a human face on it is painful.
Its sex columnist, Mr. Jones said, will be a "sex-positive female," writing enthusiastically about sex.
"Look at us! We're so sex positive, we just can't show any of the body parts you make sex with because they're shameful."
"Don't get me wrong," Mr. Jones said of the decision to dispense with nudity, "12-year-old me is very disappointed in current me. But it's the right thing to do."
That's funny, not being able to differentiate between pictures of naked women and video of people having sex seems like the far more immature perspective to me. Anyway, I could pick apart their justifications all day, but the point is, the justifications are inherently flawed because the execs have been put in the unenviable position of attempting to apply logic to the illogical.
Even if this latest decision wasn't based on puritanical ideals, like it might've been in eras past, the result still feels like a regression. Nudity is being de-normalized in some small way. It's a tacit accusation that grown adults can't be trusted to see a nipple at work without it causing a total meltdown ("Did you guys hear Dave saw a cuss word? Now he can't be a lawyer anymore.").
I'll miss Playboy's nudes, a little, even though I can now find similar things in many places. I'll miss the idea that a person could enjoy intellectual discussion and naked women, the idea that being a multi-faceted human was something to aspire to. But much more I'll miss the idea of someone promoting, in however flawed a way, the idea that nudity wasn't that big of a deal.
Vince Mancini is a writer and comedian living in San Francisco. A graduate of Columbia's non-fiction MFA program, his work has appeared on FilmDrunk, the UPROXX network, the Portland Mercury, the East Bay Express, and all over his mom's refrigerator. Fan FilmDrunk on Facebook, find the latest movie reviews here.