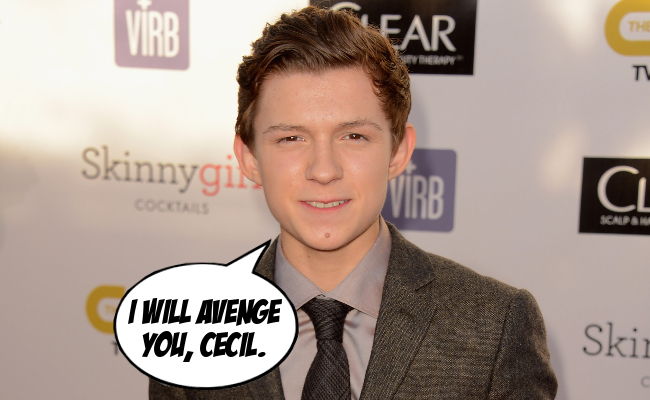 It's time for another installment of one of my all-time favorite games: What silly Spider-Man rumors are floating around out there now? Earlier this week, it was revealed that Tom Holland, the latest actor to brave the thankless role of Peter Parker, has reportedly filmed his scenes for Captain America: Civil War. That news came from newly-anointed Spider-Man writers John Francis Daley and Jonathan Goldstein in an interview with Vulture, so it's not much of a rumor as it seems to be fact. They still left plenty to the imagination, though, as Daley didn't know if they'd get to see the new Spidey suit in that footage, and they also haven't chosen any additional characters for their Spider-Man script yet.
That's where the latest rumor du jour comes into play, and it's certainly one that was developed out of creativity and a thirst for literally anything to talk about. According to Heroic Hollywood, "sources" claim that Sony's Vice President of Creative Affairs, Karen Moy, purchased a copy of Kraven's Last Hunt on Amazon. Put two and two together and that might maybe possibly mean that Kraven will be Spidey's big rival.
At first I brushed it off and asked my sources why would she have to buy a copy? Wouldn't Marvel just send a copy over to the Sony story department for their research purposes? Well folks, you're not going to believe this, but Marvel is THAT insanely cheap. The Sony folks had to buy their own copy. Unbelievable.

But here is the kicker. I did some additional sleuthing and a quick search of Karen Moy on the leaked Sony emails database over on Wikileaks reveals that she has previously made book purchases on Amazon for her former boss Amy Pascal. In my experience, where there is smoke there is fire. (Via Heroic Hollywood)
Sure, why the hell not? Kevin Feige has previously said that the newest Spider-Man wouldn't bring back any of the villains that have already been used, which is silly because, you know, just make a good Venom already. So, it would make sense that they'd go with someone simple like Kraven. Especially right now when Daley and Goldstein could make some easy Cecil the Lion jokes and just collect their giant bags of money.