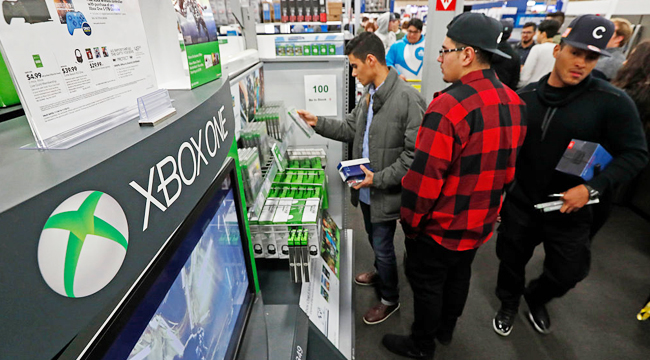 Black Friday is rapidly approaching, so that means eschewing family obligations and a warm home for Door Buster deals on your favorite electronics and games has a time and date: Thanksgiving Day, 5 PM. Best Buy released their official Black Friday preview with some truly phenomenal deals on everything from brand-new 4K TVs (perfect for the person who just picked up an Xbox One X), to slashed prices on some of this season's biggest releases.
It's almost enough to make gamers wait on launch day prices. Almost. Here's what Best Buy is offering on Black Friday, courtesy of Gamespot:
Assassin's Creed Origins – $35 (Read our thoughts on the gorgeous tourism of Egypt)
Call of Duty: WWII – $40
Crash Bandicoot N Sane Trilogy – $25
Destiny 2 – $30
Dishonored: Death of the Outsider – $15
The Evil Within 2 – $25
Horizon: Zero Dawn – $20 (Read our glowing review)
Injustice 2 – $20 (We called it a "cross-over comic come to life")
Madden 18 – $30 (The Longshot Story Mode is worth the price of admission)
Mass Effect: Andromeda – $15 (We didn't think it was nearly as weak as its reputation)
NBA 2K18 – $30
Need for Speed Payback – $35
Nier Automata – $25
Tekken 7 – $25
Wolfenstein II: The New Colossus – $25 (For fans of killin' Nazis and good single-player shooters)
Gamespot also pointed out that Uncharted: The Lost Legacy and MLB: The Show '17 are both $20 right now on BestBuy.com, in addition to a smattering of 4K TVs under $500.
Target, meanwhile, has the following titles for only $15:
Forza Horizon 3
Final Fantasy XV
Resident Evil 7
Skyrim Special Edition
Target also has doorbusters for the Xbox One S, which is priced at an astonishing $180 (with a $25 gift card) and a 1 TB PS4 for $200. Now's the time to get some fantastic deals.
(Via Gamespot)