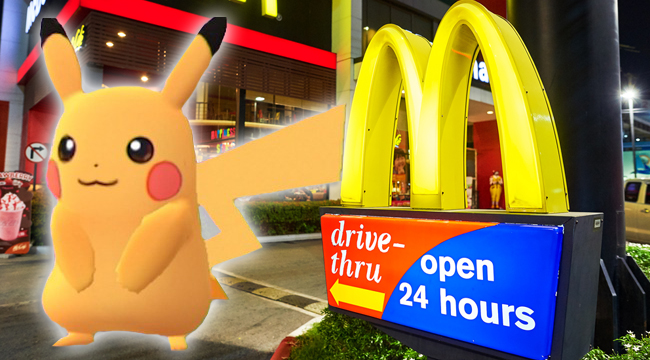 Pokemon Go is an astonishing success, despite only being released in certain parts of the world. We've seen everything from the weird to the wonderful in the few short days since its release, from dead bodies being discovered to people from all walks of life coming together for one, nerdy goal.
We also see Pokemon Go giving an impressive boost to local businesses. Savvy business owners are dropping lures to attract Pokemon to their locations, which in turn bring the trainers out en masse to capture and possibly drop some dollars at the register while they're at it. We don't know if developer Niantic intended for the app to be used in such an innovative way from outside parties, but we do know, thanks to Redditors data mining, that a McDonalds and Pokemon Go team-up is in the cards.
According to Gizmodo, an Asian country (likely Japan) will launch Pokemon Go with Gyms and Pokestops located at every McDonalds in the country. According to a 2015 McDonalds census, that's 2,975 locations for trainers to flock to. It's ironic that Pokemon Go's ability to get gamers off the couch and under the sun will now lead them straight to a McDonald's, but gamers probably won't care as long as there's rare Pokemon to catch.
Gizmodo continues their report by saying it's currently unclear why this partnership would roll out in a single country, but since Pokemon Go has yet to launch in Japan, the birthplace of Pikachu and company, it's clear that if any country deserves some special treatment, it's the Japanese.
Hopefully, this is just a trial before Charizard and Ronald McDonald move stateside in a questionably healthy and completely addictive promotion.