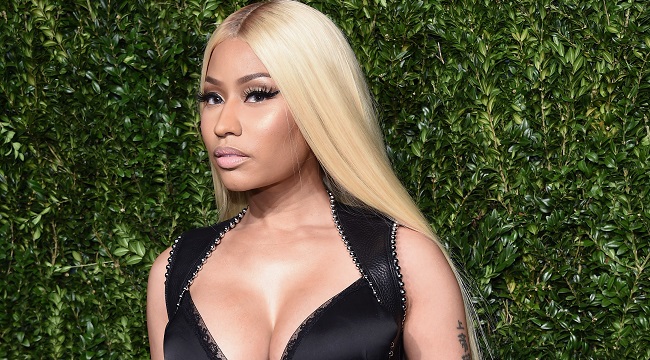 Nicki Minaj has a surprise in store for Saturday Night Live's Tina Fey-hosted season finale on May 19. As musical guest, the sovereign rapper will perform the unreleased opening track off her upcoming fourth album. "I'll perform a song you never heard b4. My fave on the album plus my second song. You can prob guess what that is going to be," she said on Twitter.
"This is the best album I've ever, ever, ever in my life created," Nicki said to Zane Lowe on Beats 1 just two weeks ago, of her follow-up to 2014's The Pinkprint. To further build anticipation, she simultaneously dropped boom-bap revival tracks "Barbie Tingz" and "Chun-Li" — what she was previously expected to perform on SNL. But even she was surprised by praise from Hot 97, whose hosts have called her "wack" and famously dissed early hit "Starships."
Nicki's return to music did spark some controversy: While on Beats 1, she tearfully explained how, to quote her own "Chun-Li," Migos and Cardi B made her out to be the bad guy during "Motorsport"'s release. Right now, however, she says that she is so focused on the SNL finale that she turned down an opportunity to perform at the Billboard Music Awards on May 20.
"Can't make it to LA in time to rehearse on the BBMA stage," she says on Twitter. "But SNL will be VERY worth it & that's all I'll say about THAT."