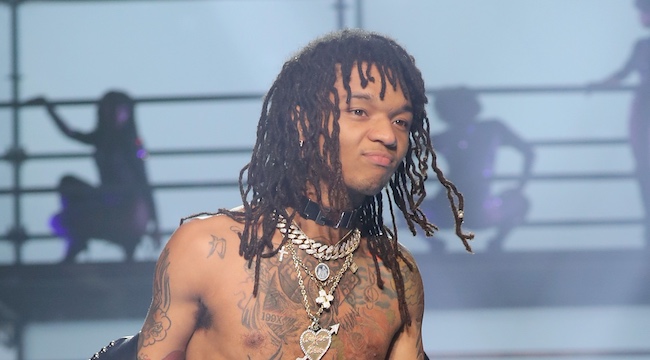 The fact that yesterday was Easter may have somewhat hidden the fact that yesterday was also April 1st, aka April Fools Day. So, for about an hour yesterday, there was surely some contingent of gullible fans who believed that Rae Sremmurd's Swae Lee really had a collaboration with Adele on the way.
Last night, he tweeted, "New song ft Adele dropping tonight," with some fire emojis. After presumably letting his mentions runneth over for an hour, he broke the news that he was just messing around, although he did soften the blow by saying that he'll have something new out (for real) in a few days: "April fools! But I do have a surprise for y'all April 6th, love you." That surprise very well could be the Rae Sremmurd album that the duo announced at SXSW, or perhaps Swaecation.

He may have made up his song with Adele, but it's actually something he's working towards, since he capped off the April Fools thread with a tweet that reads, "One day, though," with the praying hands emoji.
That said, Swae Lee and the rest of Rae Sremmurd have gotten themselves involved in some exciting collaborations that are actually real in recent days. In the past couple months, Rae Sremmurd has shared collabs with Juicy J ("Powerglide"), and they were part of the huge lineup that appeared on "Aries (YuGo) Part 2," which, aside from them, includes Mike WiLL Made-It, Big Sean, Quavo, and Pharrell.