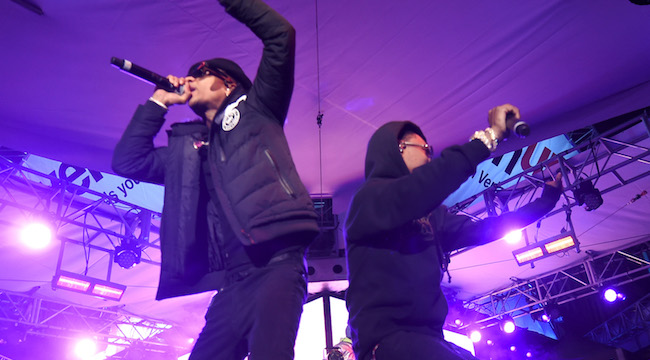 When Rae Sremmurd returned to SXSW for their Eardrummers Takeover show at Austin City Limits, fans didn't get as many songs as they may have wanted, but they did find out when they're going to be receiving more from the brothers from Tupelo, Mississippi.
Per Austin 360, the duo was as hype as ever, turning up with the crowd to both favorites like "Black Beatles" and newer fare like their recent-released singles from their upcoming triple album, Sremmlife 3 (or Sr3mmlife for short).
Keen-eyed fans also happened to catch a clue as to the triple album's impending release date, as one member of the boys' crew waved a giant sign on stage that read "Rae Sremmurd new album April 2018." While Swae Lee and Slim Jxmmi have been dropping singles and hints about the upcoming project, this would count as the first time they or their team has confirmed just when it was due for release.
The announcement makes April one of the busiest months for music releases, as singer Tinashe also recently announced an upcoming release in the month, as has Cardi B.
So far, the only confirmed guest appearance on Sremmlife 3 is Juicy J, on the high-speed single, "Powergliding," but with three discs (two solo discs and a group one, supposedly), expect to see some bigger names to help fill time. Rae Sremmurd is due to go on tour to support the album alongside Childish Gambino in September.