With Aquaman, director James Wan appears to be taking the "anything worth doing is worth overdoing" strategy, and from the looks of the film's first reactions (which have compared the DC/Warner Bros. movie to Marvel), that tactic seems to be working. And there's no better DC superhero/actor combo to go overboard with than Jason Momoa's Aquaman, given that the actor himself always carries a great deal of self-deprecating humor within his carefully honed physique. The all-guns-blazing efforts continued on Friday at New York Comic-Con, where the above five minutes of footage were revealed. It's completely wild and off-the-wall stuff and, as such, should generate a great deal of anticipation.
Clearly, this isn't the typical dark, gritty brand of DC from the past handful of years. This new vibe also doesn't point toward a technically perfect film on the way. In fact, a lot of the visuals (especially the roof-chasing scene) look almost intentionally fake, like Wan's trying to evoke a video-game feel for sheer fun, but really, does one expect anything realistic in a movie where the hero can "talk to fish"? Mainly, this clip throws down some history, including that of Queen Mera (Amber Heard) and Aquaman's backstories, along with their mutual search for his almighty trident while contending with Patrick Wilson's villainous Orm.
A few lines of dialogue also bear mention, including how Momoa has repeatedly referred to Wan's take on his Arthur Curry/Aquaman as being more "badass" in nature compared to the Justice League portrayal. Well, here's some dialogue to ring in the transition.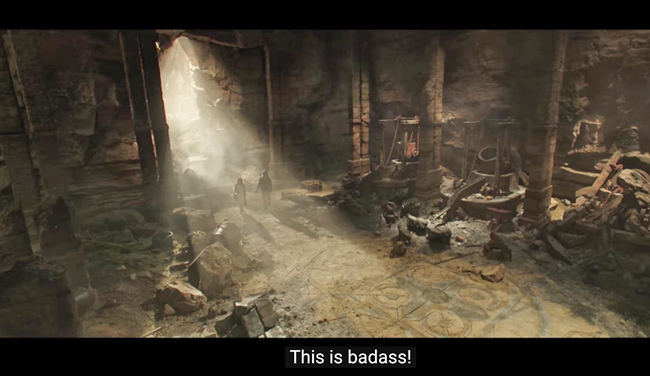 In addition, the duo enters a cave in the Sahara Desert, where they must find water from the closest source as a catalyst for a gear-containing contraption. Queen Mera draws some sweat from Aquaman's forehead, and he proudly quips, "I could have just peed on it."
Oh behave, Aquaman. He will gush into theaters on December 14.