Black Panther (our reviews here and here) just keeps on breaking records. The trope-subverting 18th movie in the Marvel Cinematic Universe broke numerous records, and it's poised to become the highest-grossing Marvel movie and the highest-grossing superhero film, likely surpassing The Avengers by this weekend. Last weekend Black Panther also became the first movie since 2009's Avatar to hold the number one spot in the domestic box office for five weekends in a row. And now it's broken another record: Twitter announced Black Panther passed Star Wars: The Force Awakens as the most tweeted-about movie ever with more than 35 million tweets so far.
Twitter also released a set of stats about those 35 million+ tweets. They say the most common emojis used in the tweets are (in order of popularity) fire, a black heart, and a crown. The most common hashtags are #BlackPanther, #WakandaForever, and #Wakanda. The most popular characters are Black Panther, Killmonger, and Shuri. Most of the tweets came from the U.S., with the U.K. and Thailand coming in second and third.
Twitter also listed the three most-retweeted Black Panther tweets, the first one being Kendrick Lamar's album announcement. Second place went to the viral video of two teens dressed as one person in a trenchcoat trying to get into the theater with only one ticket. Third place went to Michelle Obama's congratulatory tweet.
Those may have been the most popular tweets, but they weren't the only good ones…
Of course, some of the funniest material came out of needling people who thought the film was "reverse racism" or whatever.
#WakandaForever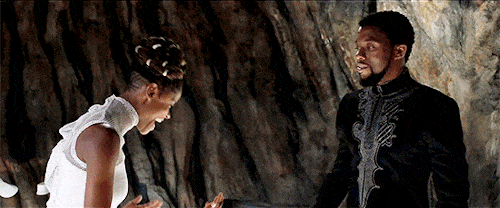 (Via Blastr and The Hollywood Reporter)