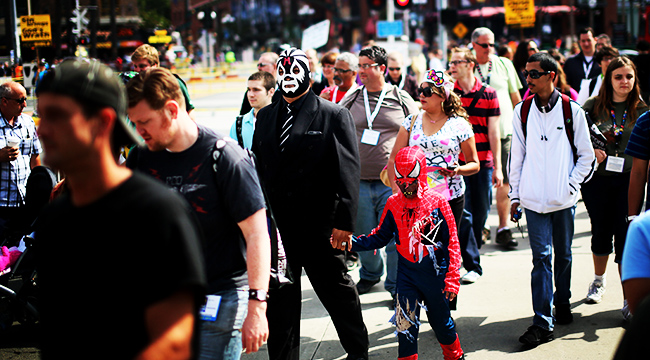 In just a few days, geeks will descend upon San Diego for the annual mecca that is the San Diego Comic-Con. Tens of thousands of people will pour into the San Diego convention center to be the first to hear about upcoming projects in film, television, comics, video games, and more. But for every person standing in line eating overpriced and overcooked hot dogs, there are hundreds who couldn't make it to the show for one reason or another. But fear not! While you might not be able to purchase the SDCC exclusive swag (until it goes on sale at an insane mark-up on eBay, anyway), you can keep your eyes right here for all the news you can use.
But how will you know when said geek news is being announced? After all, there are hundreds of panels at SDCC, ranging from the obscure to the "sleep outside overnight" levels of hype. Luckily for you, I've collected the the panels that are most likely to drop bombshells on the collective nerd world in one handy guide. We'll be on the pulse of SDCC from Thursday through Sunday, but these are the panels most likely to reveal trailers, clips, announcements, and all the other things we love to dissect! All times are in PDT and any panel marked with a (*) means that I will personally have my butt parked in a seat, ready to liveblog everything straight into your eye holes. Things are constantly in flux, so be sure to check back each day to see if I've gotten the Golden Ticket™ to another hot panel! Let's dig in (all descriptions courtesy of SDCC).
Thursday
Call of Duty: WWII Nazi Zombies World Reveal – 11:45am
Call of Duty is returning to Comic-Con with a new, dark chapter in Call of Duty's fan-favorite zombies co-operative mode. Get the first look at this new zombies horror experience from the team at Sledgehammer Games, as they bring their rich horror pedigree to zombies!
Netflix Films: Bright and Death Note – 3:15pm
Netflix presents a special sneak peek at David Ayer's new action-thriller film, Bright, set in an alternate present-day where humans, orcs, elves, and fairies have been coexisting since the beginning of time. Stars Will Smith, Joel Edgerton, Noomi Rapace, Lucy Fry, and Édgar Ramírez, and director David Ayer will debut exclusive footage from the film and answer audience questions. Attendees will also be treated to a first look at the new movie Death Note.
Marvel's Inhumans – 6:15pm
The Inhumans have landed in San Diego! Special guests of the highly anticipated Marvel's Inhumans unveil an explosive panel moderated by executive producer Jeph Loeb. This event series will premiere a version of the first two episodes exclusively in IMAX theatres for a two-week window prior to the debut of the full series on ABC.
Friday
AMC's Fear The Walking Dead – 11:15am
[The cast] join executive producer and showrunner Dave Erickson, executive producer Robert Kirkman, executive producer Gale Anne Hurd, executive producer Dave Alpert, and special effects makeup supervisor and executive producer Greg Nicotero. They will talk about where the series left off in the midseason finale and what to look forward to when it picks up in September.
AMC's The Walking Dead – 12:15pm
[The cast] join executive producer and showrunner Scott M. Gimple, executive producer Robert Kirkman, executive producer Gale Anne Hurd, executive producer Dave Alpert, and special effects makeup supervisor and executive producer Greg Nicotero. The panelists will discuss the past season and filming the 100th episode and will share some hints of what's to come with a sneak peek into season 8, debuting in October on AMC.
*Game of Thrones – 1:30pm
Cast panelists include (in alphabetical order) Alfie Allen as Theon Greyjoy, Jacob Anderson as Grey Worm, John Bradley as Samwell Tarly, Gwendoline Christie as Brienne of Tarth, Liam Cunningham as Davos Seaworth, Nathalie Emmanuel as Missandei, Conleth Hill as Varys, Sophie Turner as Sansa Stark, and Isaac Hempstead Wright as Bran Stark. The panel will be moderated by a special Westerosian guest.
The Gifted – 3:45pm
From 20th Century Fox Television in association with Marvel Television, The Gifted tells the story of a suburban couple whose ordinary lives are rocked by the sudden discovery that their children possess mutant powers. Forced to go on the run from a hostile government, the family joins up with an underground network of mutants and must fight to survive. Join cast and producers for an exclusive first look of the fall's most anticipated new superhero series, premiering this September on FOX.
Netflix: Marvel's The Defenders – 5:15pm
Daredevil. Jessica Jones. Luke Cage. Iron Fist. Four iconic superheroes. One stage. Nuff said! Jeph Loeb and surprise guests of the highly anticipated Netflix original series Marvel's The Defenders band together for a panel you do not want to miss! Be the first to get an exclusive look into the superhero team-up that everyone is talking about before its August 18 global launch on Netflix.
Saturday
*Warner Bros. – 11:30am
Warner Bros. will [have] a presentation showcasing some of its eagerly awaited upcoming releases, with exclusive footage and revealing conversations. The lineup includes director Steven Spielberg's Ready Player One, based on the hugely popular Ernest Cline novel; the long-awaited Blade Runner 2049, Alcon Entertainment's sequel to the cult classic, which takes us 30 more years into the future; and the greatest superheroes of the DC universe, united for the first time on the big screen, with stars Ben Affleck, Gal Gadot, Jason Momoa, Ezra Miller and Ray Fisher talking all things Justice League, as well as an early look at director James Wan's Aquaman.
Star Trek: Discovery – 2:30pm
This fall, Star Trek: Discovery follows the voyages of Starfleet on their missions to discover new worlds and new life forms while learning that to truly understand all things alien, you must first understand yourself. The series will feature a new ship and new characters while embracing the same ideology and hope for the future that inspired a generation of dreamers and doers. Join members of the cast alongside the creative minds behind the new series for a conversation and introduction to Star Trek: Discovery.
*Westworld – 4:15pm
Cast panelists include Ben Barnes as Logan, Ingrid Bolsø Berdal as Armistice, Ed Harris as the Man in Black, Luke Hemsworth as Stubbs, James Marsden as Teddy, Thandie Newton as Maeve, Simon Quarterman as Lee Sizemore, Rodrigo Santoro as Hector, Angela Sarafyan as Clementine, Jimmi Simpson as William, Tessa Thompson as Charlotte Hale, Evan Rachel Wood as Dolores, Shannon Woodward as Elsie, and Jeffrey Wright as Bernard/Arnold.
*Marvel Studios – 5:30pm
Marvel Studios president and producer Kevin Feige and special guests provide an inside look at the ever-expanding Marvel Cinematic Universe.
Sunday
Supernatural – 10:30am
Series stars and executive producers answer questions about the shocking events in last season's intense two-part finale and preview what's in store for lucky season 13.
Doctor Who – 2:00pm
BBC America's Doctor Who returns to San Diego Comic-Con for the final Hall H panel with star Peter Capaldi. Fans will have an exclusive sneak peek of the upcoming Doctor Who Christmas Special—the final episode starring Peter Capaldi as the Doctor and written by Emmy Award-winning lead writer and executive producer Steven Moffat.
Honorable Mentions
Syfy will be bringing their original series to San Diego Comic-Con throughout the weeks, so keep your eyes peeled for news on The Magicians, *Wynonna Earp, *Van Helsing, and more. The CW will host a Q&A for every one of their superhero shows from Supergirl and Arrow to the upcoming Black Lightning series. Freeform will be on hand with Shadowhunters and Stitchers. Adult Swim will have panels about Rick and Morty, The Venture Bros., and Robot Chicken. Archer from FXX will have a presence, as will other shows such as Gotham, Lucifer, Krypton, *Vikings, The Originals, and on and on and on. Basically, if it exists (but isn't Star Wars) and is even slightly genre-adjacent, it will have news coming out over the next few days, so strap in.