[Spoilers for Avengers: Infinity War within]
Kevin Smith isn't the only one who has issues with Avengers: Infinity War.
The Clerks director recently shared his thoughts on the deaths in the fourth highest-grossing movie of all-time, and how he didn't buy "when they killed off Black Panther, because I was like, 'Oh no, that movie made too much money for that to happen. He'll be back for sure!'" (the screenwriters disagree). It's still hard to believe that Marvel would off one of their most popular characters, although as director Anthony Russo told us, "It's part of the storytelling from Black Panther. There are ways to establish a new Black Panther. Do you want to see a fight between Okoye and Shuri?" It's such a bold storytelling decision that one Marvel executive tried to talk the Russo brothers out of it.
Nate Moore, a development and production executive at Marvel Studios who's been aware of T'Challa's fate for years (since Black Panther director Ryan Coogler was working on Creed), told the Huffington Post, "I knew pretty well what [the Russos] were talking about and personally urged them to reconsider."
"But the storytelling made sense, so I love that we got to see a little bit more of Wakanda in that film, and I hope to see how they're going to resolve that. Touching on all the different ideas you can have, you talk about the pros and cons of each, and they had some really compelling arguments as to why what happened happened… Personally painful, but I understand the reasoning." (Via)
For now, the Russo brothers are beating the "T'Challa is gone so anyone can be Black Panther" drum. "That's what I think is so great about comics and the Marvel cinematic universe," Anthony Russo said. "As you know, the notion of Black Panther is a mantle almost as much as the character, so there's a lot of ways to explore great ideas for a Panther sequel that won't invalidate what happened in Infinity War, and that gets us excited, just the breadth of stories you can tell, which is great." It's great, as long as Shuri is involved.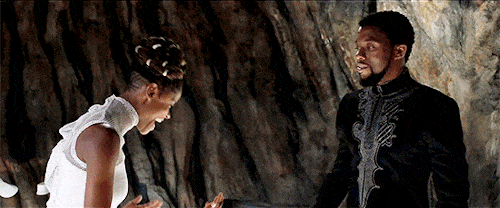 (Via The Huffington Post)