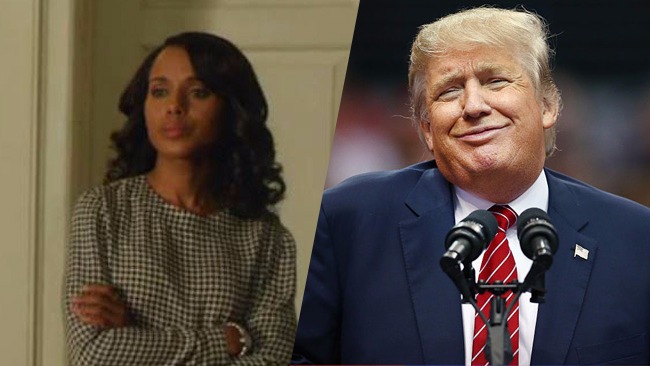 Scandal is back January 19th, the day before Trump takes office. Just how much fodder real life might offer the series, about a Washington "crisis management" firm that often does the dirty work politicians need plausible deniability for, remains to be seen. But despite the seemingly juicy material, Scandal and Shonda Rhimes won't be letting the headlines dictate the plot.
Rhimes, appearing via satellite while the rest of the Scandal team took the stage at the Television Critics Association press tour, was almost immediately asked about Trump, albeit in a roundabout way. ABC's Thursday drama block, TGIT, was delayed a week to make room for a 20/20 special on Trump. Rhimes pointed out it's not her job to program the network:
I just think that ABC does its programming. I'm not in charge of scheduling. I'm fine with whatever they want to do. It's not my job. I like to stay in my lane.
The election was a constant theme of the event. The fifth season ended in the middle of a tough campaign for President Fitzgerald Thomas Grant (Tony Goldwyn), aka Fitz, Olivia's lover, as he was about to announce a running mate. The question hanging over everyone's head quickly became whether the elections results would change the plot, which Goldwyn noted wasn't the point:
While [it's] really interesting to have a show that is a political show in a counterpoint to a very dramatic real political world…Shonda's taking the show in a whole, fresh direction, which is very interesting and emotional and entertaining for Scandal, for these characters, for our world. The fact that it's in counterpoint to this crazy political world America is living through is interesting, but they're not the same, and we aren't in reaction to that.
Rhimes backed that up and noted drama leads the way, not headlines:
We're not trying to outdo reality with our stories. We're trying to tell the best version of the story possible. Sometimes, we extrapolate forward, and sometimes we hit on things that then happen in real life… but most of the time, we're just trying to tell the best story we can, and it's not about real life.
Trump didn't come up, by name, until the very end, and how he came up perhaps sums up the show's attitude towards him the best. When asked if she'd give a Meryl Streep-type speech at an awards ceremony, or if she was worried that would just make Trump smarter, Rhimes' response was simple:
I don't spend that much time thinking about what would make Trump stronger.