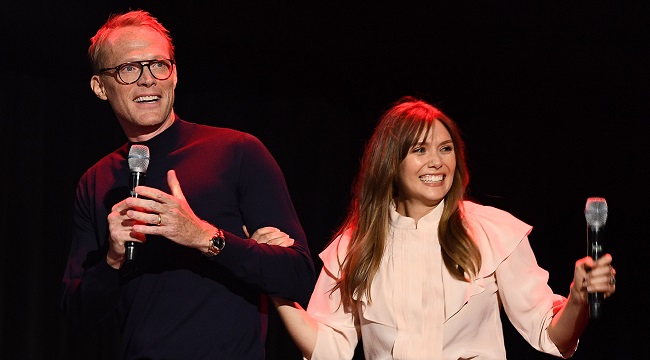 (Warning: MCU spoilers will be found below.)
As the six-hour mini-series' brief panel revealed at Disney's D23, WandaVision is going to be weird. Among other things, it involves Wanda Maximoff (Elizabeth Olsen) and Vision (Paul Bettany) — whom we all saw die at the end of Avengers: Infinity War, and presumably stay that way at the end of Endgame — living a '50s sitcom-esque life of domestic bliss. The conceptual poster for the show, which was designed by artist Andy Park and shared online, really drives this point home.
Then again, so does the fact that comic book writer Tom King also shared Park's art on social media. The author of the Eisner Award-winning short series The Visions, that King would seemingly be promoting WandaVision in this way could very well mean that his story is serving as a source of inspiration for showrunner Jac Schaeffer's upcoming show. Then again, the fact that it's supposedly going to lead straight into Doctor Strange in the Multiverse of Madness may reveal the influence of other prominent Marvel Comics storylines, like Brian Michael Bendis' House of M.

As increasingly weird and odd and cool as WandaVision is beginning to look and sound, though, the very fact that Marvel was even interested in doing such a program was just as surprising to Olsen and Bettany. In fact, as the latter explained to MTV News during D23, he thought Marvel Studios head Kevin Feige was actually in the process of firing him when he got the call:
"Oh, I don't think that myself or Lizzie have ever been more surprised when Kevin pitched the idea to us. A and One, I thought I was being brought in to be fired; B and Two, I thought they were gonna let me down, you know, like, 'Listen, Paul, we love you, but…' And instead what he did was pitch this idea for a sort of six-hour movie that I would never in a million years, which is why he's the one earning the really big bucks, have thought of. And it's so avant-garde and weird and messed up and then moves seamlessly into more familiar territory. But the place that it starts is so odd."
Check out Olsen and Bettany's comments below:
(Via Comic Book & )