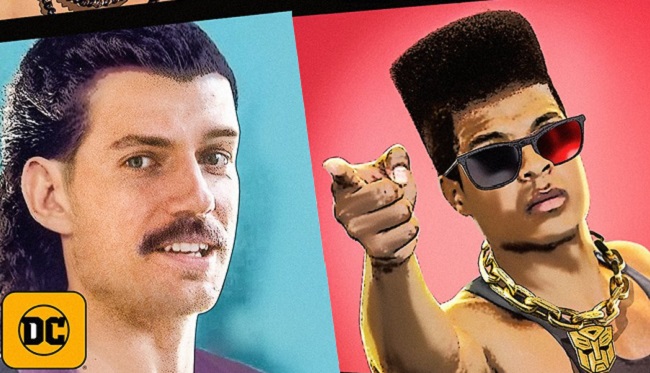 Patty Jenkins, the director of Wonder Woman and its sequel (Wonder Woman 1984), recently revealed the title of the sequel and got out ahead of anyone whining about spoilers by releasing two photos from the sequel, including one which revealed Chris Pine is somehow in this movie set in 1984, and he's making a fanny pack look almost acceptable. That jibes with a rumor from 2015 about Chris Pine playing both Steve Trevor and his grandson.
Now a fan on Twitter has extended the '80s look of Diana and Steve to other Justice League members. Are they going to be in a movie set in 1984? Probably not. Is that going to stop Boss Logic from photoshopping Superman with a decidedly not CGI mustache and a power mullet? Thankfully no:
God bless us, every one.
Boss Logic also imagined an '80s version of Ben Affleck's Batman (if he's still Batman). Here he is with some amazing fashion choices including an Adidas track suit and a conspicuously-branded fanny pack (still not acceptable). The Jolt Cola is an anachronism. Jolt didn't exist until 1985. Maybe it should have been TaB. You know what TaB spells backwards? JUSTICE.
And Cyborg, who was definitely not alive in 1984, might have been a pop culture junkie, judging from the Transformers chain and the Skynet (The Terminator) tank top:
Here's a very young Aquaman and a Flash who definitely didn't time travel to get there:
And just for the heck of it, Boss Logic also mocked up a 1984 version of Justice League with a Grand Theft Auto vibe to it:
The real Wonder Woman 1984 arrives November 1st, 2019, probably without a track suited Batman or be-mulleted Superman. Darn.
(Via Boss Logic and We Got This Covered)