The Paloma is one of the best tequila cocktails you can get (it was Uproxx's "Cocktail of the Summer" in 2019!). The basic recipe is also very easy to make at home. It's really just a highball with tequila, freshly squeezed lime juice, and grapefruit soda — some ride or die for Squirt, others for Jarritos. That's it. With that simplicity, though, comes a lot of room to tinker. So today, I'm going to make a bar-chef-y version in a batch that you can have ready to go at your next backyard BBQ or Cinco de Mayo celebration.
The thing with a fizzy drink like this is you really want to maintain that effervescence. The best way to do so is to make this a pour-your-own, 50/50 ratio, easy-peasy batched cocktail. Basically, I'm getting everything into the batched cocktail base that simply needs to be poured over ice and topped with the bubbly water of your choice. It's low impact for your party guests and that little bit more delicious than just opening a 2-liter of Squirt and throwing some limes on a table next to a bottle of tequila and ice bowl — which… I'm down for that set up to, don't get me wrong.
Anyway, the recipe below is very low impact. It takes maybe five minutes of "cooking" time and a little patience while the batched cocktail cools in the fridge. That's really it, so let's dive in!
Also Read: The Top Five Cocktail Recipes of the Last Six Months
Batched Paloma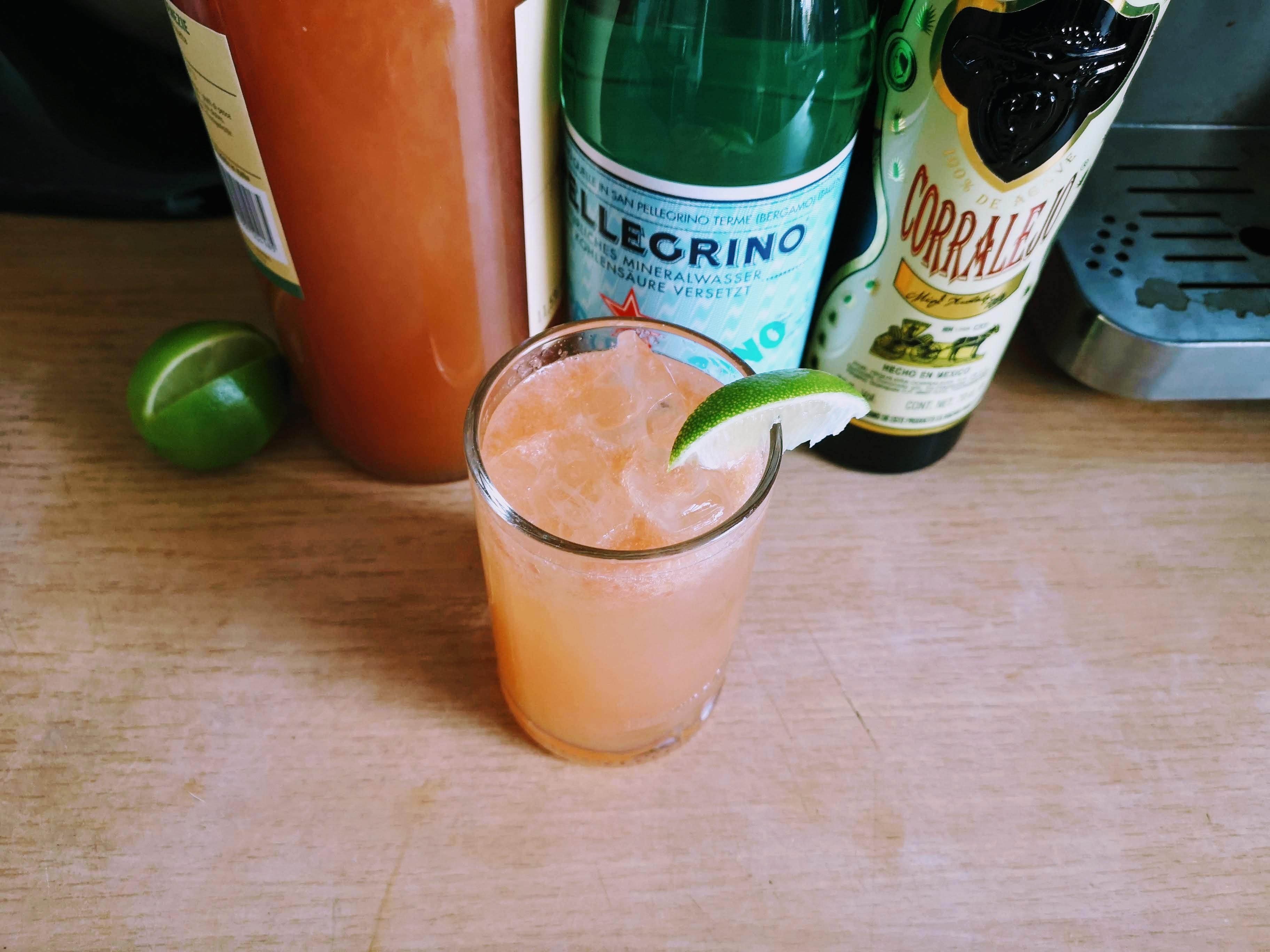 Makes 20-25 cocktails.
Ingredients:
4 cups grapefruit juice
1 cup Grade A maple syrup
1/2 cup apple cider vinegar
1/2 cup fresh lime juice
1 cup reposado tequila
Pinch of salt
Pinch of cayenne
Fizzy mineral water
Ice
Lime wedges for garnish
You should be able to source all of these ingredients very easily at any grocery store/liquor store. I'm using Corralejo Reposado because I really like it as a mixing tequila. There's a nice woodiness with a burst sweetgrass vibe and plenty of roasted agave piña.
There are some nuances here that add more depth than just tequila with grapefruit juice. The maple syrup is there as a sweetener with more depth. You can use simple bar syrup or agave syrup, but they're too saccharine for this recipe. There's already a lot of sugar in that grapefruit juice so something a little subtler, like maple syrup — which plays nicely with the vibe of reposado tequila.
The apple cider vinegar works as a sort of adhesive link between the tartness of the grapefruit and lime and the sweetness of the tequila and maple. It adds in this layer of almost tart creamy fruit that really helps this recipe shine.
Oh, and this is supposed to have a salted rim. I really dislike anything on my rim, so I skipped that step. If you want to salt your rim, knock yourself out.
What You'll Need:
Large pot
Wooden spoon
Funnel
Large bottle
Collins Glass
Hand juicer
Paring knife
Method:
Add the grapefruit juice, lime juice, apple cider vinegar, maple syrup, salt, and cayenne to a large pot. Bring the mix up to just a simmer while stirring to mix everything together. As soon as a simmer starts, turn the heat off.
Cool the base to room temp and then add in the tequila and stir until everything is well mixed.
Funnel the base into a waiting bottle (I used an old wine bottle). Seal and place in the fridge to cool completely.
To make the cocktail, fill a Collins glass with ice. Add the Paloma mix to the bottom 1/2 of the glass. Top with fizzy mineral water (50/50 mix) and stir.
Garnish with a lime wedge and serve.
Bottom Line:
Holy shit is this refreshing. It's like a ray of sunshine in a glass. The tequila really does shine through with a nice, almost creamy counterpoint (kind of like a grapefruit-touched Key Lime pie).
This drink goes down easily, has real depth, and is so easy to make. The batching took a whole five minutes, probably a bit less. Within an hour, this was cool enough to make cocktails — a lot of them too. Honestly, this is worth doing just to have around for a post-work spritz of brightness from day-to-day.
The only thing I'd change is that there was a bit of pulp in the batched base. I'd use a strainer to remove that next time (learn from my mistake!). Otherwise, this is pretty goddamn delicious.