With The Bear still going strong on streaming, we wondered whether Carmy's eye-catching chicken recipe could really be the dinner item that helped keep the restaurant afloat. It's not a super common order these days but it did look sexy when he spooned butter on top of a sizzling cutlet. Butter and meat — surefire win… right?
Friends, today we're making lemon chicken piccata!
Before we dive in, lemon chicken piccata — more often just called "chicken piccata" — is very old-school. The dish is pretty common across Italy, unlike rigatoni al vodka which is more common here. "Piccata" is simply a "thin cutlet" that's usually either veal or chicken and shallow fried. Generally in Italy, you'd order a "piccata di vitello al limone" for a light pan-fried veal cutlet in lemon sauce. The dish is a "secondo" course, which means it's the meat/fish dish served after the pasta course and not with it.
Naturally, there are as many variations in Italy as there are regions and kitchens. Over time, Italian-American kitchens shorthanded that recipe to mean either veal or chicken cutlet (also lightly shallow pan-fried) and served with a pan sauce with capers and parsley and a smidge of lemon. The latter recipe — the classic Italian American version — is what we're looking at today.
While Chicken Piccata might sound new and fresh (Carmy certainly thinks it's a winner), the dish has had its ups and downs over the centuries from a holiday dish in Italian-American households in the early 20th century to a light alternative to the heavy red sauces in Italian restaurants up and down the East Coast in the 1950s to home cooks in the 1970s bringing it back and so on and so on until we reach 2022 where a TV show on Hulu made it popular again.
But is this Italian-American relic really worth passing along through generations? It certainly has lasted the ages so there's got to be something there that people keep going back to. Though, that's kind of an easy thing to answer — it's lightly fried chicken cutlet in a butter-heavy pan sauce with a nice hit of lemon. What's not to like?
Well… that depends on how you like capers.
Since we're pro capers around these parts, we grabbed the recipe from Matty Matheson, the actual food consultant on the show, and followed that while adding a little more flare — it needed way more lemon and parsley to liven it up, IMO. Let's see if it's worth adding it to your own dinner rotation, cousin!
Check Out Our Top 5 Recipes Posts From The Last 6 Months:
Lemon Chicken Piccata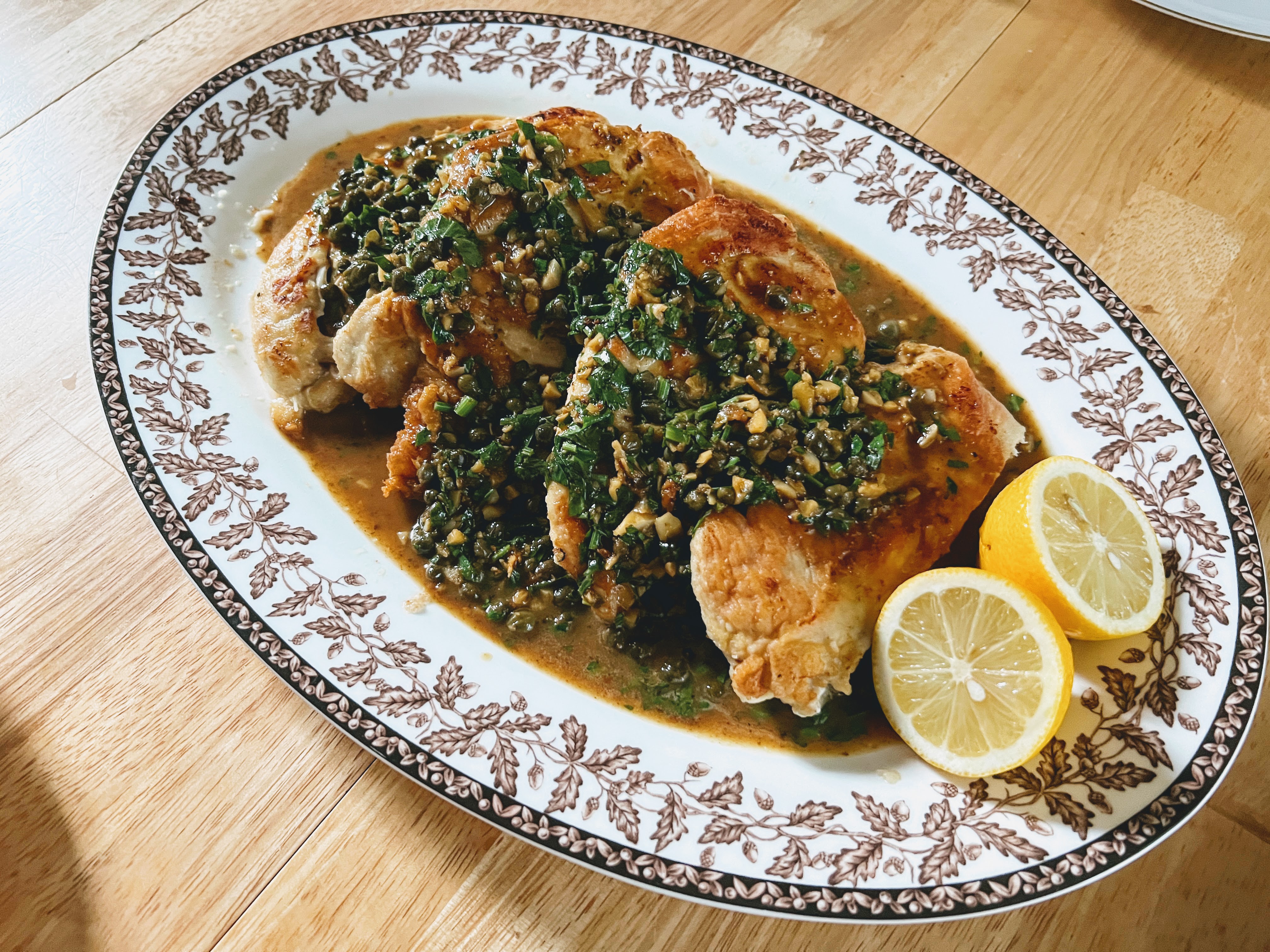 Serves 4 (on the show Carmy makes a single serving so the ratios are not the same as listed below)
Ingredients:
4 skinless, boneless chicken breasts (I ended up using 3 to feed five people)
1 cup AP flour
6 cloves of garlic (roughly chopped)
2 tbsp. small capers
2 lemons
1/8 cup fresh broadleaf parsley (roughly chopped)
6 tbsp. unsalted butter
1/2 dry white wine
1/2 cup hot chicken stock
Kosher salt
Black pepper
Olive oil
What You'll Need:
Large pan (stainless or non-stick)
Cutting board
Meat mallet (or use the frying pan)
ZipLock bag
Kitchen knife
Small grater
Hand juicer
Measuring spoons/cups
Dredging bowl (for flour)
Resting rack (for cooked chicken)
Tongs
Large spoon
Whisk
Method:
Place the chicken breast in a large ZipLock bag. Use the back of a heavy pan/skillet or a food mallet to flatten the breast to about 1/3 to 1/2 inch thickness. This isn't Schnitzel so it doesn't have to be paper thin, just thin enough to fry evenly and fairly quickly. Repeat with the other breasts.
Hit each flattened breast with a pinch of salt and a crack of black pepper and set aside.
Ready your ingredients: Roughly chop the garlic and parsley and set aside. Half the lemons and set aside. Get the capers, butter, wine, and chicken stock ready to go.
Once you have your ingredients ready, heat a large pan on medium-high heat with a good layer of olive oil coating the whole bottom of the pan (maybe 1/8-inch). While that's heating, pour the flour into a pie dish or large, shallow bowl and hit with a large pinch of salt and black pepper to season, use a fork to incorporate.
Once the pan is hot (not smoking but visibly hot), dredge the chicken breast in the flour to just coat it, make sure to shake off any excess flour, and then place the breast in the hot pan. You should be able to fit two breasts in the pan at a time.
Fry the breast until one side is lightly browned (about two to three minutes) and then flip and cook the other side until lightly browned too (another two to three minutes). Set the breasts aside on a wire rack and repeat with the remaining chicken cutlets.
Once the cutlets are cooked and resting (place them in the oven on the lowest setting to keep warm if needed), lower the heat to medium and add the garlic. Cook for about 30 seconds or until very fragrant. Immediately add the wine to deglaze the fond from the bottom of the pan (the brown bits created from frying the chicken). This will create a brown liquid base around the garlic.
Reduce the wine by half and add in the capers and the chicken stock. Again, allow to reduce by about half.
Once reduced, add in the juice of two lemons and reduce again for a minute or two.
Then turn off the heat and add in the butter and whisk until a thickened pan sauce forms. Finally, taste for seasoning and add salt and pepper as needed, and add in the parsley and a few grates of fresh lemon zest.
Plate the cutlets on a large plate and spoon the pan sauce over the meat. Serve immediately.
Bottom Line:
Overall, this was a good dinner course — though I probably overdid it on the parsley (I blame Steve Bramucci's influence over the years). I ended up serving it with white rice, which really worked well in absorbing the butter/lemon pan sauce. All told, it took about 45 minutes from beginning to table to make, which isn't terrible for a weeknight meal but a little long.
When it comes to the flavors… yeah, this is nice. I can see why it endured. Again, it's chicken in a lemon-caper sauce with — did I mention? — a lot of butter. The chicken was juicy and had a good crunch to the outside that kept its bite even after sauced and while eating.
The sauce was earthy and lemony with a nice sweet and sharp garlic bite. The parsley added to the earthiness of the capers while the lemon kept the whole sauce and chicken bright. There was a nice balance of acids and fats that played well with the light bitterness from the capers.
In the end, this still felt very standard. It was good but not something that I'd ever think might help save my restaurant — unless it was literally 1953. It tasted like it was from a bygone era. Not in a bad way, mind you. It's more like going back to your favorite childhood Italian joint and realizing your parents took you to eat there because it was affordable, not mind-blowing.
Will I cook this again? Sure (with less parsley from my end) — probably with veal next time, though. If you want to try Matheson's exact version, it can be found below.