About 38 minutes into Pixar's new film, Luca, the two sea monster pals at the center of the story sit down to dinner in a new friend's kitchen to eat. Plates of pesto-drenched pasta slide under the boys' noses, looking bright and unctuous and generally delicious (Pixar does food well). The moment I saw it, I knew I'd be cooking soon.
The dish is a Ligurian classic, Trenette al Pesto. The base of this dish is a straightforward pesto — which is simple but takes a fair bit of work (especially if you're using a mortar and pestle). The pasta is amped up by the addition of fresh green beans and cubed pieces of potato with a little pasta water to help make a creamy sauce to coat the linguine-like noodles, called "trenette." (Trenette is a flat noodle that is usually about 1/8-inch in width, meaning you can use smaller linguine if you can't find them.)
Luckily for me (and you), Pixar actually posted the whole recipe for Trenette al Pesto on Instagram for all of us to recreate. So I figured I'd if their recipe lives up to the hype and the beauty of the dish in the film.
Beyond that, I'm looking for a bright and light pasta lunch plate, or a new primi for my dinner rotation. The sort of pasta plate that'll induce expressions of admiration like Luca's pal Alberto has in the screengrab below.
Okay, let's get cooking!
Trenette al Pesto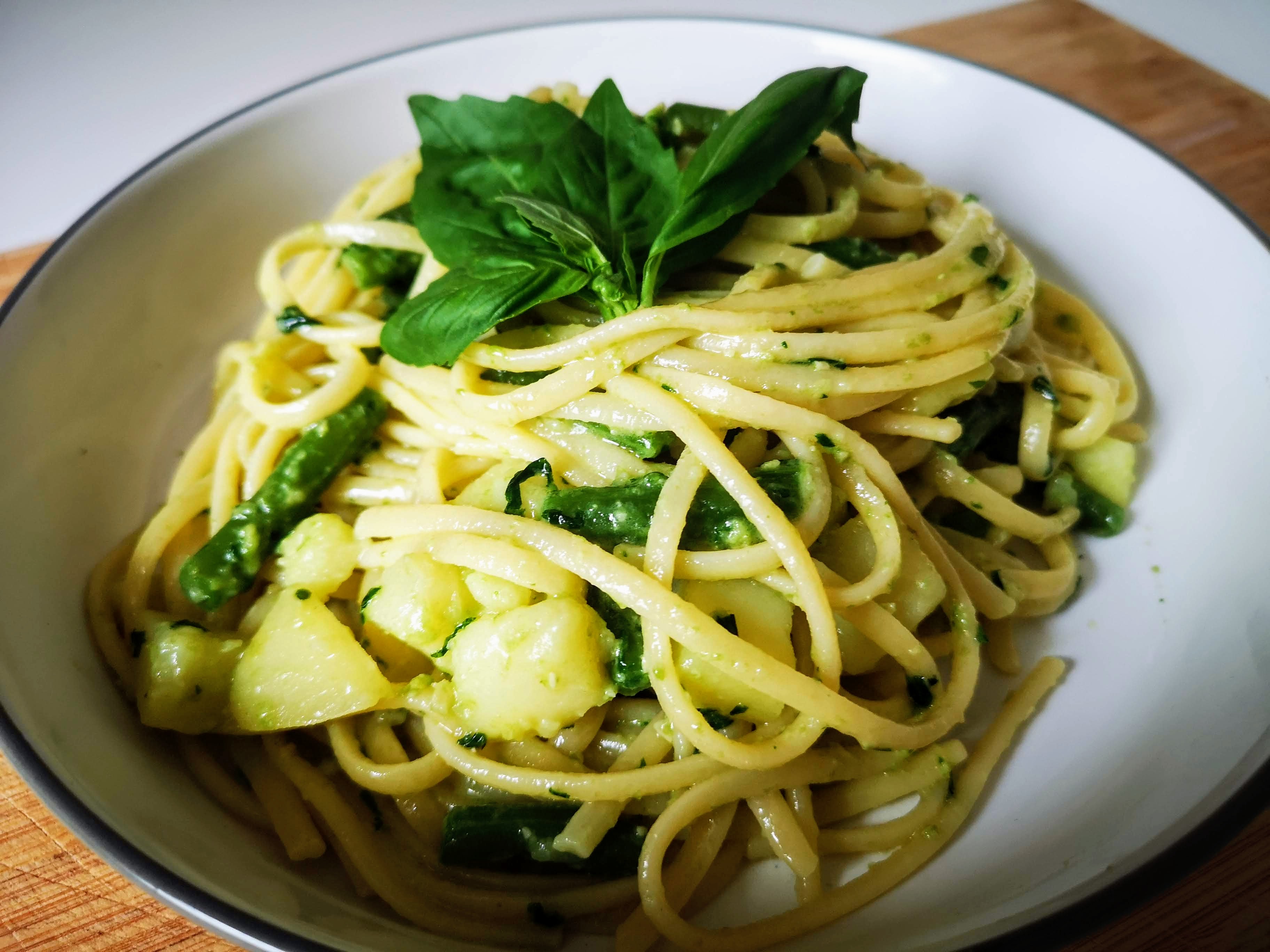 Ingredients:
500g/17-oz. Trenette pasta (or linguine)
100g/3.5-oz. fresh green beans
100g/3.5-oz. yellow potato
50g/45 leaves Genovese basil
2 cloves fresh garlic
50g/1.5-oz. fresh parmigiano reggiano
50g/1.5-oz. pecorino romano
30g/1-oz. toasted pine nuts
100ml/3.5-oz. extra virgin olive oil
Water
Salt
I ended up grabbing some dried linguine. It's basically the same thing at the end of the day. I'm also not making pasta from scratch as there's no way a working-class fisherman would be making pasta every night for dinner. Italians use dried pasta too, folks.
The rest is pretty straightforward. I'm using standard but good cheese, fresh Genovese basil, good Italian oil, and fresh beans and potato. This isn't rocket science so much as it's about fresh, fresh, fresh. This is basically a garden on a plate. So if you're growing any of these ingredients, use those!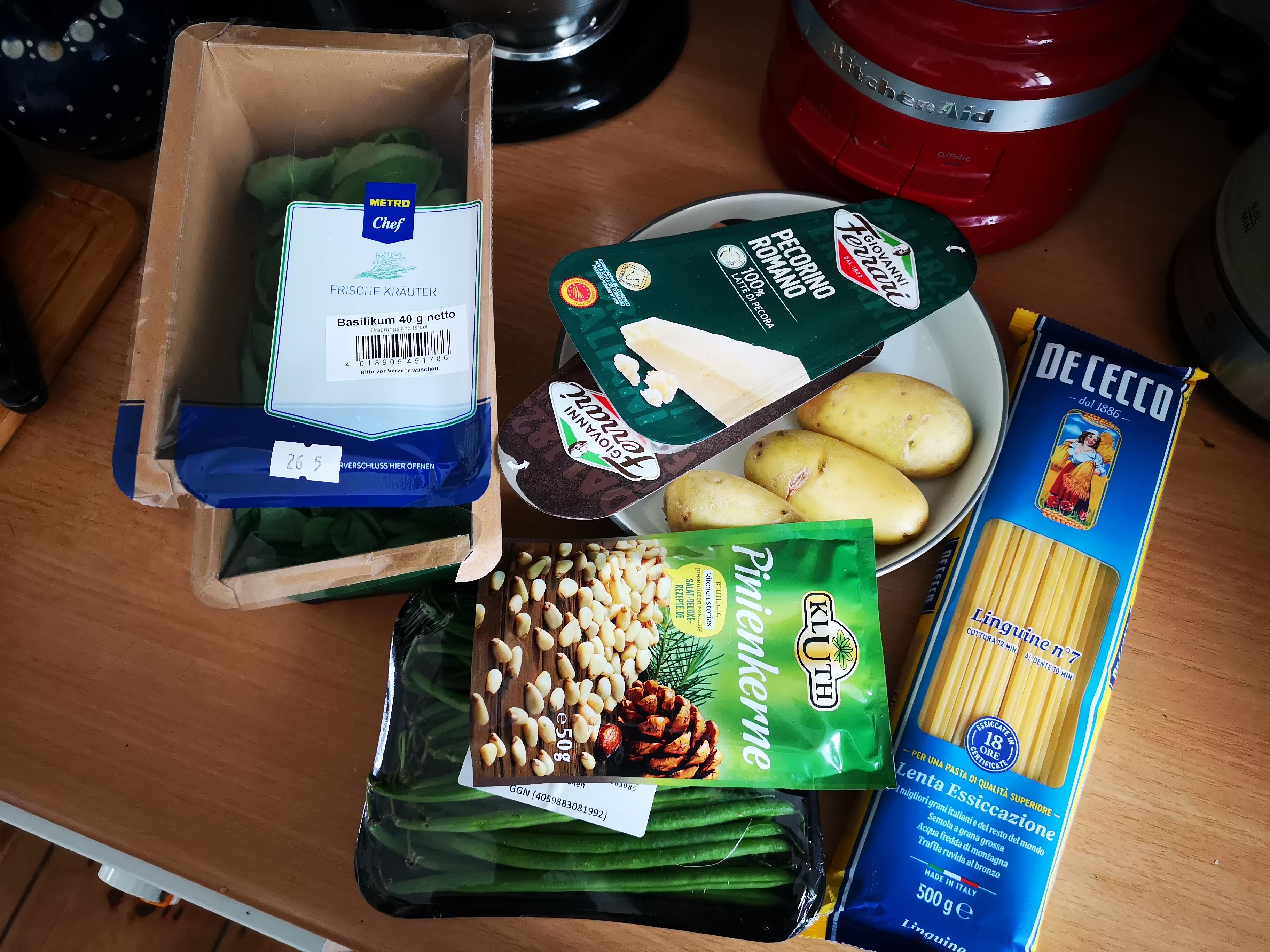 What You'll Need:
Large pestle and mortar or food processor
Large pasta pot
Large pasta mixing bowl
Tongs
Cutting board
Kitchen knife
Colander
Scale
Measuring cup
Pasta bowls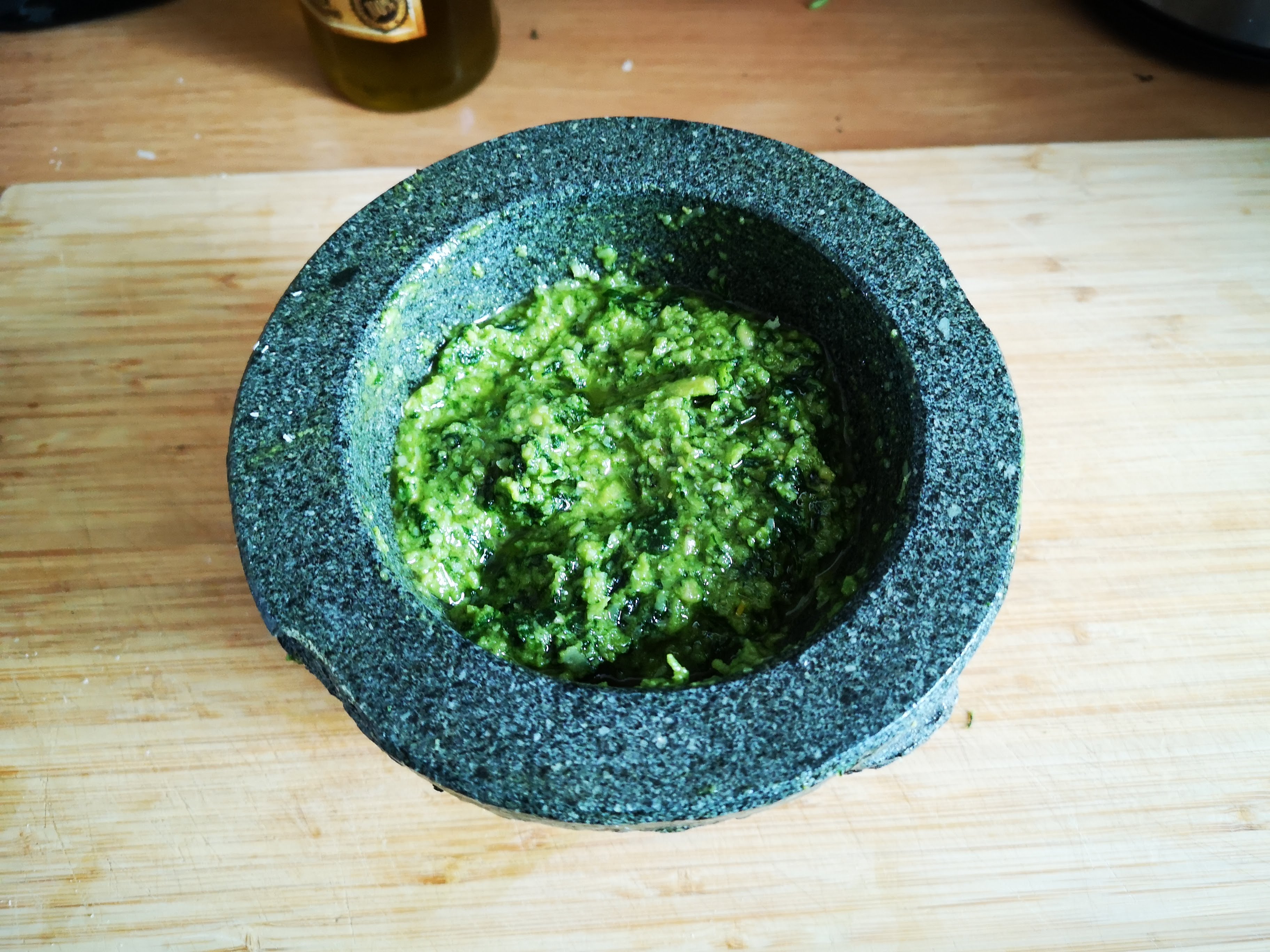 Method:
Start by making some pesto. Add the basil and garlic with a large pinch of salt to the pestle and mortar. Lightly bruise the basil and garlic and then gently grind them into the sides of the pestle until no large bits remain.
Add in a small splash of the olive oil and continue to grind the garlic and basil until it's well-ground.
Add in the pine nuts and grind them down into a fine-ish grind.
Add in the cheese and rest of the olive oil and use the mortar to create a thick paste with fine chunks of pine nuts and basil that look like they were grated.
Alternatively, use a food processor to do all of this in about 15 seconds.
Boil a large pot of water and add a large punch of salt.
While waiting for that to boil, clean and slice the green beans into one-inch pieces.
Peel and cube the potato.
Once the water boils, add in the potato, pasta, and green beans.
Let cook until the pasta is al dente (about six minutes for me).
Reserve a cup of the pasta water before draining everything through a colander.
Use a large pasta bowl to mix the final dish by adding the pasta, beans, potatoes, and all of the pesto.
Toss the pasta while adding in a little bit of the pasta water to create a creamy pesto sauce.
Hit with a pinch of salt to season to taste.
Serve immediately with a basil top as garnish.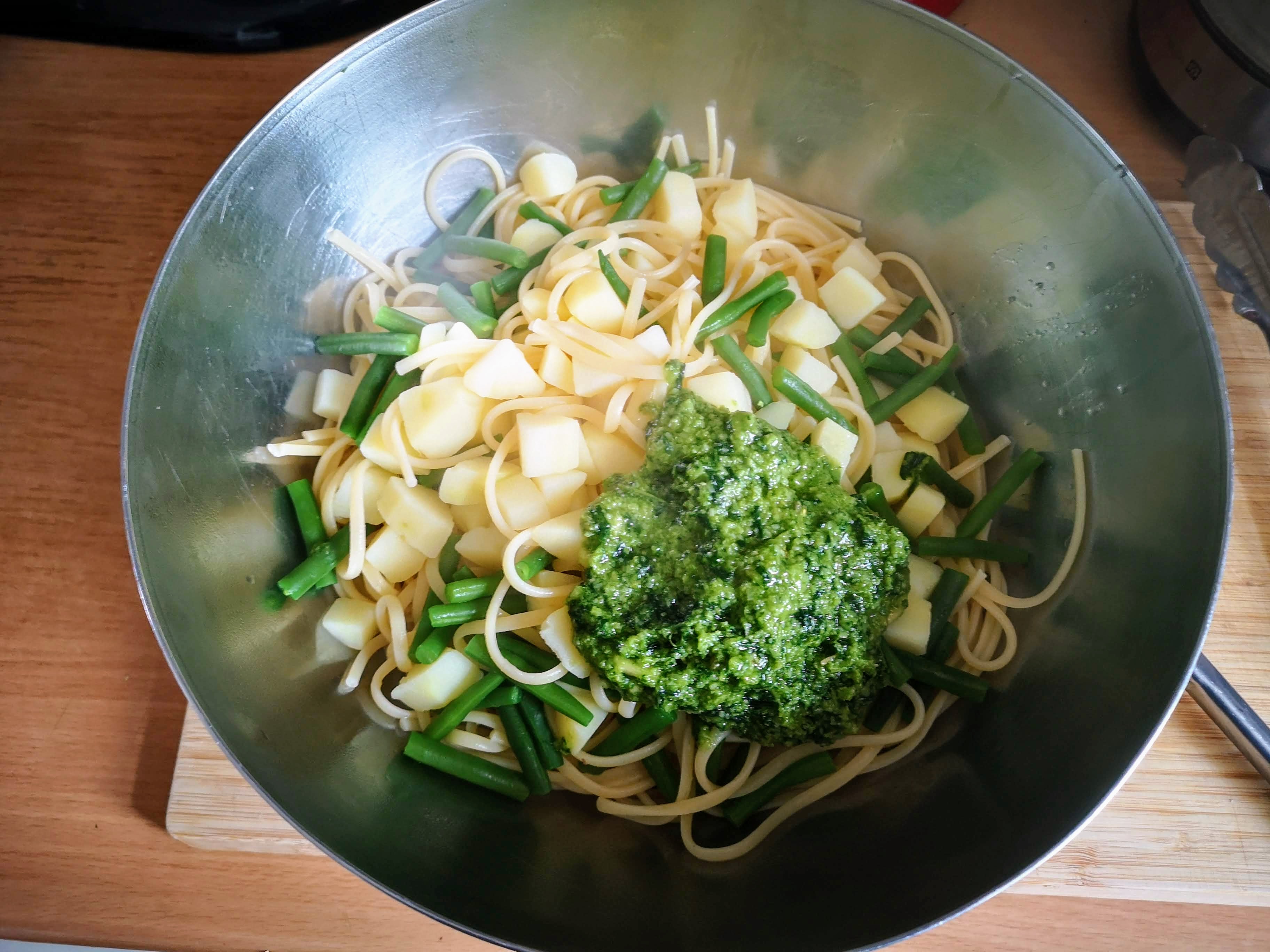 Bottom Line:
I got close to the animated plate! You can judge yourself from the top and bottom images here.
This was great. It's light, bright, and filling. The pesto isn't overdone but still packs that hit of sharp garlic, umami cheese, lush oil, and a nutty underbelly. It definitely brought about a face like the one below when I served this at our lunch table.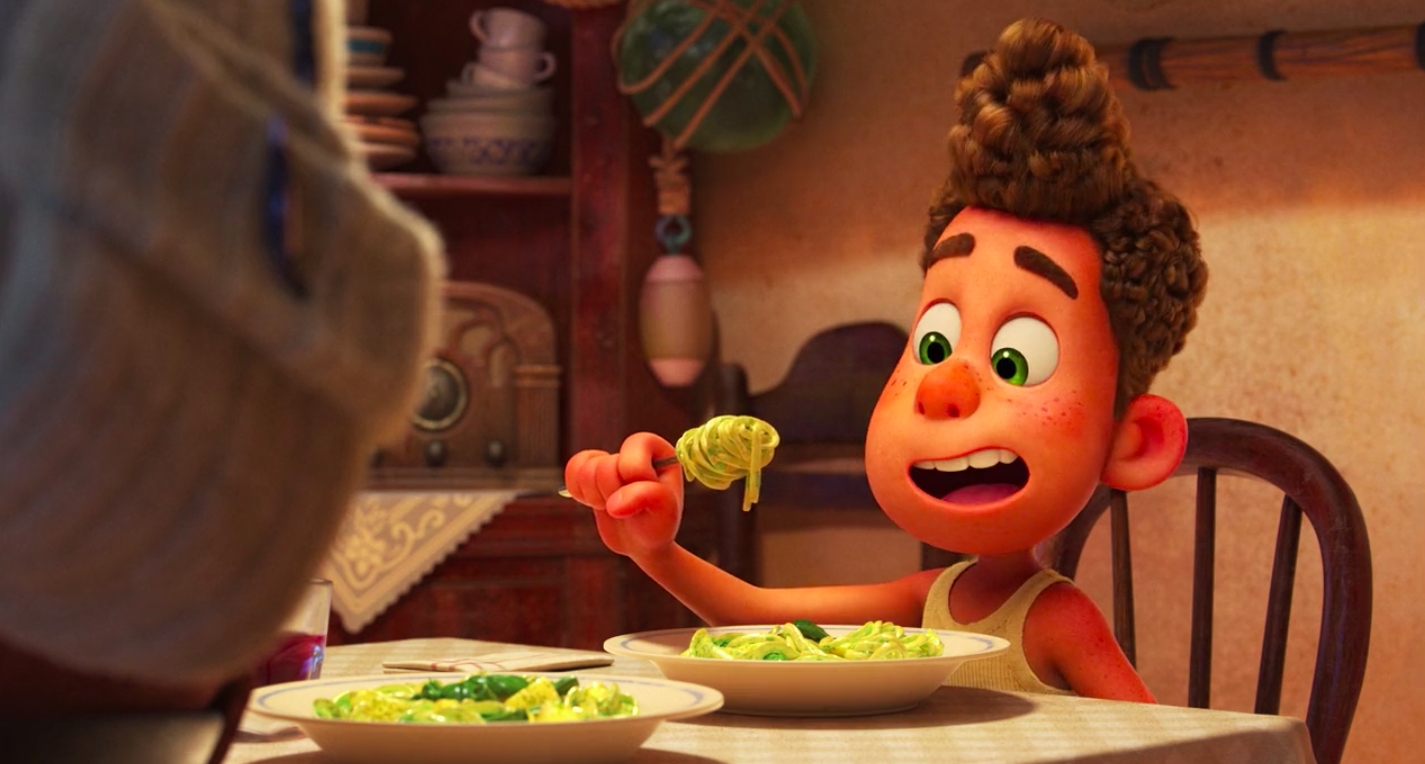 The green beans were a nice and crunchy addition — offering a light textural element. The potato added extra heft to the whole dish, helping this prove really filling. They didn't feel necessary at first but then became a welcome textural and flavor differenced.
I did hit mine with a little more Parmigiano, becasue I like my pasta both cheesy and salty, but it didn't really need it. This was simple, bright, summery, and deliciously filling. It's a great primi. Now I need a whole grilled fish as my secondi!