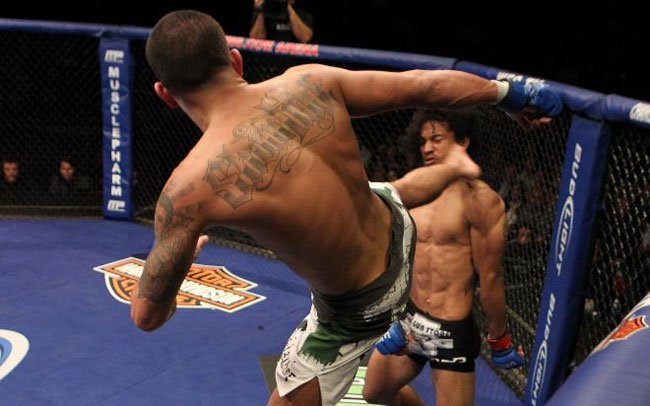 UFC has kicked 2015 off with such a bang that this weekend's card — UFC 185 with TWO title shots — is kinda getting overlooked. Which is crazy because it's got Roy Nelson vs. Alistair Overeem, Johny Hendricks vs. Matt Brown, Carla Esparza vs Joanna Jędrzejczyk for the Women's Strawweight Championship, and Anthony Pettis defending his Lightweight Championship against Rafael dos Anjos. That's freakin' ridiculous, folks.
But it seems like nowadays, people can't get too excited unless there's a single standout superstar sitting atop a UFC pay-per-view. So it's time for us here at Uproxx Sports to do our part and highlight Anthony "Showtime" Pettis as that superstar. He hasn't quite caught mainstream fire yet, but he will, and when he does, you can thank us for making sure you weren't the absolute last to know.
So, what makes Anthony Pettis so great?
https://i.imgur.com/drOuhhV.gifv
https://i.imgur.com/pmYDUn9.gifv
He uses capoeira in his fights. And not like that douchebag in the NOS commercials. He channels the riddum and momentum of the dance-based martial art to drop massive arcing kicks right down on your head.
https://i.imgur.com/PxW7iog.gifv
He runs up the cage like a ninja and hits guys with kicks that put them on their ass. This is the kind of thing you see in a movie and say, "Okay, things just got a little bit too Crouching Tiger, Hidden Dragon for my taste." But he does it. For reals. When it matters. This kick here is known as the Showtime Kick, and he used it in the dying seconds of his first fight with Benson Henderson to clinch the WEC Lightweight Championship.
https://i.imgur.com/NjCeMPI.gifv
https://i.imgur.com/LKD4qfK.gifv
At this point, he's turned attacks off the cage into their own little subsection of fight moves that didn't exist before. Which is typically reserved for ancient kung fu masters with flowing beards and sh*t.
https://i.imgur.com/TOhv8ec.gifv
He's more than just some flashy moves. His fundamentals are on point, as well, and Pettis is known for having one of the most punishing kicks to the body in the game. How no one has pooped out their liver after taking one of these is a small miracle.
https://i.imgur.com/CADL0GP.gifv
What's worse than one body kick to the abdomen that lands like a baseball bat? Try five in the span of 10 seconds.
https://i.imgur.com/JmttpD3.gifv
Even if you don't happen to sh*t your pants after taking those kicks to the body, you do unintentionally open yourself up to those massive headkicks Pettis is great at throwing.
Pettis is already the best fighter in the world at 155 pounds, and he's only 28 years old. The sky's the limit for this kid, which seems appropriate because he continues to fly higher and higher with every fight he takes. This Saturday at UFC 185, he takes on jiu jitsu master Rafael dos Anjos in what is sure to be another exciting Showtime performance.
Don't sleep on Anthony Pettis. The kid is the real deal, up there with Jon Jones and Ronda Rousey and Chris Weidman. In a few years, he may stand above them, too.