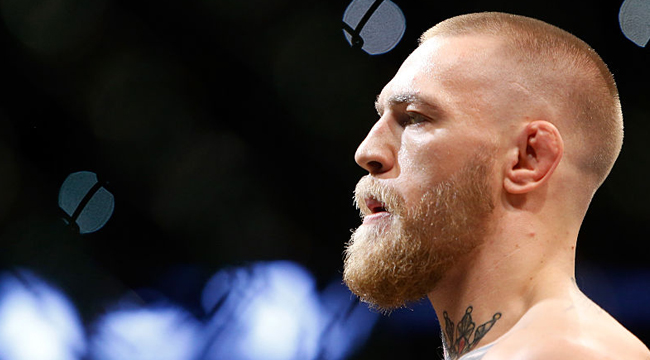 We may not have seen the last of McGregor versus The Mountain. According to Irish newspaper Sunday Life, UFC superstar Conor McGregor will have a Game of Thrones cameo sometime in the show's seventh season. Here's the report:
"It's been agreed that McGregor will appear in one of the remaining two seasons of Game of Thrones. He was headhunted as it were by HBO, as one of the GoT directors is a huge UFC fan. They believed that he would be a perfect fit for the show."
Tabloid newspapers being little better than TruthNewsInvestigation.org websites, we were a bit skeptical at first. But consider this: the number one Game of Thrones news site Watchers On The Wall is carrying the rumor as well. And filming for Game of Thrones goes down at sites in Northern Ireland, a short drive from McGregor's home in Dublin.
But wait, there's more! As reported in the Sunday Life article, Game of Thrones showrunners David Benioff and Dan Weiss are indeed major UFC fans. So much so that they appeared on the UFC Unfiltered podcast when it first started as a favor to UFC president Dana White. Conor McGregor also has connections with several of the stars from the show. Ser Davos himself, Liam Cunningham, trains at McGregor's Straight Blast Gym. And as we mentioned in the past, The Mountain Hafthór Björnsson has turned up in videos at Straight Blast sparring with McGregor.
It all adds up to a whole lotta smoke. But until the eagle eyed fans following the production of the show catch him on set, there's no fire. Even if McGregor ends up a bandit in a second's worth of scene, we doubt the biggest fighter in the world could end up on the biggest show on television without someone talking. Until then, check out this list of other Game of Thrones cameos from past seasons.