UFC 196 delivered on all sorts of levels with an entertaining card from start to finish. We saw great performances, we saw Miesha Tate shock the world and send Holly Holm into dreamland with a rear naked choke, and we saw NATE DIAZ TAP CONOR MCGREGOR ON TEN DAYS NOTICE!!!
Main card
— Nate Diaz def. Conor McGregor via submission (round 2)
Conor bloodied up Nate Diaz, but as the fight went on, the typical Diaz boxing came into play, then McGregor went down and Diaz tapped the featherweight champ.
—Miesha Tate def. Holly Holm via rear naked choke submission (round 5) to become NEW women's bantamweight champion.
It was a close fight, but Miesha could handle almost everything Holly threw her way. The fight was close, but Miesha took her shot and choked Holly unconscious in the fifth.
—Ilir Latifi def. Gian Villante via unanimous decision.
This was Latifi's third win in a row, and he's now 5-2 in the UFC since fighting Gegard Mousasi on short notice in 2013. This probably puts Latifi near the top 12 in the light heavyweight division, so the dream of Latifi in some big fights is real.
https://www.instagram.com/p/3DyyyXIpgI/
SUPLEX!
—Corey Anderson def. Tom Lawlor via unanimous decision. Somehow, despite getting absolutely rocked in the first round, Anderson received two 30-27 scores. I had it 29-28 Lawlor. Boos rained from the crowd.
Seemed like most saw it that way:
And Dan Harmon was Lawlor's special guest cornerman for the losing occasion.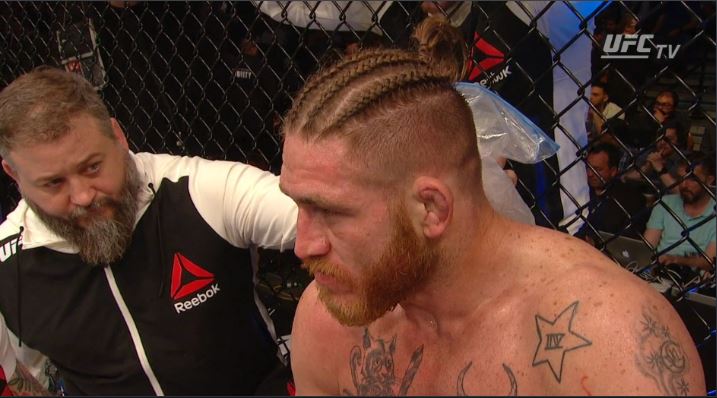 —Amanda Nunes def. Valentina Shevchenko via unanimous decision.
Nunes faded as the fight went on, but had Shevchenko in multiple DEEP submissions and dominated early, which bailed her out on the scorecards. After the fight, she predicted Miesha Tate would beat Holly, and called for a title shot.
Pretty interesting…
Fox Prelims
—Siyar Bahadurzada def. Brandon Thatch via arm-triangle submission (round 3). Bahadurzada returned to the Octagon after a two-year layoff and looked fantastic, showing power on the feet, and surprisingly looked strong against the bigger Thatch on the ground.
—Nordine Taleb def. Erick Silva via spectacular KO (2nd round)
—Vitor Miranda def. Marcelo Guimaraes via TKO, gorgeous headkick and punches (round 2)
—Darren Elkins def. Chas Skelly via unanimous decision.
Fight Pass Prelims
—Diego Sanchez def. Jim Miller via unanimous decision.
This was a great and close fight, but Diego proved that he's still got it with perfectly-timed takedowns and (obviously) a more aggressive approach to the fight.
—Jason Saggo def. Justin Salas via TKO (round 1).
—Teruto Ishihara def. Julian Erosa via KO (round 2).