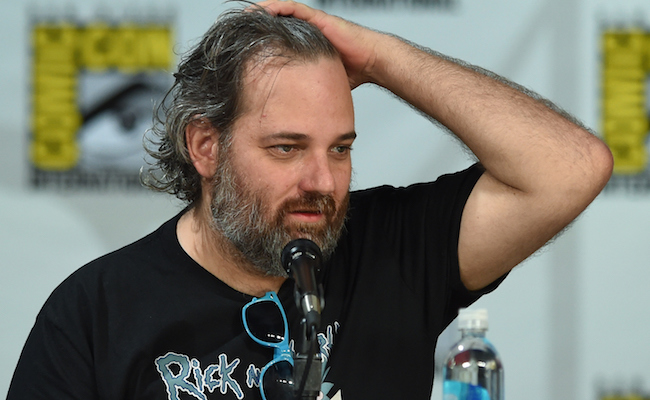 History is looking for a bevy of new viewers to enroll in their Night Class block of programming. Now that it's been announced that Dan Harmon will be there, you might want to look into it.
The cable channel that you and your dad compromise on has revealed that they have a collection of short-form original offerings set to debut next week. The big sparkly program getting all the attention in this rollout is Great Minds with Dan Harmon. The show will feature the Community and Rick And Morty creator visiting brilliant historic figures using his time machine. Seeing as most great minds of yesteryear are either dead or refuse to do basic cable, it sounds like the program will pull a Drunk History and get celebrities (our favorite people!) to portray these famous dudes and dudettes. Sarah Silverman, Kristen Schaal, Aubrey Plaza, Jack Black (as Beethoven!) and Ron Funches are among the promised names for the show which is set to begin on February 25 at 11:30 ET/PT. If Great Minds sounds sort of familiar, that's because IFC announced plans last summer to have the series on their network. Fast forward to today and Great Minds lives, but just on a different network.
(Reminder: You may also have been thinking about the Channel 101 pilot where Dan Harmon uses a sexual encounter with a mannequin leg and deep depression to become a human lynx. Great Minds is not that show.)
In addition to having Great Minds under the Night Class banner, there are some other programs sharing the on deck circle. Elizabeth Shapiro's new series Crossroads of History will also be a Night Class offering. The show, which looks at largely unknown moments in history, comes with its own brand of star power with Lou Diamond Phillips, Angela Kinsey, Jack McBrayer and Paul Scheer all tapped to appear. On top of that, there's also the upcoming How to Lose the Presidency which will put the spotlight on embarrassing campaign gaffes from yesterday and today.
History believes this new crop of shows under their newly developed Night Class brand will not only connect with current viewers, but also snare in new ones. They're fairly bullish on what late night can do for them.
"History is excited to forge new territory in the late-night landscape with compelling and bold content that will speak to a new audience," said History executive vp and head of programming Paul Cabana. "Night Class is rooted in real fact, yet full of razor-sharp humor and wit."
Night Class isn't the only saucy new addition to the cable network. Earlier this month, we were treated to the debut of Craig Ferguson's panel show Join or Die. Are you liking History's attempt to connect with you hip young comedy lovin' kids? Weigh in with your take in the comments.
(via The Hollywood Reporter)