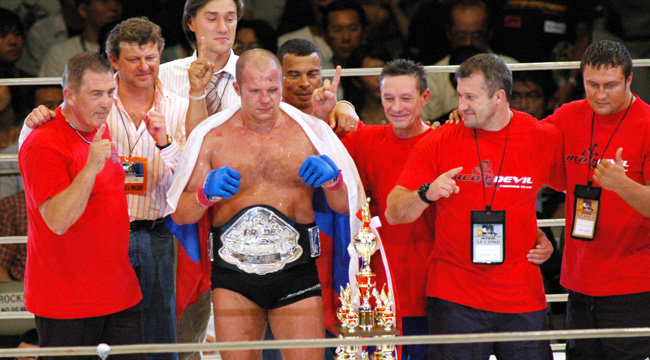 A few days ago, mixed martial arts and pro wrasslin' prophet Dave Meltzer said that former pound-for-pound great Fedor Emelianenko might be looking for a fight. The Russian fighter had retired in 2012 citing a desire to spend more time with his family and finished his career with an impressive 34-4-1 record – all the more impressive because it contains a who's who of heavyweight greats from arguably the toughest era of the heavyweight division.
Now, there is official confirmation that 'The Last Emperor' is indeed looking to return to competition. Here is his official statement, translated from Russian:
"For every athlete it is very important to be able to engage in their favorite thing: give all the best in training, performing in competitions, defending the honor of the motherland.

"During my time in government, I was able to work on the development of the arts, have worked closely with the presidents of sports federations, recognized the problem from within the sport, and as far as possible, try to solve them. But now I feel that it is time to return to the ring.

"I was able to recover and heal old wounds. The last three years I have maintained the physical form, but this level is not enough to go into battle. Therefore recently I started intensive training. We have assembled a team of versatile coaches and athletes who will help me in the training process.

"I will try to participate in professional growth fighters [sic]. There is still work to do to prepare to leave the ring. Negotiations are underway with companies that conduct battles. Once agreements are reached, there will be information on the date of the fight and rival."
This is huge news for fans of mixed martial arts. For a decade, Fedor was one of the biggest stars of the sport and his return should set off a bidding war between several organizations looking to secure his services. While fights in the UFC would seem to make sense – it's the biggest platform where Fedor could make the most money – that ignores the long history of drama between Dana White and Fedor's management.
"Someone who says a lot of negative things about you and then turns around and invites you to join him, how do you react to that?" Emelianenko asked back in February. "And it's not even about money. It's all about mutual respect, meeting each other halfway. Not just one saying one thing to the other."
That leaves a few possibilities: Bellator, currently airing on Spike TV, and perhaps some sort of special event in Japan where much of Fedor's career was fought. Bellator president Scott Coker and Emelianenko have a long business history together, with the two working together under the Strikeforce banner during the waning days of Fedor's career.
Unfortunately, Bellator doesn't have much in the way of a heavyweight roster. That being said, Coker isn't afraid to pluck fighters out of the woodwork to make interesting fights – just look at the recent Kimbo Slice vs Ken Shamrock fight for proof of that.
More news as it comes in. One thing is for sure: people pay attention when Fedor Emelianenko fights. And if the UFC isn't able to mend relationships and sign the heavyweight legend, it could open the door for another organization to finally gain some traction.
(Via UnionMMA.ru)