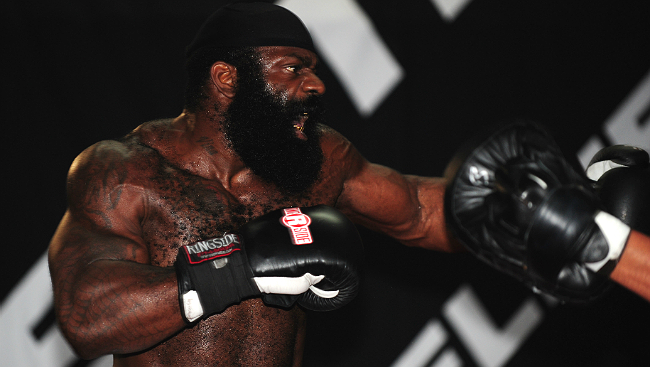 Six years ago, Ken Shamrock and Kimbo Slice were set to step into the EliteXC cage and fight on national television. It was to be the culmination of promoter Gary Shaw's best laid plans, and it was going to be huge. Until Ken Shamrock pulled out on the day of the fight, citing a cut above the eye received during warm up practice.
Rumors swirled though about a meeting earlier that day where Shamrock had demanded to be paid more money. His own brother Frank called bull on Ken's cut, saying it's the kind of thing fighters used to superglue closed on a regular basis (proof oldschool MMA fighters are tough sons of bitches). The ensuing controversy and yet more rumors EliteXC offered Kimbo's replacement bonus money to keep the fight standing up torpedoed the promotion and added yet another logo onto Dana White's tombstone of rivals.
But like some sort of devil comet from the outer reaches of space, this fight has now reappeared on the horizon. This time it's set for Bellator's June 20th card, aired by SpikeTV. Via ESPN:
In a release, Slice said, "Ken [Shamrock], I owe you this a– whooping. No more running! No more hiding!"

Shamrock, 51, who has never officially retired but also has not fought since November 2010, confirmed he has signed a multifight deal with Bellator.

"I am back," Shamrock stated. "It's good to be performing again for my fans. I feel great and my health is great. Age should never be a factor if an athlete is healthy, in great shape and has the drive to continue their sport. I will quit fighting when I want to.

"Kimbo Slice and I have some unfinished business. I am a fighter. That's who I am."
SpikeTV and new Bellator head honcho Scott Coker apparently don't put much stock in bad juju or Ken Shamrock's long history of sketching up everything he touches. The last time we heard from Ken, he was set to take on bare knuckle boxing champ James Quinn in the UK. Before that, a special rules bout with James Toney fizzled out. Before that, a fight with Ian Freeman was cancelled due to 'unreasonable contractual demands' from Shamrock. And before that, he pulled out of another fight due to staph.
We could just keep on going further and further down the rabbit hole, but Ken Shamrock has been fighting for over 20 years and I don't get paid by the word. Suffice to say he has a history of dropping out of fights for various reasons. And in the cases where he's made it into the cage, he often goes down fast. In the past 10 years, he's only made it out of the first round once. He's not quite at Bob Sapp levels of terrible. But he's close.
That's perfectly fine as far as Bellator is concerned. They just need his aged body to hold together long enough for Kimbo Slice to pound a half decent performance out of it. Even that may be too much to ask. But one thing we do know: if these two actually make it into the cage this time, it will be a sideshow too amazingly terrible to miss.
[ESPN]