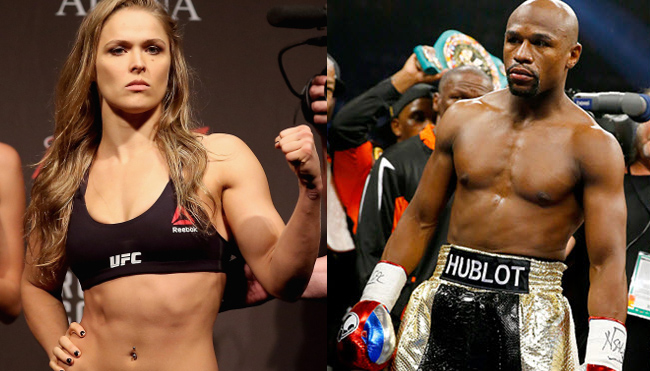 Floyd Mayweather's career ended not with a bang but a whimper when his much-panned fight with Andre Berto only managed to pull a reported 500,000 PPV buys … a far cry from the 4.4 million sold back in May when he fought Manny Pacquiao. Even without a superfight opponent like Manny, Floyd's numbers were historically much higher — from 2007 until the Berto fight, all 11 of his fights sat around the 1 million buys mark, with two surpassing 2 million and the Pacquiao fight breaking all records for PPV buys.
So why such a massive drop for the Berto fight? TMZ asked Floyd's biggest fan, Ronda Rousey (whose last fight against unknown Bethe Correia pulled 900,000+ buys), and here's her reaction:
"I'm not surprised, a lot of people were pissed after that Pacquiao fight, so…. Fans aren't dumb. "
A lot of casual fans are always pissed after Mayweather fights. While hardcore boxing fans know enough to appreciate the way he fights, it's not exactly the most exciting fighting style in the world. Even many in the know consider it to be a hack of the way boxing rules are enforced and how fights are judged. During that 11-fight streak we mentioned before, only two fights ended in finishes, and one was after Floyd suckerpunched his opponent following a botched restart by the ref.
There's also the fact that there's no more challenger on the horizon to potentially beat him. Pacquiao was the last great hope to take Mayweather down, and one of the reasons the fight took so long to come together was Floyd knew this, and the effect it would have on his draw once he took Manny down. Ever the businessman, Floyd strung that fight along and extracted every dollar he could leading up to it. Now that it's over, his ability to earn massive numbers seems to be as well — which is why it wasn't surprising to learn he retired after the fight.
(Via TMZ Sports)