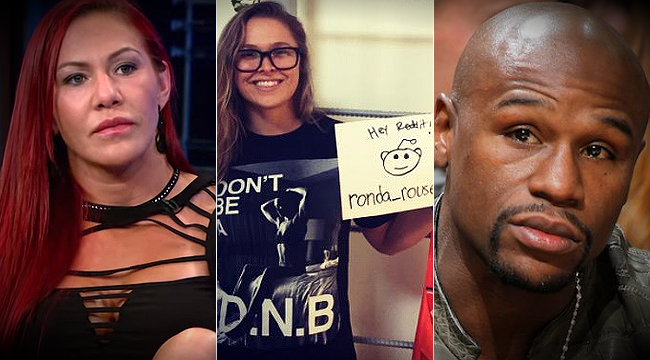 I don't know if you've heard, but there's this web page on the internet called Reddit and they do something called IAmAs, which is kinda short for "I am a doctor / pornstar / celebrity, ask me anything!" Tonight they were joined by one "Rowdy" Ronda Rousey, UFC bantamweight champion and baddest woman on the planet.
Ronda answered over 50 questions in 30 minutes flat, which is about what we'd expect from a woman whose total cage time after 12 fights is only 25 minutes and 36 seconds. And as you'd expect from an AMA, Redditors really did asked her anything, including stuff about the Ronda Rousey porn parody being made…
Ronda also admitted she's onto the third Game of Thrones book and would "shank a b*tch who tries to give sh*t away about the series cause you watched the show already," which dovetailed nicely into this question…
It wasn't all pop culture and Pokemon questions (although there were a lot of those). There's been recent rumors that the UFC is trying to set up Ronda Rousey vs Cris Cyborg at the 85,000 seat Cowboys Stadium, so a lot of people asked Ronda about Cyborg. Here's what she had to say about that…
There was also more Floyd Mayweather talk, and shockingly, Ronda was willing to admit he'd beat her in a straight up boxing match.
People are already speculating on how long Ronda Rousey is gonna keep on fighting now that she's a bona fide superstar with big movie roles being thrown at her from every direction. Here's what she said on how long she'd stick with cagefighting…
As for what comes next, Rousey's answer should excite wrestling fans…
Ronda also answered some serious questions too, including ones about her speech impediment growing up and the eating disorder she suffered with through her teenage judo years.