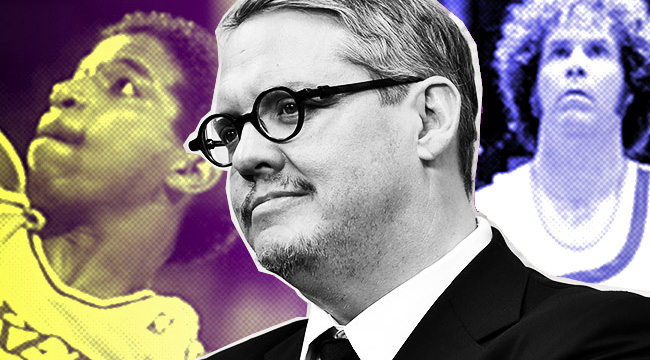 If Adam McKay were an NBA player he would be Kawhi Leonard. Much like Leonard does everything on a basketball court including rebound, defend, shoot both the mid-range and three point shot and take it to the hole and throw down ferocious dunks, McKay has done it all in his career. He was the head writer at Saturday Night Live at 28, is an internet mogul by virtue of his co-founding Funny or Die, has written and directed Anchorman and Step Brothers and recently won an Academy Award for Best Adapted Screenplay for writing the critically lauded The Big Short, a film he also directed.
One element of McKay's persona that people are often unaware of is his unrelenting passion for the game of basketball. A passion that he serviced by executive producing the 30 for 30 Short, A.C. Green: Iron Virgin. Narrated by Will Ferrell, the short is about the travails Green encountered while maintaining his virginity throughout his 16 years in the NBA. The short is available to watch now on ESPN.com.
We had the chance to discuss A.C. Green: Iron Virgin with McKay and also touched on his basketball awakening, his love of early Public Enemy, as well as some of the current players that he likes to watch on NBA League Pass.
How did you come up with the idea for A.C. Green: Iron Virgin?
I went to a Lakers game with Todd Schulman who is one of the producers on the short. He's a massive basketball junkie and we were just talking hoops and 30 for 30 and he said: "How has there not been one done on A.C. Green?" We then started talking about the "Showtime" era for the Lakers which was one of the great debauched dynasties in sports. You had A.C. Green dropped into the middle of this, who was not only a hardcore religious guy, but, most importantly, a virgin, which is just an amazing story. Then we started researching and the story just got better and better. I remember A.C. Green in college, I remember when he was drafted and I had heard about the virgin component, but to get to hear those stories was really fun.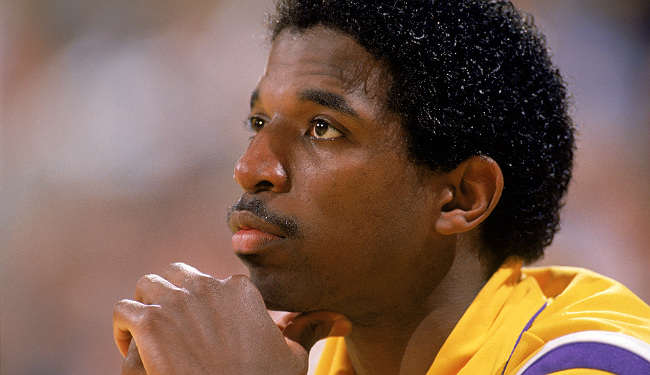 Are you a Lakers fan?
No, I actually grew up a Celtics fan. Then, when I moved to New York, I became a Knicks fan. Although, I do like the Clippers too. I'm just a hoops junkie. I'll watch any two teams play on NBA League Pass. I'll watch the Bucks play the Grizzlies on a Tuesday night. I just love hoops. I'm not a big college guy, but the NBA I love, and I really like high school hoops too.
When you were working at Saturday Night Live did you get a chance to go to Madison Square Garden to see some of those great Knicks teams featuring Latrell Sprewell and Patrick Ewing?
That's kind of where I got hooked. Lorne Michaels had great seats. He was a couple of rows back from Woody Allen which weren't quite at center court but close. I don't think there's any better place to watch an NBA game. It's mostly about the basketball. They have a few of the showy things at intermissions but not nearly as many as the other teams and I love that vibe. MSG deserves the title the Mecca of basketball. There's no question. It is the capital of basketball.
Did you play organized basketball growing up?
I played on my high school team but I got into it very late. I really started getting into basketball around 1980-1981 during that silver age when the NBA really started breaking with Bird and Magic Johnson. Once I caught the bug, that was it. I was a big baseball fan before that but baseball quickly faded into the rearview mirror. That was also when hip-hop was really starting to break. I was living outside of Philly at the time, where I grew up. We were getting all the new hip-hop records and the 76ers had all those amazing teams with Dr. J, Andrew Toney and eventually Charles Barkley. I had a group of about five or six friends who would tape games on VHS and replay sections over and over watching certain moves and play in pick up games all the time.
What's the best element of your game?
I'm 48 so there are almost two phases to that answer. When I was in my teens, 20s and early 30s I had a really nice jumpshot as well as a good handle. Now, my game is a bit broken down but I still have a good handle, can pass and have a few low post moves. I can drop a baby hook. The J's not as good as it was but basically, I can hang in a game without embarrassing myself. However, when I was playing when I was younger, basketball was basically my musical revolution. In fact, when Public Enemy came out they were like my Bob Dylan.
Can you elaborate on that?
When Public Enemy came out they just blew me away. I was at Fresh Fest in 1986 with a bunch of buddies my freshman year in college. The very first Public Enemy single "Rebel Without a Pause" had come out and they were on the bill but were still just breaking. LL Cool J and Stetsasonic played but when Public Enemy came on the crowd bum rushed the stage. We were all just amazed. It was like nothing we'd ever heard. So, we used to get every single that came out. We used to go to Cosmo D's record store that was just outside of Philly and he would have every new fresh record. Public Enemy along with Eric B. and Rakim, when those guys came out I just felt everything was just turned up like three levels.
You were a regular at Garry Shandling's weekend games at his house. Tell me a little bit about those games.
That game was just perfect, everything about it. Garry was just awesome, funny and genius and really inviting. It was every Sunday at around 11. You had a mixture of comedy writers, stand ups, and actors. All really cool and funny people. What was great about that game is there were some really good players, some mediocre players and some people who could barely play and everyone was welcome. No one freaked out if you messed up but it was still a competitive game. You look at Garry and you wouldn't think he was an athlete but he was muscle rock hard and could play all day long. The best part was after playing for a couple hours you would go up to the house and Garry's ordered this whole lunch spread and we'd all watch whatever sporting event was on and do bits. We all miss Garry tremendously. He was one of the pillars of the comedy scene in Los Angeles. He was always supportive of new comics and people working to have a breakthrough. Even people who were already successful. Kevin Nealon would come and he's quite a good ball player. Adam Sandler would come occasionally. Will Ferrell would show up sometimes.

There must have been some great trash talkers, who were some of the best?
The master at that was Wayne Federman. He would almost announce and do play-by-play on the games. Kevin Nealon, too. Whenever he would show up he was always funny as hell.
I've seen Semi-Pro a couple of times and if you watch closely it looks like Will Ferrell fundamentally has a pretty good game.
He drives me crazy. I guard him. He is 6'3 and I am 6'5 and he is deceptively athletic. He used to run marathons so he's got great endurance and then he's just got this rock solid fundamental game. He's always where he needs to be. Whenever he gets an open shot he hits it. Whereas my game's way more streaky. I'll go through a stretch where I'll hit three or four in a row but I'm just not as consistent as him. He just wears you down. He played high school ball and started. He played against Adam Keefe in high school, who played for the Hawks [No. 10 Overall Pick in the 1992 Draft]. Will's a freaky athlete in that he's good in all sports. He's a darn good soccer player and baseball too. He hasn't lost a whole lot through the years.
Who was your favorite NBA Player growing up?
Well, Larry Bird when I was in middle school and high school being a Celtics fan. Then it shifted to Charles Barkley when he came into the league. I'd never seen someone dunk that aggressively. I tended to also like the guys who were a little free wheelin'. Schoolyard players like Orlando Woolridge.
Who's your favorite player in the league right now?
I love guys with great handles. I love Kyrie Irving. His handle is beautiful. Obviously, everyone loves watching Curry's handle. I love Lebron's passing game. I watched a lot of Suns games this season because I really like Devin Booker's game. I really liked watching him develop. He's not quite there yet but he does everything. He can pass, he can drive, has a beautiful jumpshot and he has a great attitude. I see him becoming an All-Star. I really love Shaun Livingston. He's just got this professional, veteran, coolness to him. He makes the right play, takes the right shot. I used to love Paul Pierce. I love how fiery he was but also having fun on the floor. Giannis Antetokounmpo, I've never seen anything like him. Him playing the point at 6'11 is almost jarring to look at. I love watching guys develop and seeing when someone finally puts it together. There's nothing more enjoyable than that.
When you were at Temple were you a fan of Shakin' Bakin' Mark Macon?
Oh yeah. I was definitely into college ball back then. The one and done didn't exist so you were getting these premium players for three to four years. My first year at Temple is when they were ranked No. 1. They had Tim Perry, Howard Evans, Ramon Rivas and of course Macon and they were a force. I love that Philly game. A lot of good ball has come out of Philly. I remember my senior year in high school when Villanova won the championship. We all hopped into my crappy car and drove 45 minutes down to the campus to celebrate. We would go to the Palestra and watch Big 5 basketball. Lionel "L-Train" Simmons was at Lasalle as well during that era.
In addition to that time in Philly what are some of your other favorite eras from your hoop-watching history?
When I was living in Chicago I had a couple of friends who were big hoops junkies and that was a really great stretch in high school in the early '90s in the public league. We would go over to games on the south side and we would wear suit jackets and carry clipboards so everyone thought we were scouts. I got to see Kevin Garnett and the legendary Ronnie Fields. In fact, we knew Garnett was really good but the guy we wanted to see was Ronnie Fields. Rashard Griffith was another guy we got to see play who was on those great Martin Luther King teams. Those were some of the funnest games I've ever been to. Those crowds were so fired up. You were sitting among the community so you might be sitting next to the star player's brother. They also had these badass halftime shows with hip-hop tracks that I had never heard before and these incredible dancers. I look back so fondly on those games. They were amazing.
That does sound amazing. An absolute basketball junkie's dream. Do you have any predictions on the NBA Finals?
I don't love the Spurs backcourt. They're getting a little old and I don't think they give you the full arsenal of speed and strength. I think that will get exploited in the Western Conference Finals since it's such a guard league now. So, I'm going to go Warriors and say it's going to go seven games against the Cavaliers. I'm going to be rooting for Cleveland because I want them to get that championship but I think the Warriors will probably go back to back and win it again.