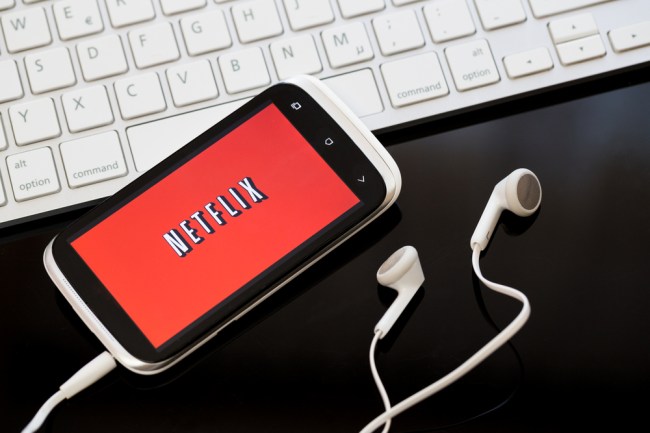 Fans of the '80s will have some tasty gems to chew upon when the new updates hit Netflix streaming in September, specifically the original Rambo trilogy, but there's even more to be happy about with the first four seasons of the acclaimed Person of Interest rolling out during the next month. Seasons of Gotham and Portlandia will also be cause for celebration for those of the binge-watching ilk. Check out the full list of everything coming to Netflix in September, plus all the titles disappearing from the streaming service in the next month.
Masters of the Universe (9/1)
This He-Man adaptation is full of cheese, but there's no denying that for '80s babies, this was a bonafide classic. Now that it's coming to Netflix, you can relive the horrors of your childhood with this incredibly silly He-Man film. Still, it holds a place in many of our hearts.
The Monster Squad (9/1)
It's the film that introduced "The Wolfman's got nards" into the lexicon of all prepubescent children. Part Goonies, part Ghostbusters, it was every kid from the '80s dream to be a part of a group of youngsters battling the likes of every Universal monster out there. Thank God that the remake was cancelled, because this one is better left untouched.

The Walking Dead: Season Five (9/27)
The Walking Dead season five started off with our heroes at the mercy of a group of cannibalistic crazies. That gave way to a new journey for the main cast of characters whose task was to find a new utopia… and they found it. Or at least, they think they have. Catch up on this riveting season of AMC's most watched show before season six premiers in October.

Avail 9/1
72 Dangerous Animals: Australia: Season 1
Arthur: Season 17
Avengers Confidential: Black Widow & Punisher (2014)
Battle Creek: Season 1
Blackbird (2014)
Capital C (2014)
Combustion (2013)
Da Jammies: Season 1
Divorce Corp. (2014)
Giggle and Hoot's Best Ever! (2014)
Hamlet (1990)
Hardball (2001)
Heather McDonald: I Don't Mean To Brag (2014)
Lawrence of Arabia: Restored Version (1962)
Mississippi Damned (2009)
Mister Rogers' Neighborhood: Volume 1
Mouk: Season 1
Our Man in Tehran (2013)
Pandas: The Journey Home (2014)
Person of Interest: Seasons 1-3 (Season 4 arriving on 9/22)
Rambo: First Blood (1982)
Rambo: First Blood Part II (1985)
Rambo III: Ultimate Edition (1988)
Sleepy Hollow (1999)
The Adventures of Sharkboy & Lavagirl (2005)
The League: Season 6
Up in the Air (2009)
Avail 9/2
Black or White (2014)
Miss Julie (2014)
Avail 9/3
Drumline: A New Beat (2014)
Avail 9/4
Bad Night (2015)
Madame Secretary: Season 1
Avail 9/9
Teen Beach Movie 2 (2015)
Longmire: Season 4, Netflix original
Avail 9/11
About Elly (2009)
God Bless the Child (2015)
Madame Bovary (2014)
Avail 9/12
It Happened Here (2015)
Portlandia: Season 5
The Roughnecks (2014)
Why Did I Get Married? (2007)
Avail 9/14
The Bank Job (2008)
The Road Within (2015)
Avail 9/15
Moonrise Kingdom (2012)
Reservation Road (2007)
The Blacklist: Season 2
Avail 9/17
The Mysteries of Laura: Season 1
Avail 9/18
Keith Richards: Under the Influence (2015), Netflix original
Avail 9/21
Gotham: Season 1
The Following: Season 3
Avail 9/22
Philomena (2013)
SMOSH: The Movie (2015)
Avail 9/23
The Loft (2015)
Avail 9/24
Iris (2014)
Avail 9/25
Blue Bloods: Season 5
Hawaii Five-0: Season 5
Parenthood: Season 6
Avail 9/26
The Canyons (2013)
Avail 9/29
Bones: Season 10
Mandela: Long Walk to Freedom (2013)
Avail 9/30
Agatha Christie's Poirot: Series 12

With Netflix's contract with EPIX expiring, a few more films than usual are evaporating from the streaming service. You don't have much time, so try to catch some of these titles before they vacate from your queue.
Leaving 9/1
Agent Cody Banks 2: Destination London (2004)
Bratz: Rock Angelz (2005)
Care Bears: Big Wish Movie (2005)
Care Bears: Journey to Joke-a-Lot (2004)
Crouching Tiger, Hidden Dragon (2000)
Curious George 2: Follow That Monkey! (2009)
Doomsday Preppers: Season 1-3
Electrick Children (2012)
FernGully: The Last Rainforest (1992)
Ink Master: Season 2
Jackie Brown (1997)
Lock, Stock and Two Smoking Barrels (1998)
Mortal Kombat: The Movie (1995)
Patch Adams (1998)
Perfume: The Story of a Murderer (2006)
Rugrats in Paris: The Movie (2000)
Rules of Engagement (2000)
Rumpelstiltskin (1987)
Sarah's Choice (2009)
School of Rock (2003)
She's the One (1996)
Sleepless in Seattle (1993)
The IT Crowd: Series 1-4
The Lost Boys (1987)
Total Recall (1990)
W. (2008)
Leaving 9/2
Cheech & Chong's Hey Watch This (2010)
Leaving 9/3
Dinosaurs: Seasons 1-4
Leaving 9/4
Delta Farce (2007)
Leaving 9/5
Marilyn in Manhattan (2012)
Leaving 9/7
Ramsay's Best Restaurant: Season 1
Leaving 9/9
Bratz: Friendship Is Always in Style (2014)
Kicking It (2008)
Leaving 9/10
100 Below Zero (2013)
Becoming Chaz (2010)
Crash & Bernstein: Season 1-2
War Witch (2012)
Leaving 9/13
High Fidelity (2000)
Leaving 9/14
Corky Romano (2001)
Leaving 9/15
Best of Teletubbies
Bratz: The Video: Starrin' & Stylin' (2004)
Coach: Season 1-9
Spiral: Season 4
Valhalla (2013)
Leaving 9/16
Hank: Five Years from the Brink (2013)
The Slap: Season 1
Leaving 9/20
Reporter (2009)
Leaving 9/22
National Geographic: Inside Guantanamo (2009)
National Geographic: The Battle for Midway (1999)
Leaving 9/26
Indy 500: The Inside Line (2011)
Lethal Force (2011)
Ron White: A Little Unprofessional (2012)
Leaving 9/27
LEGO Ninjago: Masters of Spinjitzu: Season 1-2
My Boys: Season 1-4
Leaving 9/28
Undeclared: The Complete Series
Leaving 9/29
Bratz: Desert Jewelz (2011)
Comic Book Men: Season 2
Coriolanus (2011)
Leaving 9/30
Anchorman 2: The Legend Continues (2013)
Apocalypse Now (1979)
If I Stay (2014)
Jack Ryan: Shadow Recruit (2014)
Jackass Presents: Bad Grandpa (2013)
Nebraska (2013)
Saved! (2004)
Star Trek: The Motion Picture (1979)
Star Trek Into Darkness (2013)
The Expendables 3 (2014)
The Good Guy (2010)
The Hunger Games: Catching Fire (2013)
The Prince (2014)
The Skeleton Twins (2014)
The Wolf of Wall Street (2013)
Transformers: Age of Extinction (2014)
World War Z (2013)